May 23, 2013The following are news announcements made during the past week by the following organizations: FineLine Technologies; Synqera; IMS Research; Intelligent InSites; HID Global; Peregrine Semiconductor Corp.; and GreenRoad.
FineLine Launches UHF, HF, NFC Price and Promotional RFID/EAS Tags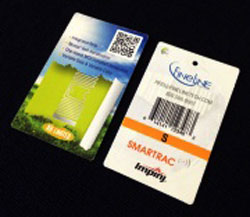 FineLine Technologies has unveiled a new line of integrated tags that offer retailers and brands the ability to incorporate ultrahigh-frequency (UHF), high-frequency (HF) and Near Field Communication (NFC) technologies into thicker-ply price and promotional tags that also support electronic article surveillance (EAS). The integrated RFID and EAS tags, known as Solid, are converted on color digital or offset presses for sharp, clear text and vivid graphics, according to the company. The Solid UHF tags incorporate Smartrac's WebLite EPC Gen 2 RFID tag inlays made with Impinj's Monza 5 chips and encoded with Impinj's new STP 2.0 source-tagging platform. Developed with packaging and label company r-pac International Corp., the WebLite tag offers the read range of a standard UHF tag, with a form factor of less than 2 inches in length and 0.75 inch wide (see R-pac Offers Small EPC UHF Label With Long Range Read). "Solid tags will benefit retailers in need of integrated UHF or HF capability for item tagging, mobile merchandising or theft deterrence," said George Hoffman, FineLine's CEO, in a prepared statement. "Digital color printing offers expanded design capabilities, while the thicker-ply paper helps mask the chip inside." The NFC capability in the Solid tags is supported by FineLine's NFC tag and label service, through which customers can place an order online for NFC labels encoded with IDs linked to a particular URL, or other content or services, such as verifying that product is genuine. The NFC tags can be read by NFC-enabled phones, causing the handset to display a Web page or play a video, or to trigger some other action, such as sending an SMS text message to that phone (see FineLine Launches NFC RFID Tag and Label Service Bureau). The family of Solid tags all can be ordered online via FineLine's FastTrak Web-based ordering platform, which provides 48-hour service, as well as order status visibility from the date that the order is received until the shipment is received by the vendor. The Solid tags were showcased at the RFID Journal LIVE! 2013 conference and exhibition, held earlier this month in Orlando, Fla.
Synqera Unveils NFC-enabled Device for Customer Loyalty Programs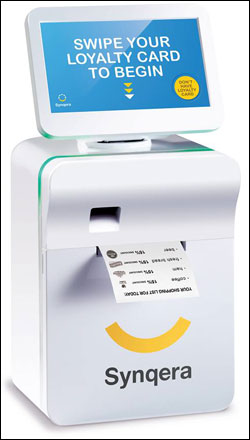 Start-up Synqera has announced the Synqera Loyalty Generator, an NFC-enabled and Internet-connected in-store device designed to foster customer loyalty, improve customers' in-store shopping experiences and slow down what's known as "showrooming"—the practice of using smartphones to check for better pricing and other options at different stores. The Loyalty Generator leverages customer intelligence culled from multiple data flows (stemming from the customer's smartphone and online account, as well as other Internet services and that individual's store-issued loyalty card), to engage the shopper when he or she first enters a store, and converts that data into personalized, colorful content for that consumer's unique order, shopping tendencies and loyalty participation. The Loyalty Generator is a device with a video display screen, an NFC module (the Gigatek RF320, from Gigatek) and a printer. Customers can use the Loyalty Generator by tapping or swiping a loyalty card or NFC-enabled smartphone. According to Filipp Shubin, Synqera's COO, the Loyalty Generator's architecture can incorporate the NFC module, as well as mag-stripe readers and bar-code scanners. With the Loyalty Generator, retailers can offer shoppers in-store product discounts, third-party promotions, suggested items for purchase based on previous purchase decisions, personalized shopping lists, and store maps, among other services. The device's media display, Shubin says, is intuitive and interactive. It features Synqera's Scenario Generation Engine, which works in real time and combines user-profile information, purchase information, current situation data and content to create customized offers and shopping tools for customers. Created in collaboration with printer manufacturer Star Micronics, the Loyalty Generator delivers printed, customized shopping lists, in-store deals and store maps on the spot to shoppers at the retail store's entrance. In addition to the NFC capability, Shubin says, the Loyalty Generator differs from similar loyalty kiosks currently on the market because of its price and size. "The Loyalty Generator's hardware is more compact and finely tuned for printing, rather than screen navigation," he explains. "The space required to install the device is much smaller, and the price difference is significant as well—less than $2,000 vs. more than $10,000 for other offerings."
NFC-Enabled Handsets to Grow Nearly Tenfold from 2012 to 2017
A new report, issued by IMS Research, a market research firm for the global electronics industry, estimates that the number of NFC-enabled mobile phones will jump by a factor of 10 between 2012 and 2017, reaching 1.2 billion units. According to the research firm, the majority of smartphone manufacturers are increasingly adopting wireless communications and payment technology in their products as a de facto standard. This year, shipments grew to 268 million units, up 123 percent from 120 million in 2012. The rapid proliferation of NFC in mobile phones is being driven by several factors, including the expanding availability of contactless readers and rising consumer awareness. Apart from Apple, nine out of the top 10 smartphone suppliers have launched at least one NFC-enabled product into the market, according to IMS, which notes that with Apple's loss of market share to Samsung and other smartphone providers, and with the increasingly competitive landscape, the chances of NFC being incorporated into future iPhones and other devices looks more promising. If Apple decides to incorporate NFC into its devices, this will have a positive impact on the market's profile and growth. In 2012, Android-based smartphones dominated the NFC marketplace, with 103 million units, or 86 percent, of all NFC-enabled smartphones shipped. In 2017, IMS believes the number of Android NFC-enabled smartphones will reach 718 million, or 67 percent of RFID-enabled handset shipments. Most NFC-enabled mobile phones have a standalone modem device embedded directly into the handset. This type of NFC modem composed 97 percent, or 133 million, of all NFC modems shipped in handsets last year, according to IMS. But over the next four years, other implementations will become more popular, the company reports, such as combination connectivity integrated circuits (ICs). IMS forecasts that shipments of combination connectivity ICs are projected to increase to 612 million units by 2017, or 50 percent of all NFC modems, up from 31.7 million units in 2013. The report notes that there are also challenges to NFC's growth, including the need for NFC-enabled services and applications that consumers want. This will help to develop the mass appeal and adoption of the technology, the firm indicates.
Intelligent InSites Software Integrates With RTLS from Radianse
Intelligent InSites has announced that its real-time location system (RTLS) software can now be integrated with the combined active RFID and Wi-Fi-enabled RTLS from Radianse. The integration enables the two systems to share asset-, personnel- and patient-tracking and location data. The Intelligent InSites platform collects and processes real-time data from a variety of health-care IT systems, nurse-call systems, communications platforms, building-management systems, electronic health records and wireless sensor networks that can be used for various applications, including patient-flow tracking, environmental monitoring, and the management of beds, surgical instruments, rental equipment, consumables and other assets. According to Intelligent InSites, this ability to leverage real-time information across an enterprise enables health-care organizations to improve operations and care-delivery processes, resulting in more affordable care and improved patient satisfaction. In addition to interfacing with active RFID and Wi-Fi technologies, Intelligent InSites can also leverage data culled from a variety of other locating technologies, including ultra-wideband (UWB), infrared/RF, passive RFID, ultrasound and ZigBee.
HID Global Begins Constructing North American Operations Center in Austin
HID Global, a leader in secure identity solutions, has announced that it has begun the construction of its operations center in Austin, Texas. Slated to open in January 2014 and be fully operational by the third quarter of that year, the center is a custom-built facility with numerous advanced sustainability elements, featuring 200,000 square feet of manufacturing space located on 22 acres in North Austin's TechRidge area. According to HID Global, the new facility houses manufacturing, assembly and test operations, distribution and sales space, and offset printing and programming processes for smart cards use in numerous applications, including access control and large ID programs. The company says the center will be its largest facility in the region, designed to support future expansion at this location. It will also house offices for regional management, customer service, engineering, technical support, purchasing and quality functions. The facility will feature a number of sustainability designs and certifications related to lighting, landscaping, construction materials and other key design and manufacturing elements. "HID Global's new operations center will be a world-class sustainable facility for scaling our operations to support the future growth of our business," said Jason Bohrer, the VP and GM of HID Global's North American operations center, in a prepared statement. "Austin has already proven to be a great place to invest with its vigorous resource base of talent and services, as we complete the first key milestones in our strategic initiative to consolidate all North American manufacturing, warehousing, distribution and customer service operations here in a single, center of excellence." Hiring has begun for 276 positions, the company reports, and will continue throughout the next three years.
Peregrine Semiconductor Offers New Integrated Circuits in Its RF-Tuning IC Portfolio
Peregrine Semiconductor Corp., a fabless provider of high-performance radio frequency integrated circuits (RFICs), has released four new DuNE digitally tunable capacitors (DTCs), as part of its integrated RF-tuning IC portfolio. The devices provide an easy-to-use solution for antenna tuning and impedance matching applications, as well as tunable filters and phase shifters in the RFID, military radio, test-and-measurement, machine-to-machine (M2M), and wireless infrastructure markets, according to Peregrine. The PE64906, PE64907, PE64908 and PE64909 DTCs feature a capacitance range of 0.6 to 7.7 pF and support power handling up to 34 dBm into 50 ohms (30 Vpk RF). The DTCs include integrated bias generation, RF filtering and bypassing, control interface, and ESD protection of 2 kV HBM, all incorporated into a 2-millimeter by 2- millimeter (0.08-inch by 0.08-inch ) package, the company reports. They support a frequency range of 100 to 3,000 MHz and provide high tuning accuracy, linear step size and temperature stability. The devices feature direct battery voltage operation, with consistent performance enabled by on-chip voltage regulation. The devices are controlled through the widely supported 3-wire (SPI-compatible) interface—which, the company reports, makes it easy to incorporate them into designs. Peregrine has also announced evaluation kits for each DTC (part numbers EK64906-11, EK64907-11, ED64908-11 and EK64909-11, respectively). According to the company, the kits include an interface board and a USB cable to enable quick evaluation, prototyping and debugging via simple-to-use graphical user interface (GUI)-based control software. Available now, the PE64906/7/8/9 DTCs come in an eight-lead, 2-millimeter by 2- millimeter QFN package, for $0.60 each in 10,000-unit quantities. Samples and volume-production quantities are also available. The new DTCs are also available through Peregrine's network of distributors, which includes Richardson RFPD.
GreenRoad Adds RFID to Smartphone-based Fleet Management Solution
GreenRoad, a provider of driver-performance and safety-management solutions for fleets and organizations, has announced that it has added RFID technology and other new features to its GreenRoad Smartphone Edition software. GreenRoad Smartphone Edition, which works on Android Near Field Communication (NFC)-enabled smartphones that can be deployed on each vehicle within a fleet, is designed to provide drivers with real-time, in-vehicle feedback, such as e-mail alerts, whether the driver is operating the vehicle at a dangerous speed or location, or is otherwise engaged in a dangerous activity. It also blocks the physical use of the smartphone while the vehicle is in motion, and provides fleet-summary dashboards, driver-specific details, driver location during trips, and other management reports. GreenRoad Smartphone Edition employs smartphone native functionality, including GPS and built-in accelerometers, to eliminate the need for a professionally installed telematics device in the vehicle, the company reports. The new RFID feature automates driver association with trips, identifying a driver when he or she boards a vehicle and taps his or her NFC-enabled ID badge on the phone. According to GreenRoad, FirstGroup, a bus operator in the United Kingdom, has deployed RFID across its fleet of 7,500 buses as part of its DriveGreen initiative. "With 18,000 drivers using GreenRoad, it is important that we have accurate records of who is driving a bus at any time," said Terry Sparkhall, DriveGreen's manager at First UK Bus, in a prepared statement. "During the trial, drivers gave us very positive feedback about how much easier it is to use GreenRoad with RFID, so we have quickly deployed the technology across the entire fleet." GreenRoad also identified another customer, Big Bus Tours, an operator of open-top sightseeing tours around the world, which is employing RFID in its fleet of open-top tour buses in London, Washington, D.C., and San Francisco, with Dubai and Abu Dhabi soon to follow. In addition, GreenRoad Smartphone Edition has been enhanced with Facebook integration, enabling drivers to share their achievements with friends. According to the company, a new version of GreenRoad Central, the software at the core of the GreenRoad service, includes real-time alerts for exception events, including high-risk events in all driver behavior categories, such as hard braking, unsafe lane changes or fast acceleration out of a turn, as well as speed violations. In addition to receiving e-mail alerts in real time, managers can view their alerts on a to-do list via GreenRoad Central. GreenRoad supplies and installs the software and hardware necessary for the implementation.