May 02, 2019Presented here are news announcements made during the past week by the following organizations:
Delta Hotels by Marriott Dallas Allen, Altera Development, ASSA ABLOY Global Solutions;
Schreiner PrinTrust, APCOA Parking;
Taoglas;
VMware;
Pod Group, Klevio; and
Impinj.
Delta Hotels by Marriott Implements ASSA ABLOY RFID Door Locks
ASSA ABLOY Global Solutions has announced the implementation of its VingCard Signature RFID locks at the Delta Hotels by Marriott Dallas Allen, a newly constructed modern luxury property located in Allen, Texas. The decision by Altera Development, the owner of the property, to adopt ASSA ABLOY's RFID-based door locks was based on its ability to provide high-security technologies, the company reports.
With operations and strategic partnerships in more than 166 countries, ASSA ABLOY Global Solutions was able to meet the hotel's local support needs during the implementation, providing expedient installation and staff training. By relying on local support, Altera Development was able to conform to regional regulations and requirements, as well as provide a swift resolution to any subsequent troubleshooting issues.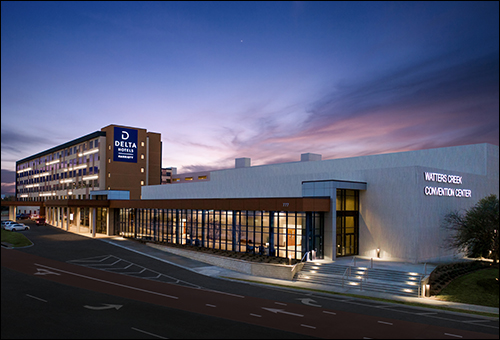 "From pricing to its unmatched support availability and level of technological expertise, ASSA ABLOY Global Solutions is in a league of its own when it comes to meeting all of a hotel's needs, and selecting the company over competing providers was a straightforward decision to make," said Mike Kennedy, a principal at Altera Development, in a prepared statement. "With the success that we experienced in installing VingCard Signature RFID door locks, we are fully confident in our hotel's ability to provide guests and staff with the highest quality of security that the industry has to offer at all times."
With the installation of VingCard Signature RFID locks, the property has incorporated anti-cloning encryption technology to prevent unauthorized keycard cloning. The locks' RFID abilities ensure that guest keycards function properly, by eliminating the risk of misreads or inadvertently erased keycard data. The system is mobile-access-ready and enables users to activate mobile key functionality without needing to replace any existing hardware.
Schreiner PrinTrust Intros RFID Smart-Parking Solution
Schreiner PrinTrust has announced that APCOA Parking has implemented its ((rfid))-Windshield Label Global UHF solution. APCOA, a European parking facility manager, is using this digital platform for smart parking in 200 parking garages throughout Germany. The service includes contactless entry and exit, automatic billing and app-based supporting services.
When a user approaches a parking garage barrier in his or her car, the barrier will automatically open via the wireless technology of the RFID chip in the label, and the system will then debit the parking fee using that individual's stored credit card details. Users have the option of either permanently applying the RFID label to the inside of a windshield or using it on a mobile carrier card.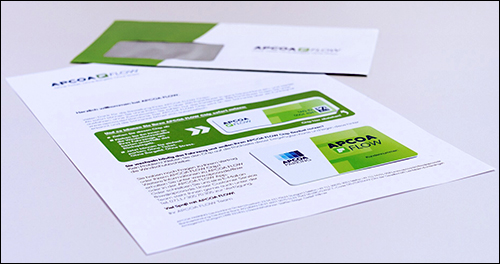 APCOA had sought an RFID solution tailored to this specific use case. In order to receive all components, including the carrier card and client mailer, from a one-stop-shop, APCOA wanted to implement the project with a single provider. The company ultimately selected Schreiner PrinTrust, a supplier of RFID-based solutions for parking applications.
The ((rfid))-Windshield Label Global UHF was specifically developed for use in automatic vehicle identification and for mailing to clients. It is resistant against heat and sunlight, the company reports, which helps to ensure a long life on the inside of windshields. The chip is designed to provide good performance in all weather conditions.
With invisibly integrated, full-surface light protection, the chip can remain fully functional even when exposed to direct sunlight, the company reports. Data security is ensured as well. A user's personal details are not stored on the chip itself; rather, via an allocated individual unique ID, they are securely deposited in the back end of a database. The ((rfid))-Windshield Label Global UHF is produced in a high-security environment certified according to the ISO 14298 und NASPO Security Printing standards at Schreiner Group's facility in Oberschleissheim.
Taoglas Opens IoT Design and Support Center in Minneapolis
Taoglas, a provider of Internet of Things (IoT) antennas and RF solutions, has announced the opening of a new facility in downtown Minneapolis to support the increasing demand for its products and services for the development of IoT devices and solutions. The facility, located on the first floor of The 15 Building, features an antenna and RF test and design laboratory, including a 5-meter anechoic chamber.
Founded in 2004, with global headquarters in Dublin, Ireland, and U.S. headquarters in San Diego, Calif., Taoglas operates nine facilities worldwide, with approximately 350 employees. The new location will support the demand for Taoglas antennas and RF solutions in the Midwest U.S. region. As the president of Taoglas U.S., Dennis Kish will lead the Minneapolis office.
"The greater Minneapolis area has really been a strong growth area for Taoglas over the last few years, as home to many of our customers, partners and one of our top distributors, Digi-Key," said Dermot O'Shea, Taoglas's joint-CEO, in a prepared statement. "Minneapolis is one of the country's fastest-growing technology centers and its universities are becoming well-known throughout the world for their ability to produce strong RF and wireless engineers. The growth of IoT companies, in particular, has been prominent in the region, making it a natural home for Taoglas. We look forward to serving our customers and partners from this new location."
Taoglas Minneapolis opened its doors six years ago with a smaller facility, and the firm is investing millions of dollars in the new lab to service increased demand. "Minneapolis has made strong investments in technology and tech education over the past several years," said Minneapolis Mayor Jacob Frey in the prepared statement. "Those investments have paid dividends with companies like Taoglas committing to our city, adding jobs here, and helping make Minneapolis one of the fastest-growing tech-hubs in the country."
Taoglas needed a larger footprint not only for its engineering staff, but also for the RF anechoic chamber and design laboratory. Taoglas's Satimo SG24-L chamber is designed for fast over-the-air testing of antenna and mobile device conformance in the frequency range of 400 MHz to 6 GHz. It handles all LTE, GNSS and Wi-Fi protocols and offers a measurement speed up to three times faster than that of previous Satimo version. Taoglas Minneapolis can now perform a variety of tests, including antenna and OTA measurements for GSM, GPRS, UMTS, LTE, Wi-Fi, TRP / TIS, and antenna characterization.
"As wireless and IoT devices continue to grow in sophistication, so too must the sophistication of the antennas and RF devices that provide access to connectivity," said Ronan Quinlan, Taoglas's joint-CEO, in the prepared statement. "This new facility allows us—and our partners and customers—to perform a wide variety of tests in our Minneapolis location, helping speed time to market. We're happy to be a part of Minneapolis' growing role as a city of technology innovation."
VMware Offers Platform to Facilitate IoT Deployment
VMware has announced the availability of the next generation of its VMware Pulse IoT Center, the company's edge infrastructure and Internet of Things (IoT) device lifecycle-management platform. VMware Pulse IoT Center 2.0 includes updated capabilities designed to provide customers with fine-grained management of the entire lifecycle of IoT/edge devices, connected sensors and applications. Device registration and on-boarding are now more secure, the company reports, making it easier for users to get started with the IoT.
VMware Pulse IoT Center is a secure, enterprise-grade edge infrastructure and IoT device-management solution for information technology (IT) and operational technology (OT) organizations, as well as any IoT use case. With Pulse IoT Center, organizations can quickly get started with the IoT, automate management at scale, extend IT security standards to the edge and IoT infrastructure, and optimize the value of their IoT data.
There are numerous challenges with getting started in the IoT, the company reports. For example, securely connecting and orchestrating data originating from different device types can be difficult, with different operating systems and connection protocols often creating isolated IoT silos. These silos can prove costly and inefficient to manage, the firm notes, and can help to reinforce the gap between IT and OT organizations. VMware Pulse IoT Center 2.0 thus is designed to help solve the highly distributed, massive scale and inherent security challenges of edge and IoT systems.
These systems require that enterprises adopt a consolidated management control plane to visualize, monitor and secure different types of edge systems across multiple IoT use cases, and potentially millions of connected devices. VMware Pulse IoT Center's management control plane can support both IT and OT organizations, and can thereby help to bridge the gap between them.
Pod Group Provides Secure IoT Connectivity for Klevio's Smart Door Entry App
Pod Group, a provider of platforms, software and connectivity services for the Internet of Things (IoT) and connected enterprises, has announced that it has signed an agreement to provide an IoT connectivity solution to Klevio, a supplier of remote keyless access applications. The Klevio One device is a Wi-Fi- and 4G-enabled smart intercom and smartphone app that enables consumers and businesses to remotely open doors to their properties from anywhere around the world.
The Klevio One device operates like an ordinary intercom with a doorbell function, as well as the ability to speak to visitors and open both private and communal doors. But it also allows property owners to perform these functions remotely, via an app on their smartphone. Users can create digital time-limited keys for short-term lets or property management, and the device can be installed on an existing door lock to make it smart, by fitting an electric strike to the doorframe.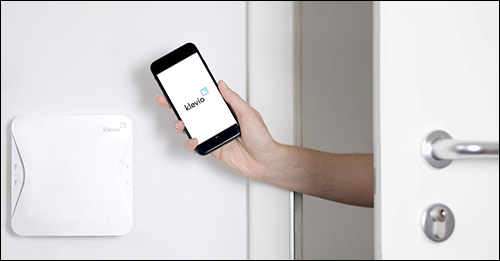 Klevio chose to connect its smart door entry application using Pod Group's secure, multi-network connectivity. The solution includes multi-network SIM cards offering connectivity on more than 600 networks in more than 185 countries. The SIM automatically swaps networks if the device loses signal, thereby ensuring continuous connectivity.
Pod's F2M connectivity-management platform allows customers such as Klevio to manage their SIM base globally from a single centralized interface. The platform provides analysis of each device's connectivity, as well as network security monitoring and threat detection. "We chose on both price and performance," said Mark Curling, Klevio's COO and co-founder, in a prepared statement. "We parallel-tested a lot of providers, and the SIMs from Pod Group provided the best connection and fastest ping in low-reception environments."
Charles Towers-Clark, Pod Group's CEO, added in the prepared statement: "Klevio's application is a perfect example of the power of connected IoT devices and the convenience they provide. With over 20 years of experience in connecting M2M/IoT devices, we can offer in-depth expertise on any aspect of connecting devices, including the latest technologies, security, management and billing. We are delighted that our solution has been selected by Klevio to provide secure, resilient connectivity for its innovative smart entry application."
Impinj Intros New RFID Readers for E.U. Upper Frequency Band
Impinj has released a new RFID reader and gateways compatible with European Union upper-frequency-band operations: the Speedway four-port fixed reader, the xSpan gateway and the xArray gateway. High item density and RF-unfriendly environments can make it difficult to accurately read tags, the company reports, and moving items that remain in a reader's field-of-view for a short time are also hard to read. Readers operating at greater power and with higher bandwidth can make tags easier to read, the firm notes, with less time required to complete an inventory cycle.
Current EU regulations allow RFID operation in the frequency band of 865 to 868 MHz, using 2 watts of radiated power and 200 kHz channels. Impinj has advocated for regulatory changes to expand RFID operations into the 915 to 921 MHz frequency band, using 4 watts of radiated power and 400 kHz channels. The company's new reader and gateways are designed to match these anticipated regulation changes. The devices are intended to offer increased read range and coverage area, thereby reducing the number of readers and antennas required for a deployment.