Dec 19, 2013The following are news announcements made during the past week by the following organizations: Farsens; Technology Solutions UK Ltd.; NXP Semiconductors; Knapp's Dürkopp Fördertechnik division; and Comprion.
Farsens Unveils Battery-Free RFID Moisture-Sensing Tag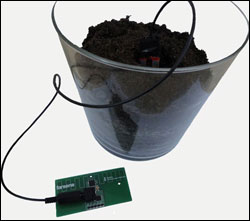 Farsens, a Spanish developer of RFID sensors, has announced the new Hydro, a battery-free wireless sensor tag designed to monitor the humidity levels of soil or other materials. Intended applications include irrigation automation (activating irrigation only in the areas requiring such activity) or the detection of liquids in areas or items that should be completely dry. Compatible with commercial readers compliant with the EPC Gen 2 standard, the Hydro supports a 96-bit Electronic Product Code (EPC) number, a 32-bit tag identifier (TID) and a password-protected kill command, and offers a read range up to 1.5 meters (5 feet). The tag comes in the form of a printed circuit board (PCB), and is available in a variety of antenna design and sizes, depending on the specific application. Available models include the DWB, a wideband ultrahigh-frequency (UHF) RFID tag built on T-shaped PCB with overall dimensions of 43 millimeters by 134.8 millimeters (1.7 inches by 5.3 inches) and a UHF dipole antenna, and the M868, an 868 MHz UHF RFID tag with a rectangular PCB measuring 40.8 millimeters by 81.8 millimeters (1.6 inches by 3.2 inches) and featuring a meandered dipole antenna. The Hydro's external moisture sensor board, which attaches to the tag's PCB via a wire cable, has resistance values ranging between 200 ohms and 30 megaohms, depending on the moisture level.
TSL Adds Wrist-Mount and Holster Accessory Options for Its 1128 UHF RFID Reader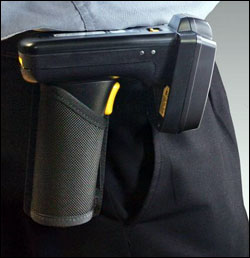 Technology Solutions UK Ltd. (TSL) has introduced two accessories—a wrist-mount adapter for attaching a Motorola Solutions MC40 terminal to Motorola's WT4000 wrist mount, and a belt holster for its 1128 Bluetooth UHF RFID reader—to better facilitate the fast, accurate and cost-effective tracking of products, assets and data in such applications as retail, logistics, warehousing and distribution. Data can be captured and transmitted completely hands-free, via automatic RFID scanning. The 1128 reader, released in May (see RFID News Roundup: Technology Solution (UK) Ltd. Announces Bluetooth Handheld UHF RFID Reader), is designed to communicate wirelessly with a variety of Bluetooth-enabled mobile devices, including Motorola's MC40 handheld computer, as well as smartphones, touchscreen MP3 players, tablets and PCs. The Wrist Mount Adapter (WRIST-ADAPT-MC40) provides a means of securing an MC40 handheld computer to Motorola's wrist mount for its WT4000 wearable terminal. The Belt Holster (1128-HOLST-01-TRG) snugly holds the 1128 reader's trigger handle. By using TSL's new adapter to mount the MC40 terminal onto a wrist and by carrying the 1128 reader in the belt holster, TSL reports, a worker can capture and transmit RFID data completely hands-free.
NXP Brings NFC-Enabled Badges to 2014 International CES
RFID chip manufacturer NXP Semiconductors has announced that it will power the technology behind the Near Field Communication (NFC)-enabled show badges used at the International CES event, to be held on Jan. 7-10, in Las Vegas. The 2014 CES badges will employ Mifare DESFire EV1 RFID chips. By simply tapping their show badges to NFC-enabled smartphones, attendees can quickly exchange business credentials and retrieve specific product information from NFC-enabled devices or posters displayed by various exhibitors. Smartrac, an RFID and NFC tag developer, will provide the Mifare-based RFID inlays that will be embedded in attendees' badges. CES is owned and produced by the Consumer Electronics Association (CEA), the technology trade association representing the $203 billion U.S. consumer electronics industry. The event offers business leaders and pioneering thinkers a forum at which the relevant issues can be addressed. According to CEA, the annual event showcases more than 3,200 exhibitors, including manufacturers, developers and suppliers of consumer technology hardware, content, technology delivery systems and more; a conference program with more than 300 sessions; and more than 152,000 attendees from more than 150 countries. NXP offers a wide range of Mifare contactless IC products, and reports that it has sold 50 million reader and 5 billion card components to date. The semiconductor company co-invented NFC technology in 2002, while still part of Royal Philips Electronics, and now provides NFC controllers, secure elements in all form factors, NFC tags and reader ICs to customers worldwide. Currently, NXP says, original equipment manufacturers (OEMs) have selected its NFC technology for approximately 200 mobile devices. CES is not the first event to adopt NFC RFID badges. For this year's New York Comic Con (NYCC), a pop-culture and comic-book convention held in October, the event's organizer, ReedPOP, made the switch from paper tickets to the RFID badges in order to thwart the use of counterfeit tickets, and to better monitor and control traffic (see RFID News Roundup: New York Comic Con Adopts RFID to Control Counterfeiting).
Knapp's Dürkopp Division Speeds Up Fulfillment Process at Klingel's Warehouse and Next Group's DC
K-Mail Order GmbH (better known under the name Klingel), one of Germany's largest mail-order businesses, and Next Group, a British multinational clothing, footwear and home products retailer, are using RFID solutions from Dürkopp Fördertechnik, a subsidiary of Knapp, to automate fulfillment processes. Until recently, when it received merchandise returned by its customers, Klingel employed a manual process to collect those goods and return them to its warehouse. With this manual sorting process, one employee could perhaps handle 150 items an hour. To increase efficiency, Klingel turned to Dürkopp, which had installed a roll adapter system for hanging goods a few years prior. Under the new system, returned flat goods—ranging from T-shirts to dressing gowns—are sent, in a wire mesh box, to a newly created pick-up point, where an employee then removes the items and places them on a short conveyor belt. From there, these goods are inserted into a hanging bag. The bag, which is automatically presented at a slant so that each garment easily slides into it, is identified by an RFID chip linked to that item's bar code. The system's output is now around 5,000 items an hour, according to Dürkopp. Klingel's warehouse already had the capacity for 140,000 items of hanging goods and, as a result of the refurbishment, a further 20,000 bags for flat goods have also been added to this total. Next Group's distribution center, located near Pontefract, in West Yorkshire, has expanded its deployment of Dürkopp's RFID-controlled automated sortation system. The expansion involves the installation of 23 additional pick buffers and associated conveyor connections, which can store a total of 90,000 single garments on hangers. The pick buffers enable automatic storage and single item picking for both e-commerce and shipments to stores. Dürkopp designed the entire concept to take stock from an adjacent high bay warehouse for feeding into the automated forward pick-face and sortation process. Garments are selected at this point for shipment to Next's U.K. and international stores, and to service the company's growing volume of catalog and Internet sales. Every garment is individually tracked throughout the system using Dürkopp's RFID-controlled "Roll Adapter System," which carries unique product information in real time for tracking, picking and sorting. The adapter enables individual hanging items to be transported along an overhead conveyor system, from induction to dispatch. The adapter is automatically removed at the end of the process for reuse on incoming stock, thereby keeping operational costs down. Olymp, a German manufacturer of men's shirts, is using a similar system, with RFID tags and interrogators produced by Turck (see Knapp Conveyor Uses RFID to Help Sort and Pack Items in Proper Sequence).
Comprion Launches Robot Solution for Automated NFC Testing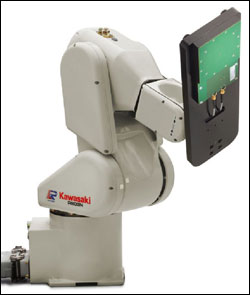 Comprion has added a Near Field Communication (NFC) robot to its UT³ Platform, to provide a comprehensive and automated solution for RF analog testing. The six-axis robot allows for the testing of NFC devices, regardless of their size or shape. This enables testing not only of mobile NFC-enabled devices, but also of other NFC-enabled consumer electronic goods, such as televisions. An additional benefit is the possibility of emulating natural movements, like the swipe of a hand to and away from the reader. An NFC Forum-compliant device must support all different NFC technologies with a large number of possible parameter sets, which becomes especially apparent when testing RF performance at the physical level. Although only about 30 test cases have been specified for the RF interface, the variety of parameters and antenna positions adds up to approximately 3,500 individual test executions. Running this vast number of test cases manually is a time-consuming effort that can be tedious and error-prone. "We choose to integrate the Kawasaki robot, as they have over 50 years of experience in robotics," says Hajo Sandschneider, Comprion's head of NFC and interoperability. "The robot is extraordinarily exact and reliable, and keeps these properties even in long-term use. This helps our customers to create precise results even after 3,500 test runs or more—not a given fact, per se."