Jan 16, 2014The following are news announcements made during the past week by the following organizations: Xterprise; Tyco Retail Solutions, ChainLink Research; RFID Canada; DAP Technologies; Thinaire; Checkpoint Systems, RGIS; and Accenture.
Xterprise Announces New Pricing Model for Item-Level RFID Tagging
Xterprise, a division of the SML Group, has announced a new pricing model for its RFID item-level solution that bundles software, RFID hardware, and implementation and support services with RFID tags. The new bundling includes Xterprise's Clarity, a solution designed for retailers that has item-level capabilities for in-store retail applications to verify shipments, receive and transfer merchandise from one store to another; count inventory and search out individual tags using handheld readers; generate fulfillment lists; and more. According to the company, the new pricing model, known as the Solution+Tag (S+T), is designed to simplify the purchasing process for RFID solutions, and provide flexibility in the way that brand owners and retailers account for RFID-related expenses. Typically, companies must acquire separate proposals from tag manufacturers, software providers and reader companies when implementing an RFID solution, Xterprise explains. Bidding for all of these components is often carried out serially, the firm adds, and can drag out the process of deploying a solution—even for short-term pilots—by months, slowing down speed to market while adding risks and costs to implementation. Combining solutions and tags into the S+T solution makes the deployment cycle faster and easier, Xterprise reports, and gives retailers the choice of including solution-related expenditures as part of the tag cost (the cost of goods sold) rather than as capital outlays. This, according to the company, can lower startup costs and deliver faster time to value. With bundled S+T pricing, customers can also purchase tags in bulk, as well as lock in guaranteed supply at a fixed price that includes Xterprise's Clarity item-level RFID software solution. Based on business-case modeling that Xterprise has carried out with its customers, Xterprise's president, Dean Frew, believes that tags represent 80 to 95 percent of the total cost of adopting RFID technology over a five-year period. Frew says that combining Clarity with SML's ViziT RFID program, which offers EPC-encoded RFID tags on a global basis, allows customers to take advantage of SML Group's economies of scale and accelerate their return on investment.
Inventory Accuracy, Reduced Out-of-Stocks and Increased On-Floor Availability Drive Retail RFID Adoption, According to Report
A new ChainLink Research report, sponsored by Tyco Retail Solutions, indicates that the three top reasons cited by retailers for implementing RFID are improving inventory accuracy, reducing out of stocks (OOS) and increasing on-floor availability. The report notes that it makes sense for improved inventory accuracy to be a top priority, since that is so critical to strong sales, and that RFID technologies can enable faster inventory accounts (about 25 times faster than traditional, manual bar-code scanning)—which, in turn, means inventory counts can be performed more often and more accurately. According to the report, accurate cycle counting improves inventory accuracy, typically by 20 to 30 percent, which allows retailers to achieve 99 percent inventory accuracy. This, in turn, enables replenishment alerts to be reliably generated, thereby increasing on-floor availability and decreasing out-of-stocks, typically by 15 to 30 percent. All of this, the report notes, results in a sales uplift ranging from 1 to 10 percent or more. To create the report, ChainLink Research surveyed and interviewed more than 120 retailers from the Americas and Europe, to explore the resurgence of interest and substantial growth in the use of RFID in retail. "RFID has come a long way in the last few years. Standards have been established. Prices for systems and tags have plummeted. RFID technology has become much more reliable," the report's authors wrote. "Software applications that can be integrated into retailer IT systems and that are user-friendly at the store level are now available. There are many more experienced implementers who understand the pitfalls and how to avoid them. RFID providers have evolved to more of a complete solution approach, rather than requiring such heavy-lifting component-by-component integration, engineering, and customization." The report indicates that many of the challenges associated with earlier RFID use have been resolved through technology advancements, and also identifies other reasons that retailers are more often turning to RFID, including for loss prevention (specifically by using RFID at store exits). The report also explores the lessons learned from projects that stalled or were cancelled. When asked why an RFID program was cancelled or halted, respondents cited lack of well-defined use cases, lack of executive support, and other competing business priorities as their top reasons, according to the report.
RFID Canada Unveils New Family of Dual-Technology RFID Scanners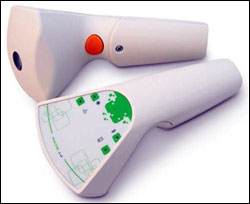 RFID Canada has unveiled its PT2SCAN scanners, a family of handheld devices that combine high-frequency (HF) RFID technologies—a version with an ultrahigh-frequency (UHF) RFID reader is available upon request—and bar-code scanners. HF RFID standards supported include ISO 15693, ISO 14443 A/B and Near Field Communication (NFC). According to Bob Moroz, RFID Canada's president, the family of scanners can be employed in any asset-tracking applications that require HF NFC RFID or bar-coding, with key markets in the health-care and library sectors. Three models are available: one that offers HF NFC RFID functionality only; a model with HF NFC RFID capability with a 1D laser bar-code scanner; and one with HF NFC RFID and a 2D bar-code imager. The devices are compact, measuring 180 millimeters by 86 millimeters by 45 millimeters (7 inches by 3.4 inches by 1.8 inches), and are lightweight, weighing less than 200 grams (7 ounces). They are ergonomically designed for easy use, without the need of special settings and calibrations, according to RFID Canada. Features include a single push button, four LEDs, one buzzer and one vibrating motor for its control and use, as well as a tamper-proof real-time clock for time-stamping each transaction. The readers can operate in two modes: standalone and online. In standalone mode, the device is fully independent and can store transactions in its internal memory that can later be downloaded once the device is connected to a network. In online mode, the system is controlled by a remote device via the USB or Bluetooth ports. The memory allows for storing up to 10,000 reads or scans, and can run more than 8,000 reads or scans before recharging the battery is necessary.
DAP Technologies Launches LTE-Enabled Ultra Rugged Tablet with QWERTY Keyboard, RFID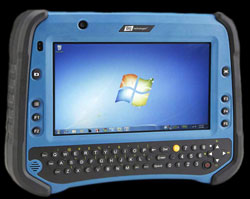 DAP Technologies has unveiled the M9020, a LTE-enabled ultra-rugged tablet available with two different RFID backpacks (add-on readers). One backpack can read automatic equipment identification (AEI) active RFID tags used by railroads, while the other can read passive EPC Gen 2 ultrahigh-frequency (UHF) RFID tags via Trimble's Micro EPC Gen 2 RFID-embedded reader module. According to DAP Technologies, the tablet provides users with the freedom to carry only a single mobile device to track assets, collect information, synchronize systems, report data, and receive and respond to messages. It was specifically designed for use in harsh environments, such as oil and gas, yard management, manufacturing, and warehouse logistics. In addition to supporting LTE cellular service, the M9020 features other forms of wireless communications as well, such as Gobi 5000, WLAN 802.11 a/b/g/n and Bluetooth, and a form factor that has multiple comfort grips, can be used by either the right or left hand, and can be operated with gloved or bare hands. The tablet has a 7-inch sunlight-viewable touchscreen that is industrial-reinforced, has a glass-on-glass touchscreen, and automatically switches from landscape to portrait view, based on how a user is holding it. It runs Microsoft Windows 7 Professional and optional Windows Embedded Standard 7, comes with a QWERTY keyboard, and features Intel's Atom N2600 processor and a 1.6 dual core processor with 4 gigabytes of standard random access memory (RAM). It has an IP 67 rating and meets the MIL-STD-810G U.S. military standard, signifying that it is protected against dust and can withstand immersions in up to 1 meter (3.3 feet) of water.
Thinaire Launches BLE Beacon Solution for Mobile Marketing
Thinaire Transmedia Network has announced a mobile engagement marketing and sales solution called Thinaire Spaces, which features Bluetooth Low Energy (BLE) beacons. The company is also offering Thinaire Mobile Engagement 360, a solution that combines Bluetooth beacons and Near Field Communication (NFC) RFID tags, and is designed to let brands engage consumers via nearly any mobile on-ramp to bring media, objects and spaces to life on consumers' most personal devices—their smartphones, tablets and connected devices. A beacon consists of an active RFID tag that transmits a unique ID via a 2.4 GHz signal compliant with the Bluetooth Low Energy (BLE) standard (see Companies Deliver New Apps for Bluetooth Beacons). Thinaire Spaces provides a new way for brands and retailers to engage consumers on BLE-enabled smartphones (iPhone 4s and beyond, nearly every major Android phone, and the Microsoft Windows-based Nokia Lumia line)—which, according to Patrick Meyer, Thinaire's chief marketing officer, most consumers now carry. "Thinaire and its partners are deploying beacons," Meyer says, "and our cloud-based platform to serve up the rich array of user experiences that we have been delivering across the last two years for major brands: Kraft, Adidas, Google Wallet, Sony, NBC Universal, Jones of New York, Bon-Ton Stores, etc." Thinaire's Bluetooth beacons and NFC RFID tags can be affixed to products, signs, in-store promotions or point-of-sale (POS) terminals, and can deliver branded media content onto a smartphone or tablet whenever a shopper places his or her mobile device in close proximity. Thinaire, for example, is providing in-store advertising company News America Marketing> (NAM) NFC services for NAM's "SmartSource with NFC" program. That program leverages NFC tags embedded within the company's Shelftalk signs deployed at the majority of its network of 52,000 U.S. retail stores (see News America Marketing Launches RFID-enabled Signs). Thinaire's cloud-based NFC and BLE solutions are designed to help brand marketers and retailers generate new sales, by enabling consumers to experience products and branded media in new, engaging and personalized ways on their smartphones, tablets and other RF-enabled devices. More than one half million stock-keeping units (SKUs) are currently managed, according to the company, and programs are available for activation at more than 50,000 retail locations. Thinaire is continuing its rollout across 70,000 traditional retail outlets, Meyer says, as well as into media, products, and entertainment and sport venues. Because Thinaire is cloud-based, customers and partners need not implement software. "The back-end software is extremely intuitive and capable," he states. "We work with enterprises to create their actual collateral, execute and devise their campaigns using BLE or NFC. Once a campaign is live, consumers are able to opt in and receive alerts from brands similar to the way they would with Apple iBeacons or other beacon alternatives."
Checkpoint Systems and RGIS Collaborate on Retail RFID Implementations
Electronic Article Surveillance (EAS) and RFID retail solutions provider Checkpoint Systems and RGIS, which provides supply chain, inventory, insights, merchandising and optimization solutions, have announced a partnership that the two companies say will focus on providing retailers with an end-to-end RFID-based inventory-management solution. The solution incorporates Checkpoint's Merchandise Visibility Solution, with RGIS' global team of inventory specialists and inventory-counting services, the two companies report. The partnership represents RGIS' initial foray into RFID and the start of its commitment to provide RFID-based proof-of-concepts and full deployments for retailers. Checkpoint's Merchandise Visibility Solution includes its OATSystems software, RFID hardware, tags, RFID-trained field engineers (to deploy and support the implementation), RFID-based EAS leveraging Checkpoint's OneTag approach and Wirama Radar technology, RFID-based point-of-sale solutions and RFID compliance tools. RGIS' team provides tag-up services for pilots and rollouts, as well as cycle counting and audits for retailers that opt for third-party support for these activities. Checkpoint and RGIS report that they have designed several packages to help facilitate financial flexibility for retailers implementing RFID, from pilot through full deployment.
Accenture Consumer Survey Reveals Market Opportunities in Wearable Technologies
A new Accenture survey, known as the Accenture Digital Consumer Tech Survey 2014, has found that a little more than half (52 percent) of consumers are interested in buying wearable technologies—many of which utilize RFID and wireless sensor technologies—such as fitness monitors for tracking physical activity and managing their personal health. The survey, conducted with more than 6,000 participants in six countries—Australia, Canada, India, South Africa, the United Kingdom and the United States—showed that 54 percent are interested in buying a health monitor, 52 percent are interested in a fitness monitor and 51 are interested in a personal safety monitor. According to the Accenture report (available for download here, wearable technologies can be used in a variety of ways. Fitness monitors can track a person's heart rate and calories burned, while Internet-connected eyeglass displays enable consumers to browse the Internet, take digital photographs and receive hands-free notifications. "In the past year wearable technologies have emerged as the next big consumer electronics market category, particularly for health and wellness," said Mattias Lewren, the global managing director of Accenture's electronics and high-tech industry group, in a prepared statement. "To capitalize on this growth opportunity, consumer electronics companies should consider investing in wearable product innovation and industrial design, and building ecosystems that connect wearables to the broader array of interactive digital networks. Every consumer is a digital consumer, and the keen interest in wearable technology provides further evidence of that."