Nov 12, 2014Following several years of preliminary testing of radio frequency identification technology, mostly centered on proof of hardware, replacement automotive-battery supplier Interstate Batteries is in the middle of what it describes as a "validation phase" of an RFID pilot protect to evaluate a solution that it co-developed with Minnesota-based technology firm Seeonic. The project, which began in November 2013, involves the deployment of two million RFID-tagged batteries, 2,200 RFID-enabled storage racks, and 29 RFID-enabled trucks that deliver batteries to those stores. With the readers installed in stores and on vehicles, the company will know the product inventory at each dealership or store location, as well as what is in transit in the delivery trucks at any given time, and what has been sold and thus requires replenishment at a specific customer site.
Throughout the next year, Interstate—the largest U.S. supplier of automotive replacement batteries—will continue to study how it can best use the data coming from the test locations and vehicles, and will then determine the next step in the RFID deployment process. Bruce Hellen, Interstate Batteries' director of business practices, notes that a project of this magnitude and complexity must be accomplished in phases, beginning with technology verification and continuing through to ensuring that the collected data can be utilized in an effective manner. He reports that the technology testing has gone extremely well, and that the entire program is unfolding at a very aggressive pace.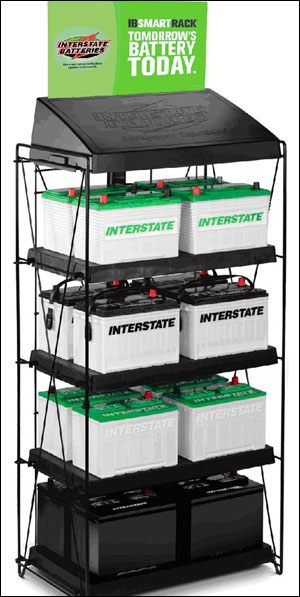 In 2012, Seeonic and Interstate tested the use of RFID at four stores in Minnesota's Twin Cities (see Battery Supplier Deploys RFID to Manage Product Inventory). The two companies then analyzed the test results. One of the main challenges with this project was that batteries are filled with lead and liquid, which combine to make an extremely difficult environment for reading RFID signals. Seeonic's patented Eye reader antenna (a 4.5- by 5.5-inch antenna designed to be low-cost) overcame these challenges, Hellen reports.
For the validation phase, Hellen says, the company is focusing on employing RFID in a larger, more complex environment than that of the first test, and is managing the resulting data. Flexo-Graphics attached Smartrac EPC Gen 2 passive ultrahigh-frequency (UHF) inlays to approximately two million of the labels it produces for Interstate Batteries, and encoded each inlay with a unique ID number, according to Harley Feldman, Seeonic's co-founder and chief marketing officer.
Interstate installed 2,200 of its IBSmartRacks, on which the tagged batteries are stored or displayed, at stores within five geographical regions. The IBSmartRacks, built by Display Source Alliance, were designed to unfold using hinged sides for ease of installation. The racks come in several sizes, each with Seeonic's array of multiple antennas installed within it, connected to a single co-developed SightWare RFID reader, made with a ThingMagic M6e reader module.
The SightWare reader, which runs on AC or DC battery power, awakens periodically to capture the IDs of tagged Interstate batteries and transmit that information to Seeonic's Seeniq cloud-based software, via a GSM or CDMA mobile connection. Although cellular connections are used in this case, Feldman notes that the SightWare reader supports a variety of communication media, including a serial port.
Seeonic's software filters and interprets the read data and forwards such details as the stock-keeping unit (SKU), overall product counts and location information to Interstate's own management software. Interstate can then access the software and view the inventory level at each store. In that way, the company's managers can create routes for drivers to deliver products according to each store's actual inventory requirements. In so doing, the firm hopes to reduce instances of drivers attempting deliveries that need not be made and, conversely, ensure they make deliveries as soon as they are needed. This will help Interstate to better ensure that products do not end up out of stock, which can lead to lost sales. Another of the company's goals, Hellen says, is to reduce fuel consumption by 30 percent.
Interstate's RFID-enabled delivery truck, known as an IBSmartTruck, features an onboard SightWare reader for capturing the ID of each battery being transported. The objective is to save time that drivers would otherwise spend conducting manual counts of stock within the vehicle before and after making deliveries. Without the system, a driver must manually check the vehicle's load before it leaves at the beginning of a shift, and again when it returns. The driver confirms everything that is loaded in the back of the vehicle at each of these times, and that data can then be compared against delivery reports. The RFID technology has reduced inventory-management time by 30 minutes per day, per truck, Hellen reports.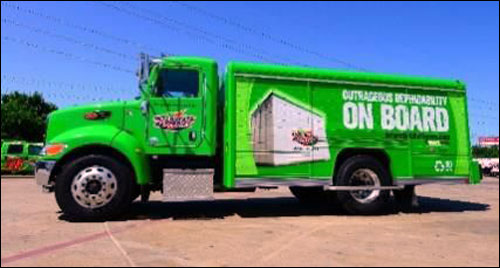 Interstate will also use the SmartTruck data to more accurately calculate each vehicle's weight (by knowing exactly how many batteries are onboard, and which types) in order to ensure compliance with all U.S. Department of Transportation regulations.
The data generated by RFID technology is causing Hellen and his colleagues "to reflect on some of the company's fundamental processes," he says. "We all know there is so much that goes on in the market that you're blind to," he adds, but the RFID data makes it possible for management to determine where waste occurs or sales are missed, based on ineffective inventory-replenishment practices.
"RFID shines a light on your processes, which helps you come to grips with not only things that aren't working, but things that are working well," Hellen states. "We are consistently harvesting data that we could otherwise not attain. Now that we have proven that the patented RFID-enabled data-collection system is reliable, we are focusing hard on actually using the information to help run our business. We are focusing on both simple and complex uses of the data. The simple applications are fairly easy to verify, and we are excited about the initial results. The more complex applications need more testing so we better understand what can and cannot be done with the data."
Ultimately, Feldman says, the technology offers business-process improvements enabling companies to identify inefficient processes and then make the necessary changes to address them.