Dec 16, 2015Delivering health care to millions of people in the developing world, where resources are severely limited, is a challenge. Most hospitals and clinics are overcrowded and understaffed. Medical records are largely paper-based and easily lost. And blood tests required to diagnose anemia and other medical conditions are expensive and time-consuming, and the results are prone to misinterpretation.
Christina Swanson is senior scientist at Diagnostics for All, a company whose mission is to make low-cost, efficient and transportable diagnostic devices available to resource-constrained populations. She knew the paper-based assays used to measure protein levels in blood hold great promise for widespread testing, but they also have drawbacks—the main one being they require a health-care worker to closely monitor reaction times and visually interpret the test results. Swanson realized that if the assay could be linked to an RFID transponder, the device could report the test results automatically, freeing up workers to greatly increase the number of people they could test in a given day.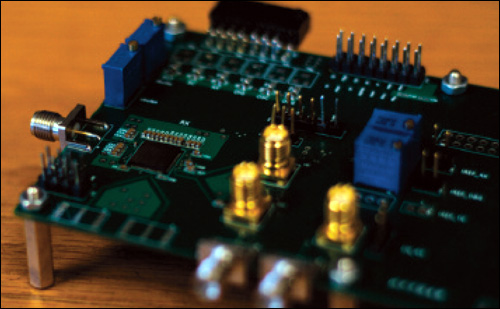 Swanson contacted the Auto-ID Lab at the Massachusetts Institute of Technology, which has been working on passive ultrahigh-frequency RFID solutions for 15 years. There, she teamed up with Rahul Bhattacharyya, a research scientist who has been working on a variety of low-cost passive UHF RFID sensors, to develop an RFID-based anemia test.
Anemic blood has more plasma and fewer red blood cells than healthy blood. When tested with a paper-based assay Swanson designed, the anemic blood separates faster and flows through microfluidic channels more quickly. Bhattacharyya developed a unique RFID transponder with a probe. When fluid flows through the assay into the probe, the impedance of the antenna changes, reducing the RF signal from the tag. By measuring how quickly the tag signal changes, the device can determine the number of red blood cells in the blood.
"These sensors can free up the worker using the test," Swanson says. "We can also link the ID of the RFID tag to a person and transmit that information to the doctor treating that patient. The blood test results are more accurate because there is no interpretation by a health-care worker."
The prototype device has proven the concept is viable, Bhattacharyya says. Lab tests show the results can automatically differentiate blood samples with red blood cell levels ranging from 20 percent to 50 percent, which is good enough to discriminate between blood samples of anemic and nonanemic patients. The next step is to determine which tests are most needed in the developing world, and to develop assays that can test for more than a single blood component—and report the results via RFID.
"What's most exciting about this work is that you can print most of the components, including the RFID antenna," Swanson says. "That will enable us to create very low-cost devices that can be stored at room temperature. They are paper so they are lightweight and won't cost much to ship. We think they can have a big impact on health care in areas where there are very limited resources."