Aug 01, 2014Managing medications used by anesthesiologists during surgery is as time-consuming as it is critical to ensuring that all product is available when needed. To automate this process of replenishment—thereby saving time and preventing any mistakes—San Diego's Rady Children's Hospital is among the medical facilities employing a medication-tray management system provided by MEPS Real-Time that employs passive ultrahigh-frequency (UHF) RFID tags.
Rady Children's Hospital is a 520-bed pediatric-care facility affiliated with the University of California, San Diego's School of Medicine. Rady, the largest children's hospital in California, treated more than 192,000 children patients in 2013.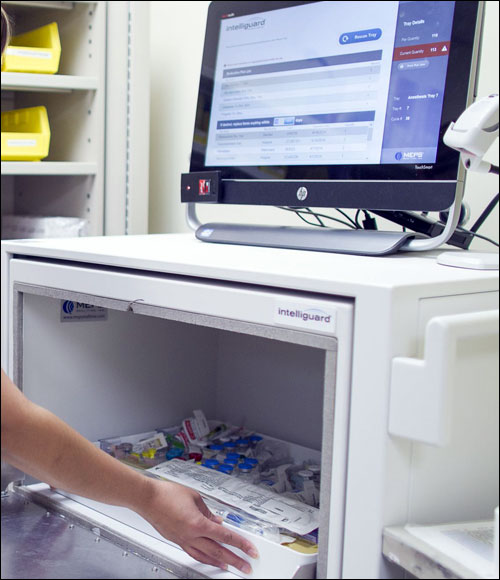 Each time an anesthesiologist removes a medication from an anesthesia cart and uses it, that drug must then be replenished—typically by means of a manual process whereby operating room personnel visually check not only which items may be missing, but also which ones may soon be expiring. The hospital has not measured specifically how long it takes to validate and replenish all medications within an anesthesia cart, says Ken Schell, Rady Children's Hospital pharmacist-in-chief, "but it's a significant amount of time."
The hospital sought an automated solution that could prevent errors, improve inventory management and optimize labor use, Schell says. The other concern, he notes, was a safety issue: ensuring that situations never arose in which medications were unavailable when required, and that drugs nearing their expiration dates could easily be identified and removed.
On July 7, the hospital installed MEPS Real-Time's Intelliguard Kit and Tray Management System. To date, Schell says, MEPS has tagged 17,000 medications, input approximately 200 trays (each with its own RFID tag) into the system, and trained dozens of workers.
MEPS offers several RFID-based Intelliguard solutions for the health-care industry, including a temperature-controlled cabinet and an automated dispensing unit. Late last year, the company released its Intelliguard Kit and Tray Management System, following a trial at San Diego's Sharp Memorial Hospital that lasted from December 2010 to August 2011 (see To Keep Drugs from Expiring, Hospital Tests Intelliguard System). The solution consists of an "all-in-one cart" (so called because it serves both as a medication dispenser and an inventory-management system) that stores medication trays and can be rolled throughout the hospital as trays are needed in operating rooms and other areas, explains Shariq Hussain, MEPS' CEO. The cart comes with a built-in Impinj Speedway Revolution RFID reader that can be used to encode new tags, validate the items on any given tray and provide details regarding which medications may be missing or expiring. MEPS Real-Time also offers its own adhesive UHF passive Small Tag, made with an Impinj Monza 4 chip and an antenna based on Impinj's B42 reference design.
When the Rady Children's Hospital pharmacy receives medications, staff members input each drug's name into the Intelliguard software, stored onsite as a standalone system, and use the cart to encode the tag with a unique ID number linked to the medication data.
A tag is also affixed to the tray. Rady Children's Hospital is tagging 81 trays comprising three different types, each requiring different stocked medications. The software stores that information so that if a tray is being loaded with the incorrect drugs, workers will be able to identify a problem quickly by viewing the cart's screen.
Following surgery, the tray is returned to the pharmacy, where a technician places it inside the cart's built-in enclosure and closes the door to validate what is missing. The reader then captures the tag IDs of all items on the tray and displays a list on a screen installed on the cart, indicating which items are missing or expiring. The technician then collects those items from the stock shelves, places them on the tray and returns the tray to the cart for validation by a licensed pharmacist. Once the scan determines that the tray is properly equipped and error-free, the tray is deemed ready for reuse.
The collected data is stored on the cart's standalone software, Hussain says, though it could be integrated into a hospital's inventory or billing software upon request. Most customers, he notes, prefer to launch the system immediately, and thus prefer the standalone model. MEPS Real-Time reports that it has more than 100 contracts in the works related to the medication-management system.
The system makes hospital staff use more efficient, Hussain reports. At most hospitals, he says, the manual checking and replenishment of a single tray typically takes a half hour or longer to complete, whereas the RFID-enabled solution requires only about two minutes. Schell has observed a similar reduction in time, noting that an employee using the MEPS cart requires no more than five minutes to complete a tray's validation and replenishment. In fact, he says, the system is simple enough to operate that his employees were each trained to use it within about 15 minutes. What's more, he has used the system himself. That is important, Schell points out, since the hospital needs systems that can be easily operated.
When a staff member uses the cart's RFID reader to scan his or her own badge ID, the Intelliguard software stores the identity of the person associated with that validation and replenishment.
The hospital believes that the system helped reduce labor time a few weeks ago when a certain medication was recalled and needed to be located quickly. However, Schell says, it is still too early to determine all of the benefits that the technology provides. During the coming months, he says, he and his team plan to review how the system performed for the pharmacy and operating room departments, and will share their findings with executive management, who could determine other ways in which the system might help in other departments.
Chris Abe, Rady Children's Hospital's senior director of ancillary and support services, says the facility has taken advantage of this deployment to improve the standardization of medications provided to anesthesiologists, and can now more closely manage exactly which medications are available, thereby potentially reducing unnecessary inventory levels. "The exciting piece of this," she says, "is that we'll be able to go back to anesthesiologists, who are very engaged in this process," and share with them such data as which medications are being used most frequently, and when, as well as which drugs might not be used at all.
Abe says she expects the technology to both boost efficiency and safety. "I think we're going to get into a very well-established best-practice business model," she states, from which other hospitals could benefit as well. "There are other systems out there [using RFID or another technology to track medications], but they're incredibly expensive," she adds, while the Intelliguard cart and its related software is relatively affordable.
Although the Rady Children's Hospital installation is still in its early stages, Schell notes that "teamwork is what makes something like this happen," adding that he had support from the hospital's executive leadership, which is necessary for success with such a project. "That's the only way to move forward with something like this."
Once the system has been up and running for 90 days, Schell says, he hopes to determine that it not only makes replenishment more efficient, but also improves patient safety and helps the pharmacy department maintain quality assurance and regulatory compliance and know exactly which drugs are available for use and where they are located at all times.
"We've been through the education process," Hussain says, recalling meetings he has had with potential customers during the past seven years. "Over the years, a lot of education was needed, but we've now reached the point where RFID is widely accepted," and the company no longer needs to explain what the technology is and how it works.