Jan 26, 2009Oregon State University (OSU) and the Oregon Department of Agriculture, together with the Northwest Food Processors Association (NWFPA), are attempting to bring radio frequency identification to the U.S. Northwest's food industry. The effort was launched last week with an RFID workshop and pavilion held at the NWFPA's annual exposition in Portland, as well as the opening of a new RFID lab that is part of OSU's Food Innovation Center. For the first time in its history, the annual NW Food Manufacturing & Packaging Expo included a workshop that described food-related RFID deployments in other regions of the country, in addition to a pavilion featuring exhibits from suppliers of RFID products and services.
"RFID is still new to the food industry," says Connie Kirby, NWFPA's VP of scientific technical affairs, "and our members don't have a lot of experience with it." As a result, she states, "there was quite a bit of curiosity about RFID among our members."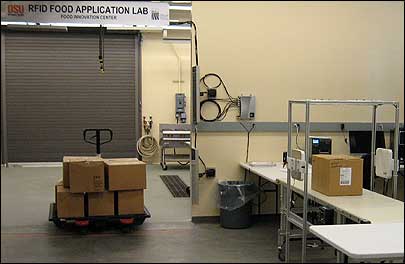 Among the NWFPA's 450 members are 86 food-processor companies that operate in Washington, Idaho or Oregon. These include Birdseye Foods, ConAgra, Kraft Foods and Willamette Valley Fruit Co.. Some NWFPA members have carried out pilots and tests of RFID technology (see New RFID Technology Helps Kraft, P&G, Kimberly-Clark Go the Distance), but most have had limited access to RFID educational or testing opportunities.
At the workshop, Qingyue Ling, an OSU professor of food technology, told a group of approximately 40 attendees that his vision was to educate the food industry regarding RFID. "The more I understand this technology," Ling said, "the more I realize the need for the food industry to have education about it. What I have wanted to do is provide more interaction between the food industry and RFID suppliers." Ling spearheaded the creation of both the Food Innovation Center's RFID Food Application Lab, and the NWFPA Expo's RFID workshop. The Northwest has had no university-based RFID food labs, Ling explains. The RFID Food Application Lab is equipped with a handheld interrogator, one fixed case reader mounted over a variable speed conveyor and a fixed portal interrogator for reading pallet tags. The lab also includes EPC Hotspot, a system used to help determine the optimal location for tags on a specific case, and EPC Solutions' TagManager software to allow label printing and encoding.
At the lab, the food industry can employ RFID technology, including different kinds of readers, testing tag placement on cartons and pallets, and read performance based on conveyor speed and the type of product being tracked. Approximately 16 NWFPA members toured the 1,000-square-foot lab on Monday, Jan. 19—its opening day for educational purposes. "They got excited to see what we have set up, and what kind of service we can provide," Ling says. "Through lab demos, it helped them to better understand what actual basic RFID components are."
Lab demos included presentations explaining the basic components of an RFID system, how tags are read at the case, pallet and item levels, and how RFID labels are printed and encoded, as well as how a case tag can be associated with a pallet tag. Although no company has yet signed up for lab research, Ling says several companies are currently discussing the possibility with him. "Our initial service will be case- and pallet-tag placement optimization," he notes, "and will be fee-based." The university will utilize the lab for independent RFID tests, and starting in March, companies will also be able to use it for testing.

"I wanted to see if we can provide the kind of leadership that is needed to get this started between RFID vendors and the Northwest food industry," Ling says. The workshop was a collaborative effort between OSU, the NWFPA and the Oregon Department of Agriculture.
Members attended the RFID session with questions regarding how the seafood industry could employ radio frequency identification to track the harvesting, processing and distribution of fish—as well as how the produce industry could track apples and other products from farm to store, using solutions combining RFID and GPS technologies. Because the food they supply contains a great deal of water—which can interfere with RF signals—NWFPA members expressed concern regarding read rates, including how to accomplish a read of tags on crates in the middle of a pallet.

During the NW Food Manufacturing & Packaging Expo, John Ryan, administrator for the Hawaii State Department of Agriculture, updated the group regarding the state agency's RFID program in which the produce supply chain uses RFID-tagged containers to provide visibility of produce as it is shipped from the state's 600 farms to stores and restaurants (see Hawaii Plans Traceback Program for Fresh Food). According to Ryan, the state has entered phase two of the project, in which members will test a recall event; during this phase, the agency will attempt to identify the source of a specific piece of produce, as well as the batch from which it came (such as would be necessary in a recall) and where other produce from that batch might be located. With phase two, the agency is also launching a Hawaii Food Safety Center Web site, at which consumers can learn how the state is using RFID to ensure the safety and authenticity of Hawaiian food, and at which supply chain participants—whether growers, logistics companies or retailers—can advertise their products and services, as well as share data about produce shipments.
As part of the food-visibility project's second phase, Ryan says, participants will test sensors that could be wired to RFID tags, to transmit temperature data regarding produce as it is being shipped. Among the wireless sensor networking products being considered for testing are those manufactured by Crossbow Technology and Infratab.
Other speakers at the workshop included Magalie Laniel, a researcher and graduate student at the University of Florida's Department of Agricultural and Biological Engineering, who described a strawberry-tracking pilot in which the use of RFID and temperature sensors increased the profit for a trailer's worth of strawberries by approximately $13,000, by tracking per trailer. Bill McBeath, chief research officer of ChainLink Research outlined several different traceability systems, such as grain supply chain tracking, that can ensure, for instance, that organic ingredients are separated from non-organic.
According to Kirby, attendees told her they were pleased with the workshop's content, and that they gained greater understanding of RFID's role not only in traceability but also in improving efficiency in food processing and logistics. "The traceability part, I believe, was expected, but they appreciated the efficiency and productivity benefits they could gain," she says. These included improved inventory management and product movement within a warehouse.
At this point, Kirby says, the NWFPA has not yet decided whether it will offer RFID workshops at its future expos. "We need to wait and see," she states, adding that she expects her organization's members will express opinions regarding the matter in the coming months.