Dec 30, 2021RFID company  Avery Dennison has released a new version of its AD TT Sensor Plus 2 active temperature-logging device, which now includes Bluetooth Low Energy (BLE) and Near Field Communication (NFC) technologies. The tag automatically transmits the temperature status of shipped goods as they pass through warehouse dock doors or other zones. Thus, sensor data can now be captured without operators having to manually read logger data or tap an NFC device or phone near each sensor to upload it.
The tag retains its predecessor device's NFC functionality, transmitting at 13.56 MHz (compliant with ISO 14443), so that those with a mobile phone or NFC reader can interact with the tag without requiring a BLE device. The company designed the tag for customers who track temperature-sensitive goods, such as perishable foods or pharmaceutical products, according to Benoit Jourde, Avery Dennison's senior business-development manager for healthcare.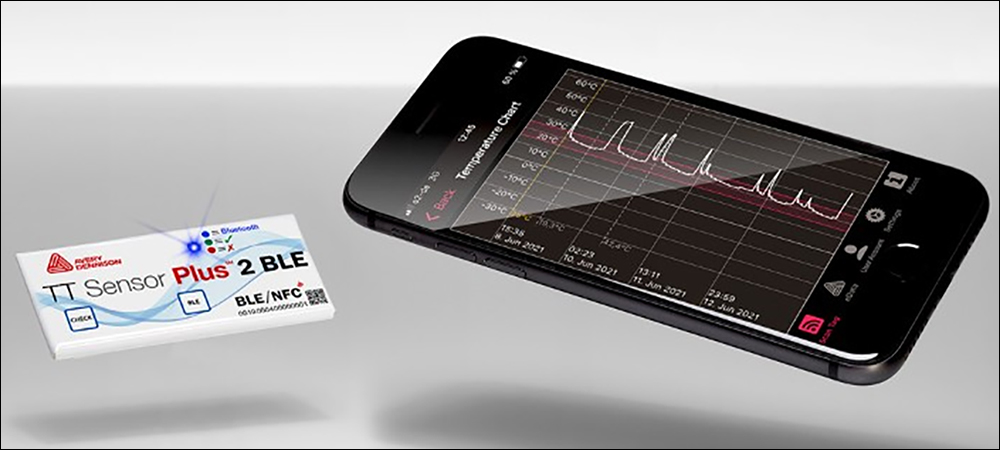 The company launched the TT Sensor Plus in 2019 with a temperature sensor, a microchip to store temperature readings and an NFC radio to transmit the complete temperature record wirelessly. "After a few years in the market," Jourde recalls, "we saw that there was a nice use case for NFC alone, but there was the opportunity to do more." While users no longer had to manually check logger information, the NFC functionality still required individuals to systematically bring a phone close to each device in order to upload information. That meant the data access required a pallet of goods, for instance, to be halted once received so that each logger device could be scanned—even for devices that were difficult to reach.
Customers wanted to know if they could detect temperature excursions in the supply chain without disrupting the movement of goods, Jourde explains. "We have seen that if we were able to keep the same frame [of the AD TT Sensor Plus] and add the functionality of Bluetooth, we would be able to bring some automatization," he says, by enabling the simultaneous reading of numerous tags from a distance. "With NFC," he adds, "they were happy to have a way to upload" without requiring a computer. However, they were looking for greater automatization.
Here's how the TT Sensor Plus 2 BLE works: Users first configure the device, then access the cloud-based software or app to define authorized temperature parameters, as well as acceptable excursion times. For instance, they may wish to receive an alert if goods rise above 16 degrees Celsius (61 degrees Fahrenheit) for more than four hours. They can also determine how often they want the datalogger to read temperature measurements, along with who can access the collected data. The settings are linked to the sensor's unique ID number and stored on the device, and the information is also forwarded to software hosted on Avery Dennison's cloud-based server.
The cloud-based information can be accessed on the server or via the TT Sensor Plus app using Android- or iOS-based devices, Jourde says, and all data is encrypted. Users can provide data access to other members of the supply chain, based on their preferences. Companies can install BLE access points at key locations, such as in a warehouse's dock doors. The technology is compatible with any off-the-shelf Bluetooth access points. As soon as tagged goods are received at a warehouse and come within reading distance of a standard BLE beacon, the data is automatically transmitted from the Sensor Plus device, including the tag's unique ID and the current temperature reading.
In the event that a temperature excursion outside preconfigured parameters has occurred at any point during transit, an alert is sent at the time of the beacon transmission. Users can then stop the shipment, seek out the specific tag and upload the full temperature history onto a phone or other NFC-enabled device. In that way, Jourde explains, users can know what occurred and when, enabling them to resolve the issue. If there have been no issues in transit when it comes to temperature, however, they can simply confirm the data without stopping the movement of goods to interrogate each tag with an NFC-enabled phone. "Then you can keep things moving," he says.
The sensor's microchip stores all the readings and is capable of doing so every ten minutes for approximately two years. At the end of a product's shipment, users can employ the NFC functionality to capture all of that data. That action requires NFC technology, Jourde says, because the amount of data involved—as many as 500,000 data points—would be too voluminous for BLE. With the NFC-based details, companies have a record of the entire set of temperature readings throughout transportation. Each temperature reading is linked to the time with real-time clock (RTC) accuracy.
The device comes with a battery to power sensor readings and BLE transmissions, Jourde says. The battery of the NFC-only version offered a three-year shelf life, while the BLE-enabled model has a two-year lifespan. The AD TT Sensor Plus 2 BLE inlays have a footprint of 70 millimeters by 32 millimeters (2.8 inches by 1.3 inches). The device has temperature accuracy within 0.3 degrees Celsius, with a range of -30 degrees to +60 degrees Celsius (-22 degrees to +140 degrees Fahrenheit). Avery Dennison will continue to sell the NFC-only version as well.
According to Jourde, several early adopters in southern Europe are now testing the BLE devices for tracking food through the supply chain. These companies are not only testing the capture of data, he explains, but also sharing that information with other authorized supply chain members. The tag can be reused, he says, adding that its lifespan "is only limited by the way it is handled." This results in a single datalogger that can be reprogrammed with multiple setting options, and which can be reused multiple times to prevent wastage.
With the technology, Avery Dennison predicts its customers will be able to move from reactive mode—not knowing a temperature problem has occurred until after goods reach their destination—to proactive capability, with users notified of any problems while they can still react. For users of the solution, Jourde says, the challenge is to make sure they have installed the BLE access points to capture data, and to ensure operators are trained to use the information properly.
The product has been available since early December. While food companies are the first to deploy, Jourde reports, Avery Dennison expects the system to be used by pharmaceutical businesses and makers of temperature-sensitive products, including wine and spirits. Italian bottle label maker  Notarianni Srl, for instance, is using the NFC version of the solution to log temperatures with the AD TT Sensor Plus 2 device inserted in cases of bottled wine. The company's wine-making customers can then view the conditions to which the wine was exposed throughout the supply chain before reaching a retailer.