Mar 08, 2011MultiCare Health System's Good Samaritan Hospital, located in Puyallup, Wash., has launched the first phase of an RFID installation that will enable the health-care facility to track its assets, employees, patients and workflow, as well as the temperatures of refrigerators and warmers, and also prompt the display information about the staff, for patients to view on video Smart Boards in their rooms.
The first phase—which includes the tracking of assets and the temperature management of coolers and warmers, using AeroScout battery-powered Wi-Fi-based tags and ultrasound-emitting tag exciters to improve location granularity—went live in February 2011 with the opening of the hospital's new nine-story, 357,000-square-foot tower. In April, the facility plans to move into the next phase by providing RFID- and ultrasound-enabled badges to patients and staff members, and by utilizing Amelior EDTracker software from Patient Care Technology Systems (PCTS) to pinpoint individuals' locations within the facility, and thereby predict the next necessary action and prompt that action to occur.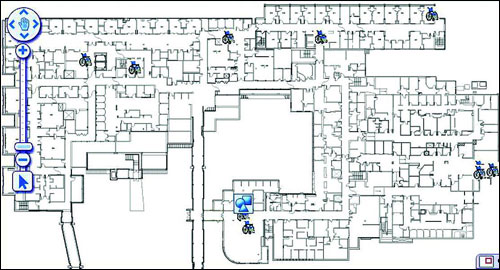 To view a larger version of the above image, click here.
After completing the installation of Phase 2 later this spring, using PCTS software, and then testing the system in its emergency department, the hospital plans to expand to other departments as well, including surgery.
Good Samaritan Hospital is also developing its own software to send location data to Smart Boards—40-inch video screens installed in each patient room. A patient can use a Smart Board to watch television shows or hospital-related programming, such as educational health videos, as well as access the Internet and order meals, by touching the screen or utilizing a remote control. At the bottom of the screen, the patient will be able to see information regarding the scheduled goals and procedures for the day, including the names of the staff members who will treat that person. Once employees and patients begin wearing RFID badges, the AeroScout-PCTS system will be able to detect which worker has entered a patient's room, and cause the Smart Board to display that individual's first name and photograph, along with his or her role as a member of that patient's treatment team. The RFID-enabled Smart Board applications are scheduled to go live in the fall of this year.
The Smart Board is intended to provide a layer of comfort for patients who may be confused by the variety of staff members entering and exiting their rooms to provide various services. With the data provided on the monitor, a patient will immediately know who has arrived, and will be assured that each visitor is a member of the hospital team assigned to assist that individual.
The installation of the project's first phase was timed so that the asset- and temperature-tracking applications would become operational when the hospital's newly constructed patient tower opened in February. The rooms are now being filled with patients, beginning with the lower floors. The health-care facility used community funds gifted to it in order to pay for the RFID-based automation system that is intended to make the staff more efficient, and to provide patients with better care as a result.
The initial phase of the project is focused on asset tracking and temperature management, says Jeremy Prosch, MultiCare Health System's director of IS and project portfolio. The hospital management sought a system that would identify the locations of high-value, highly mobile assets, such as stretchers and infusion pumps, using the existing Wi-Fi infrastructure, but it also wanted room-level granularity, which is not always possible using Wi-Fi solutions. As a result, the facility chose to install two AeroScout ultrasound exciters at the entrance to each room of the new tower, in order to detect when a tag enters and leaves a particular room, thereby providing room-level granularity. Prosch reports that according to studies he has read, approximately 30 percent of a hospital's nursing staff's time is spent hunting for and gathering equipment—and the MultiCare facility, he says, is no different. Even with the RFID system, staff members will need to walk to the equipment's location and retrieve it, but the "hunting" portion of the process will be reduced, he notes, and will free up workers to spend more time caring for their patients.
The hospital began by tagging 2,000 assets, and also placed temperature tags in about 300 refrigerators, freezers, blanket and IV-fluid warmers, as well as additional tags in hospital rooms to measure ambient temperature and humidity. This solution, Prosch says, helps the facility to comply with Joint Commission regulations regarding the monitoring of cooling-unit temperatures, while in all cases (coolers or warmers), it frees staff members from the task of tracking the coolers' and warmers' temperatures manually, using pen and paper. "It also allows us to proactively monitor those temperatures, so if you do have something going south (such as a cooler malfunctioning), we get an early alert." A total of 14 sensor tags are also used to track humidity in operating rooms, and in other areas in which air quality is especially critical. Nine sensors are being utilized in OR rooms, as well as one in the imaging area, two in catheter labs and two in respiratory units.
The AeroScout tags contain an ultrasound sensor designed to receive signals emitted by the exciters, explains Amit Larom, AeroScout's VP of worldwide professional services. Each exciter continually transmits an ultrasonic signal encoded with that exciter's unique identifier. When a tag detects an exciter's signal, it awakens and begins to transmit its own unique ID number, as well as that of the exciter, to the nearest Wi-Fi access points. AeroScout's MobileView software identifies that tag's location to a specific room, based on the exciter's ID, as well as the locations of the Wi-Fi nodes, and even to a specific location within a room (assuming that multiple exciters have been installed in that room). This information is then displayed as an icon on a map of the facility, which employees can access on a hospital PC. The MobileView software resides on the hospital's database.

"We wanted to get these pieces [asset and temperature tracking] in place before moving into the new hospital," Prosch says, referring to the fact that the first phase of the system was installed to go live with the tower's February opening.
The next phase will include the deployment of PCTS' Amelior EDTracker workflow-automation software, utilizing AeroScout ultrasound exciters and RFID badges, which will be installed in the new emergency department to manage patient flow throughout the department. Amelior EDTracker will access location data from the MobileView software. The workflow-management system, Prosch says, is expected to be in place and operational later this year.
In addition, says Tony Marsico, PCTS' president and CEO, Amelior EDTracker will provide predictive functionality, enabling the hospital to establish rules, such as which procedures should follow a specific event. A notice can then be sent to the appropriate workers or department, thereby ensuring that the event begins in a timely fashion. Upon arrival, for example, a patient will be provided with a Wi-Fi badge with a unique ID number, linked in the electronic medical record system to his or her identity and records. Amelior EDTracker will draw location data from the MobileView platform, based on the unique identifiers of the ultrasound exciters installed throughout the emergency department, and update that patient's status as he or she is moved around the emergency department for examinations, diagnostic procedures or imaging.
The software will not only detect a patient's location (such as in the x-ray department), but will also link the ID of each staff member working with that patient to his or her status. In that way, the system can determine, for instance, that a patient has been seen by a nurse and is now ready for a visit from a specific doctor. The physician can then receive an alert indicating he or she is required by a particular patient. This notice can be provided in the form of a text message, or on video monitors mounted throughout the emergency department. It has yet to be decided, Marsico says, whether the monitors or another notification system will be used.
"One of our biggest hurdles," Prosch states, regarding MultiCare Health's system planning, "was finding the right partners who understood not only RFID but also health care." The AeroScout-PCTS solution, he adds, has provided the hospital with "a good collective team with our technical folks." The facility has worked closely with the clinical and other support staffs, to ensure they embrace the technology. Workers in Good Samaritan's material-management and biomedical departments have expressed enthusiasm in regard to the potential benefits of the workflow-automation system.