Oct 26, 2006After testing five generations of the technology for more than two years, German retailer Metro Group is ready to roll out so-called dock-door RFID technology. The rollout is slated to occur at about 150 locations by the middle of next year, said Christian Plenge, head of research and innovation at MGI Metro Group Information Technology.
"We have achieved a level of maturity in the technology that has so dramatically improved in the last six months that we at Metro have decided to roll out the technology on dock-door receiving gates next year," Plenge told attendees on the first day of the RFID Journal LIVE! Europe conference, held at a seaside town outside of Amsterdam. "We have communicated this to some of our suppliers."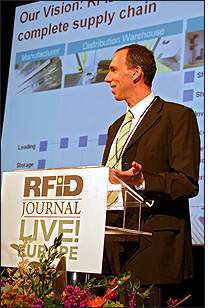 Dock-door RFID technology is used at the point where goods are unloaded from a truck's dock and through the door of the warehouse—for example, the gate for incoming and outgoing goods. Readers at the gate interrogate tags on pallets and pass the information to Metro's merchandise-management system. This allows the retailer to reconcile automatically the ordered goods with those actually delivered, rather than using an error-prone manual system.
Metro, one of the world's largest retailers and an RFID leader in Europe, is using Gen 2 Electronic Product Code (EPC) interrogators from Intermec and Sirit Technologies (see Metro Group Moves Forward with Gen 2). Plenge said Metro employs RFID tags from a number of different suppliers, depending on the project, but wouldn't specify which ones.
According to Plenge, Metro is working to refine other RFID-enabled steps in the logistics process, such as RFID-outfitted forklifts, which have moved from the feasibility and prototype stages to the test stage, as well as promotion tracking, also in the test phase.
RFID-enabled forklifts are utilized to pick up RFID-labeled pallets. After a reader on the forklift interrogates the pallet's tag, the driver is instructed where to unload the pallet. The system then confirms that goods have been placed in the proper high-rack storage area, helping prevent the misplacement of goods.
Plenge said that getting RFID to work on forklifts has been plagued with trouble. "Most of them don't work," he said, adding that Metro is now testing the fourth generation of the RFID-enabled forklifts.
Promotion tracking with RFID allows for improved promotion management by informing store managers as to which promotion displays are set up in which stores. "This gives us lots of insight into how the promotions are handled at the various sites," he explained.
Step by step, Metro is implementing a strategy to deploy RFID throughout the supply chain over the next 10 years—from the production of goods to shelf management. This is not a small task, given the group's diverse types of stores—ranging from electronics to grocery stores. Hence, different RFID readers and tags will be needed to handle the merchandise.

The goal is not limited to Metro's home continent of Europe, Plenge noted. Metro is conducting the first RFID tests with its Asian product suppliers to get a better understanding of the cross-border visibility that can be achieved with the technology. To that end, a consolidator and Chinese supplier are applying labels to export cartons that are read at the "goods-out" point in Asia and again at the "goods-in" point in Germany.
Plenge said Metro's Chinese partners are eager to understand and adopt RFID technology, and that managers at Metro stores welcome the application because they now know what goods are en route from Asia. "All of this is due to the improvements of Gen 2 technology," he said. "With Gen 2, it's not only the reach and the speed, it's also the sensitivity to materials [the ability to perform well with products containing liquids or metals] that has improved so much," he added.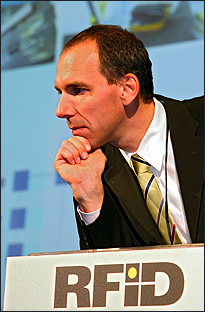 In other RFID developments, Metro has also started a test of case-level tracking from a Metro Group Logistics (MGL) distribution center in the German city of Essen to the Future Store in nearby Rheinberg. The test, involving 1,500 different fast-moving dry-good items, began in early July and will run until the end of the year.
Metro is applying EPC Gen 2 tags to cases of items as they are repackaged in Essen. The tags are then read when the cases are dispatched in Essen and received at Rheinberg. During the first phase of the test, Metro tagged all the items itself. "We wanted to find out how many products can be read on a mixed pallet," said Plenge.
Recently, the test was expanded to another six Metro locations. It now includes cases tagged by a few product suppliers, as well. Those partners can use EPC Gen 2 tags from the manufacturers of their choice, as long as the tags conform to Metro's quality standards. "We're rolling out technology in our facilities and enabling suppliers to provide us with tagged goods," he said.
Mark Roberti, editor and founder of RFID Journal, moderated the question-and-answer session, and asked Plenge if all of the research and development efforts have been worth it "It's not only a strategic goal for next the 10 years," Plenge responded. "We are addressing that step by step in a careful technical way...By enlarging everything to the entire supply chain, it not only puts Metro into a good light in the world, it's really giving us benefits on the bottom line."