Apr 26, 2004Markem, a provider of marking and coding systems for product identification, has developed a new printer-applicator to automate the placement of EPC-enabled smart labels onto product cartons. The new model—which has yet to be named—incorporates a label printer and applicator, an RFID reader/writer and software to manage Electronic Product Code (EPC) numbering. It also includes a 6-foot conveyor belt so that the unit can be placed at the end of any carton production line to automate labeling prior to shipment.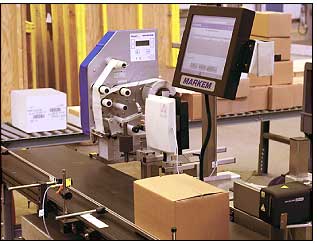 According to the company, other vendors such as Zebra and Printronix also offer smart label printers and applicators, but these vendors target the desktop printing market. Markem claims that its new unit will be the market's first high-throughput industrial printer/applicator for smart labels.
"This is a self-contained unit that sits on a pallet and can be fork-lifted into place. All that any customer would have to do is connect the unit to electricity and compressed air, and it can be up and running immediately," says Tilak Subrahmanian, director of business development at Markem, which is based in Keene, N.H. There is also an option to connect the unit to existing warehouse management software systems.
According to Markem, its new unit brings together existing Markem products that the company modified for RFID deployment. For example, the device's label printer/applicator has been adapted from the company's existing CimJet line that prints and applies human-readable labels and bar codes. Unlike the CimJet printer/applicators, the new unit has an EPC reader/writer to test and write to smart labels before automatically printing and affixing them to a carton. The unit also includes software to manage the sequencing and use of EPC numbers on the labels.
The ability to check that a label's embedded RFID tag functions properly before applying the label to a carton is essential, according to Markem, which has experienced around 15% failure rates for EPC tags in the smart labels it has used in developing its new printer/application.
The unit's 6-foot conveyor belt section is designed to attach directly to the end of an existing carton-production conveyor so that tagging becomes the final stage prior to shipping. According to Markem, the unit can currently process up to 70 cartons a minute, but once EPC Gen 2 tags become available (possibly later this year), that figure should increase because of the faster read times possible with Gen 2 tags.
Like the CimJet models, Markem's new carton labeler comes with a noncontact printhead that uses compressed air to apply the ink, which means that it can print human-readable text and bar codes on uneven surfaces such as smart labels and cardboard. The unit's ability to print human-readable text is critical, according to Subrahmanian. "The lack of a line-of-sight requirement with RFID is a good and bad thing. The trouble is, when reading items side by side, you don't know which one is being read," he says. In those situations, the labels' human-readable text can clear up the confusion regarding which item is which.
The device has been tested with EPC Class 1 tags from Rafsec and readers from Alien Technology, AWID and Matrics, but Markem says it plans to eventually add support for all EPC tags and readers. The company will ship a beta version of the unit to a handful of customers next month. A commercial version is set for generally availability in the third quarter. No pricing has been set.
The company says that although it is also preparing a version of the unit for pallet tagging, its focus will be on automating carton labeling. "A lot of manual pallet tagging will likely be going on for a while, and so the ROI on a label applicator for pallets won't be as clear as it is on one for cartons," says Subrahmanian.