Oct 17, 2014Information technology giant Cisco held its second annual Internet of Things World Forum in Chicago this week, and as the event opened on Oct. 14, Wim Elfrink, Cisco's chief globalization officer, told the roughly 1,500 attendees that the IoT has arrived. Three days and scores of presentations later, the company's leaders and the event's sponsors, including IBM, Intel and Schneider Electric, were clearly feeling optimistic about the industry—noting Cisco's own research showing IoT technology is poised to generate $19 trillion in value over the next 10 years.
But during his closing remarks on Thursday, Oct. 16, Cisco's charismatic CEO, John Chambers, tempered the enthusiasm a bit by warning attendees not to lag behind if they want to grasp those dollars. Pointing to a prediction that 40 percent of the companies on the Fortune 500 list won't exist "in a meaningful way" 10 years from now, he said, "This offers an opportunity to you. You can lead or follow, but if you follow you'll be roadkill." (Chamber's soft West Virginia drawl made those words not as foreboding as they look in print.)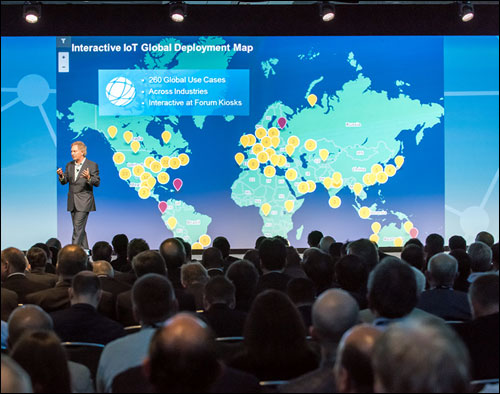 Despite the many IoT deployments Cisco is supporting, Chambers said, his company 'cannot afford to slow down now. "We're feeling pretty comfortable, but we're not even close to moving at the speed we need to," Chambers explained, adding that despite some notable product growth, he made a painful decision to eliminate 6,500 jobs this year.
Manufacturing, Energy Leading Sectors
Polling that Cisco conducted among attendees revealed that they felt most bullish about the benefits of IoT in the manufacturing and energy sectors.
Utilities are using sensor networks and smart meters to do such things as improve communication with ratepayers and make electricity grids more resilient and responsive to threats. While speaking on a panel discussing whether utilities are poised to see a "smart grid bubble" due to the rush of interest in the industry, Scott Harden, the VP of Bit Stew Systems, a software company that serves the utility industry, said, "I think utilities are already through the hype cycle. There are challenges affecting utilities that have been building up for several years, and some utilities have been working on [smart grid] pilots for 10 years and are now starting to put [those systems] into sustainment."
In the manufacturing sector, Rio Tinto's head of innovation, John McGagh, created tremendous buzz at the event with his keynote explaining how the mining company has integrated thousands of sensors across its infrastructure at some of its mines, in order to bring costly, high-risk operations under remote control. The firm has even made the massive 520-ton ore-hauling trucks at these sites able to operate autonomously.
Few companies have the resources to make the kind of investments into IoT technology that Rio Tinto has, but Cisco released a large interactive world map showing approximately 250 IoT deployments of Cisco equipment that range widely in scale and, presumably, cost. Janet Chaffin, president of AeroScout Industrial (a division of Stanley Black & Decker), said that during the past year, she has seen a marked change in how customers are looking at AeroScout's real-time location system (RTLS) products and services, which are often used in factory automation applications. "Customers are coming to us saying, 'We want to look at our entire enterprise—we don't want to just use AeroScout tags, but also a variety of other sensors,'" she said. "They are looking at IoT from an enterprise view from the beginning," rather than dipping their toes in through a small-scale pilot.
Still, the manufacturing industry is only beginning to tap into the IoT, said Rockwell Automation's CEO, Keith Nosbusch, during a keynote. "Fewer than 14 percent of manufacturers have connected their [manufacturing] machines to an enterprise platform," he explained, citing research conducted by IndustryWeek. He also called for more progress in marrying the skill sets of its operational technology experts with those of information technology departments inside organizations—referring to this as the "OT-IT convergence."
An Eye on Analytics and Security
Now that companies are beginning to roll out networks of sensors, one major emerging concern involves filtering, analyzing and securing the data generated, according to many end users at the event. On Wednesday, software company AGT International reported that it had developed three industry-specific analytics applications. The SmartPort application takes RTLS data regarding fleets of barges and helps port operators improve the flow of goods, as well as boost visibility into port operations. It also announced an application for the oil and gas industry, designed to help companies improve the management of production facilities and vehicles by analyzing data collected from sensors integrated into machinery. The third industry-specific solution is for police departments. Leveraging the data collected from sensors embedded in officers' vehicles, uniforms and equipment, this analytics tool aggregates data associated with each officer, and thereby learns his or her normal daily route and activities, identifying any anomalies. If it finds these, the app alerts his or her nearby fellow officers or the nearest precinct officers. It can also help make staffing and task delegation more efficient, the company notes.
At the IoT World Forum, AGT unveiled IoTA, a platform that applications developers from a range of industries can access in order to create their own analytics application. "Analytics is going to unlock the potential of IoT," said Mati Kochavi, AGT's CEO. "For that reason, we decided to take all the analytic tools we've developed and turn them into open platform, so any developer will be able to use the tools to make apps. Think of it like Netflix. It is a cloud-based platform that will include a huge library of analytics [tools]."
Earlier this month, IBM also announced a cloud-based application platform called Bluemix. During the IoT World Forum, the computer launched what it calls the IBM Internet of Things Foundation, which it bills as a place for developers to create applications for specific IoT use cases.
While security was clearly a top issue among those attending the IoT World Forum, there were no specific product announcements associated with tools to make sensor data transmissions more secure. However, Cisco rolled out an initiative called the Industry Talent Consortium, through which it is working with other corporations to close the skills gap that is leaving many companies searching for skilled technologists—especially in the cybersecurity space. Cisco issued a global security report this year that found a shortage of more than a million security professionals across the globe in 2014.
The talent consortium includes educational, corporate and recruiting partners. The New York Academy of Sciences, the Massachusetts Institute of Technology (MIT) and Stanford University will offer degree programs and professional development services, while Careerbuilder will identify opportunities and link candidates with employers. Rockwell Automation, General Electric, Xerox and, of course, Cisco are among the corporate partners in the consortium, hoping to benefit from the talent it nurtures.