Jan 13, 2020Argentine hospital Sanatorio Finochietto is using an RFID-based solution to bring visibility to all of its uniforms and linens, thereby ensuring that each item can be accounted for and that its washing process is conducted properly, while also preventing items from leaving the hospital without authorization. Its laundry services company, Lavadero Berazategui also employs the technology to track items at its own site.
Since the system was taken live approximately two years ago, the hospital says it has been able to reduce the cost of purchasing redundant inventory, as well as cutting labor time that employees previously spent counting garments and linens. It is now attaching RFID tags to other assets, in order to manage their usage and location; this will continue during the first quarter of this year. The solution is provided by Telectronica, using the company's cloud-based software and leveraging Zebra Technologies fixed RFID readers and antennas, in addition to handheld readers and Datamars RFID tags. The hospital is now tracking about 80,000 garments and linen items with the RFID system.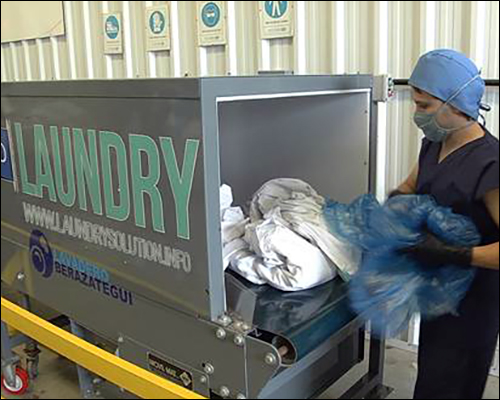 Sanatorio Finochietto, built in 2011, is among the largest private hospitals in Argentina, and is located in Buenos Aires. The company has been challenged with managing the uniforms worn by physicians and other health-care providers, as well as the linens and towels used for patient care. The lack of visibility into these items led the hospital to acquire excess inventory, while staff members spent a great deal of time counting the items as they left for and returned from the laundry service provider. In some cases, the lack of visibility into inventory caused delays as patient rooms were being prepared with fresh linens.
Additionally, garments sometimes went home with staff members, often inadvertently, and they could then be simply lost, or they could be laundered at a worker's home and be re-used—a practice that is not authorized. All garments must undergo an industrial washing process under strict quality management to prevent any disease or infection from being re-introduced to the hospital.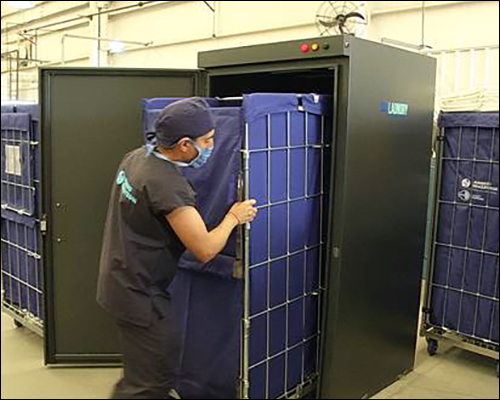 The hospital contacted Telectronica for a solution, according to Alan Gidekel, the firm's CEO. Since the hospital contracts its washing services to Lavadero Berazategui , the system was deployed to track items both in the hospital and at the laundry facility, using a combination of fixed and handheld readers and cloud-based software that could be accessed by both hospital and laundry management.
To deploy the system, Lavadero Berazategui first sewed Datamars RFID tags into each garment or linen item. Telectronica installed fixed readers at the hospital's entrances and exits, and it installed smart cabinets to identify when goods are shipped to and returned from the laundry. It also acquired handheld readers for inventory-management purposes. For dirty laundry leaving the hospital, a Zebra FX9000 cabinet reader can read 1,000 items simultaneously, according to Rosana Roman, Zebra's territory channel account manager. A smaller cabinet, utilized for returned clothes and linens, comes with a built-in Zebra FX7500 reader to capture data regarding which items come back to the hospital clean.
The process begins when a staff member picks up his or her garment or linens. That worker then uses a fingerprint scanner, provided by Telectronica, to identify himself or herself at the linens station. The scanner sends the fingerprint information to Telectronica's software, which matches the fingerprint to the specific employee and displays information about what items she or he uses (such as medium-sized scrubs). The worker retrieves the required items and uses a Zebra countertop reader to capture what is being provided, after which the software links those items with that employee.
The individual returns the items when finished with them by dropping them into the dirty laundry chute, where the goods are collected in bags. A staff member places the bags in the RFID reading cabinet, and the tags are read in order to indicate what has been returned and is being sent to the laundry.
Lavadero Berazategui also has RFID readers installed at its own site. Zebra reader cabinets at the inbound section capture tag reads as goods are received, while another reader interrogates tags at the ironing station and a third captures tags one more time, at a site in which trolleys of garments and linens are prepared for shipment. At each point, the tag read identifies each item and the status of the garment or linen, and the software can identify any errors, such as a delay in washing or a missing item.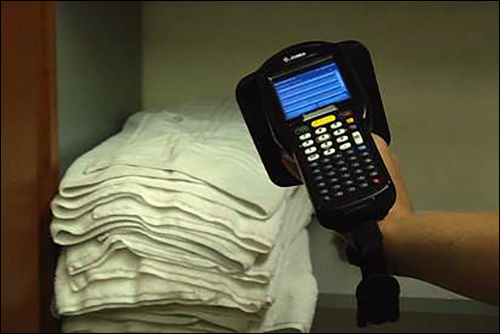 The clean laundry is sorted in batches so that if an item that is not tagged (and thus belongs to another customer), it would not be read, thus indicating that there is a shortage of products in the batch. The system also tracks the washing cycles that have been conducted. The RFID tags are expected to be washed 200 times without any damage. The software, however, can detect if a tag is no longer being read and needs to be replaced.
At the hospital, if an employee inadvertently walks out the door with a garment, the RFID tag's ID number will be captured by the fixed reader, and an alert will be sounded. A security officer can then retrieve that item from the worker, Gidekel says. Hospital personnel use Zebra MC3190 or TC20 handheld readers to count inventory in hospital rooms on a periodic basis, by simply waving the reader near cabinets, even if the door is closed, and viewing a list of all items at that location. The software can then indicate which items may be missing or need to be moved to another location.
With the solution in place, Roman says, employees can count linens and uniforms within seconds rather than the minutes or hours required to go through counting and identifying items manually. The technology provides a level of safety for staff members, he adds, since they need not handle dirty items, and it reduces the risk of someone touching something that could be harmful, such as a needle that was inadvertently caught in clothing or linens. Once the cleaned goods are returned, the system again saves workers from counting and identifying each item returned.
Since the technology was taken live, it has reduced the loss of items, leading to lower inventory-replacement costs. Other benefits to the technology, Gidekel says, are that it ensures that the hospital's management knows it is complying with industry regulations when it comes to managing linens and garments, and that it reduces the risk of cross contamination.
Zebra has partnered with Telectronica on solutions for around 25 years, Roman says, and the two companies will provide the solution to other facilities as well. "Now we have at least five hospitals implementing this," he states. In fact, other hospitals that use the same laundry service have indicated they may adopt an RFID solution. "This is a trend where we are seeing more and more hospitals are seeing a benefit to using RFID to manage their clothing," Gidekel says.