Apr 11, 2012During a test conducted within its quality-assurance area at a German production plant, car manufacturer Daimler found that it could employ passive EPC Gen 2 ultrahigh-frequency (UHF) RFID tags, in combination with readers and antennas made by real-time location system (RTLS) provider Mojix, to accurately locate and track Mercedes S-Class vehicles. The company now plans to continue and expand its testing, with an eye toward utilizing the technology to replace current manual processes for tracking cars within its factory.
The test was part of a three-year, €45 million ($59 million) project, known as the RFID-based Automotive Network (RAN), that was launched in early 2010 and involves three automakers: Daimler, BMW and Opel (see Germany's RFID-based Automotive Network Gets Rolling), as well as more than 10 automotive suppliers, logistics providers, software firms and research organizations. These include Bosch, Johnson Controls, BLG, DHL, IBM, Siemens, SAP and German research organization Bremen Institute for Production (BIBA). The project is supported by Germany's Federal Ministry of Economics and Technology.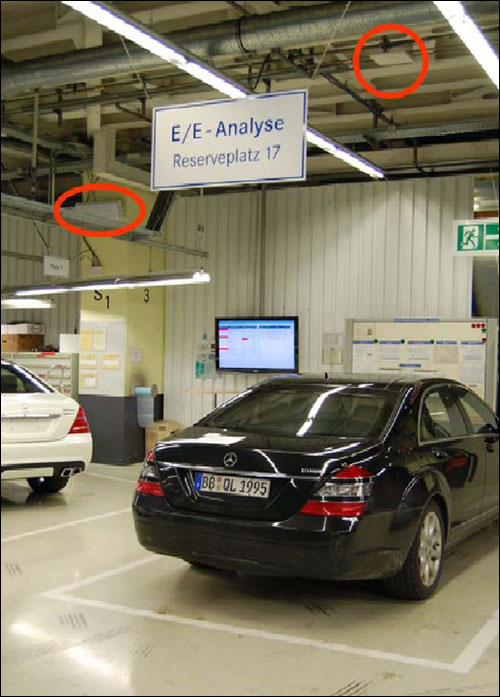 The RAN project encompasses seven use cases, one of which tracks finished vehicles moving through Daimler's quality-assurance evaluation process.
Once the manufacturing process is complete, the finished vehicles enter the quality-assessment section at Daimler's plant. The cars are moved through various testing stations, at which their engines, electronic components, driving performance and exterior are evaluated and tested. If a vehicle fails to score acceptably well during a given test, it is brought to a quality-assurance zone. If, at any time, these zones are full, however, the cars awaiting evaluation are temporarily stored within a buffer zone.

Given all of these movements, tracking the finished vehicles manually through the quality-assessment and -assurance zones can be a time-consuming and costly exercise. One of Daimler's main goals in deploying automated technology to track the cars, therefore, has been to reduce search times, as well as the associated labor costs and business-process delays. The company also wants to reduce the amount of time that administrators spend monitoring the quality-assurance area. Currently, administrators must walk through each evaluation zone in order to ensure that the testing processes are running smoothly and according to schedule. In the future, they will be able to do so via an electronic map of the tagged cars.
At RFID Journal's 10th annual RFID Journal LIVE! conference, held last week in Orlando, Fla., BIBA research scientist Dirk Werthmann described some results from an ambitious, multi-stakeholder project to measure the efficacy of using RFID-based automation technologies during the production, quality-control and logistics processes of automobile manufacturing.

"Once a car moves by its own engine, you need to be able to track it very well—otherwise, you can lose track of it," explained Werthmann, who supported the use-case testing by working directly with Daimler's RAN project team. BIBA supports all RAN projects, he said, by lending research and pilot-testing support.
To perform an initial proof-of-concept test, BIBA provided Mojix hardware. A Mojix STAR reader was wired to four Mojix eNodes connected to 16 antennas. Each eNode supported four antennas, with a single antenna mounted above each of 16 workstations. To test the Mojix solution, BIBA worked with Daimler and IBM to evaluate 12 models of UHF passive RFID inlays, using the Mojix reader infrastructure.
According to Werthmann, Daimler had a number of criteria for selecting the RFID technology, which it tested on finished S-Class vehicles within the quality-assurance zone of its manufacturing facility in Sindelfingen, a district of Stuttgart, Germany. The system needed to be able to discriminate between tags located 3 meters (9.8 feet) or less apart from each other, so that the company can discern between cars in adjacent workstations. The tags, as well as the Mojix readers, also had to be able to reliably function despite the metal-rich environment (which can cause RF interference).

During the proof-of-concept testing, each of the 12 inlays was placed on an S-Class vehicle within the quality-assurance area, and the Mojix reader and antennas were installed near a small lot of parking spaces. Ultimately, Werthmann reported, the companies narrowed the 12 inlays down to the three top performers:
Alien Technology
's Squiggle tag, and
Avery Dennison
's AD843 and AD222 models.
In order to mimic real-world scenarios, the companies tested the process of reading the passive tags while car doors were opened and closed; while a vehicle was in motion or up on a lift; while workers used other electronic equipment, such as testing equipment, operating at the same radio frequency (868 MHz); and while using RFID equipment operating at that frequency. Of all these scenarios, only other RFID equipment operating at the same frequency as the tested tags proved to interfere with readings.
"We've told Mojix about this," Werthmann said, "and they tell us they are working on [the interference problems]."
The firms tested various tag placements as well, Werthmann noted, and found that the best placement for a tag was on the back of the rearview mirror—specifically, on the mirror's plastic casing that faces the windshield.

All told, Werthmann reported, the proof-of-concept results were positive, prompting Daimler to install Mojix eNodes and antennas throughout a larger section of its quality-assurance area, and repeating the tags tests—using the three selected inlays—to ensure that the technology would function as well as it did during the small, initial test.
According to Werthmann, these tests were also successful, offering similar results. Daimler is now in the process of installing the Mojix system across its entire quality-assurance area.
The next step, Werthmann reported, will be to test various middleware products. These tests will be focused on tag-data filtering, data quality and integration into Daimler's information systems.
In addition, Daimler is performing electromagnetic interference testing, in order to determine whether an RFID tag can be embedded into a vehicle's rearview mirror during manufacturing, thereby eliminating the need for a subsequent step to attach the tag to the mirror.