Jan 06, 2005Secure Symbology, a New York City-based auto-identification technology company, has introduced a serialized bar coding and software platform that it says provides an alternative to radio frequency identification (RFID) for item-level tracking, inventory control and protection from counterfeiting for the retail supply chain.
Ron Barenburg, president of Secure Symbology, says what makes this system, called Electronic Sequence Code (ESC), different from other serialized bar codes is its patent-pending method of printing variable information, including a unique ID, in a two-dimensional, machine-readable bar code, above a product's preexisting linear bar code. The variable information can be printed in either sequential or random order, as a security feature, and with either numeric or alphanumeric characters. Barenburg explains that the serialized bar code can be printed above a standard reduce space symbology (RSS) bar code (which is used on items with limited space for bar codes) or a 12-digit UPC-A bar code used for most consumer packaged goods in the U.S., or any other EAN/UCC standard bar code format.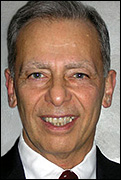 Barenburg says Cardinal Health, the second-largest distributor of pharmaceuticals and other medical supplies and equipment in the U.S., is currently testing the ESC system's potential to track and trace items. To protect the integrity of its products, Cardinal is also looking at other packaging elements, including RFID, holograms, special inks and papers. By providing products with an ESC bar code label that includes a unique serial number, a lot number, expiration date and national drug code and by using the ESC software application to trace this information, pharmaceutical companies could create an electronic pedigree to protect against counterfeiting, according to Barenburg.
Secure Symbology is not the first company to offer a serialized bar code system that can be used to authenticate pharmaceutical drugs or track items. In November, a London-based company called Aegate launched a three-month pilot that uses serialized bar codes and other technologies to identify items and detect counterfeit drugs as they move through the pharmaceutical supply chain (see Six U.K. Drugmakers Pilot RFID).
In order for a product manufacturer to use the ESC system, Secure Symbology will work with that company to add a unique product ID plus any variable information, such as expiration dates or allergy warnings, to the bar codes that company already uses on its products. A patent-pending printing process lays the 2D composite bar code plus human-readable information above the linear, static bar code number, such as a UPC-A. Cameras would read the serialized ESC bar code on each item on the production line and correlate that number with the unique ESC bar code number on the case the item is packed into and the ESC bar code number on the pallet on which the case is transported through warehouses and distribution centers and all the way to the retailer. Barenburg says this information would be collected throughout the supply chain by scanning the bar codes with scanners linked to the Web-based ESC software.
To utilize the ESC system and be able to track and trace items bearing serialized bar codes manufacturers, supply chain intermediaries and retailers would need to be registered users of the Web-based platform. When registered users read an item's bar code using a scanner linked to the ESC platform, the product's location, which correlates with the user who is scanning it, would be logged into the system. Any registered user wanting to track and trace a particular ESC bar-coded item or case or pallet could do so by logging into the Web-based platform.
He says the Electronic Sequence Code system could satisfy the needs of retailers and manufacturers looking for improved auto-identification methods without incurring the high costs of RFID tags and readers and RFID-related training and IT infrastructure.
Barenburg says Secure Symbology will make money through the sale and licensing of the ESC system. A manufacturers of goods who licenses the ESC system will pay to use of the proprietary bar code printing process and to register users along the supply chain so they can access the ESC platform and to link the scanners to the Web-based track and trace application. Supply chain intermediaries not working directly for manufacturer would need to opt-in to the system, as would retailers, but being registered users of the system. Neither supply chain intermediaries nor retailers would need to pay for this, however, because the costs would be covered by the manufacturer contracting Secure Symbology.
If and when the manufacturer is mandated to start applying RFID tags on individual products, the ESC bar codes and tracking system could be retained as a backup, says Barenburg.
"I can't say this enough—I'm not bashing RFID," says Secure Symbology's president, Ronald Barenburg. "But we are giving people the ability to do today what RFID will allow them to do 10 years from now."
While Barenburg calls his system a bridge to RFID, the Electronic Sequence Code system will operate independent of EPCglobal and outside the EPC network. He says his company has not attempted to contact EPCglobal in order to merge his bar coding system with the EPC network. "Their thrust is clearly RFID," he says. "The EPC consortium is touting RFID, and there is a widely held belief that using bar codes is going backwards. It's unfortunate, because that's not true."
"In theory, [the ESC system] will work," says Ross Stapleton-Gray, principal of Stapleton-Gray & Associates and an advocate of augmenting the EPC network with serialized bar codes for item tracking, "but I think there are myriad questions regarding security, confidentiality and, most importantly, willingness to participate in any track-and-trace scheme. What incentive do supply chain intermediaries have to take the time and effort to log transactions in tracking databases? [These incentives] might not be carrots, but sticks, such as federal mandates for ensuring pharmaceutical pedigrees."
Because of the high costs of RFID tags, consumer resistance to RFID and radio frequency interference in retail store environments, some people doubt whether RFID will ever be a viable means of tracking low-value individual items. Most analysts in the RFID industry believe the technology will be affordable and functional enough to allow item-level tracking by 2008.
Serialized bar coding, says Barenburg, offers a way around today's technology and pricing limitations and a bridge to RFID for item-level tracking. But he doesn't think RFID will ever replace bar coding completely and says serialized bar codes, with human-readable numbers, should be used in tandem with RFID tags in order to provide redundancy in the event that a network or power failure that would make machine-readable tags useless.
Because the ESC bar code is based on UCC and EAN standards, Barenburg claims the labels can be read by any current standardized bar code scanner or bar code camera. To read an ESC bar code's composite portion that holds the serial number and variable information, retailers would need to update their product data-collection software to accommodate the increased data, but Barenburg says this should not be a problem as most large retailers are already prepared or are preparing to accept the 24-digit EPC code.
Barenburg says Secure Symbology has made agreements with large industrial printing companies to apply its proprietary printing process through ink jet, laser and thermographic printers. He adds that if other companies develop methods of printing serialized bar codes, those would still work with the ESC software.
The ESC system is available now and priced variably per usage.