Mar 13, 2014As part of an enterprise-wide initiative to make it easier to locate medical equipment, particularly within its busy emergency department (ED), Atlanta's Grady Memorial Hospital has implemented a real-time location system (RTLS) that combines asset- and operations-management software from Intelligent InSites and hybrid infrared (IR) and active RFID technology supplied by CenTrak. Grady's ED will use the solution to track thousands of mobile assets, such as bedside monitors, defibrillators, bladder scanners and wheelchairs, as well as tissue and blood samples stored in refrigeration units.
The implementation is part of the hospital's "Find It Now" initiative, according to Brenda Weyl, the hospital's director of operational excellence. "We are one of the busiest EDs in the nation, and a Level I Trauma Center," she states. "We are always striving to enhance the experience for all of the patients who come to us for care. The time our ED staff spends searching for equipment adversely impacts patient and employee satisfaction, as well as throughput." Clinical personnel can spend as much as 60 to 90 minutes daily trying to locate available mobile equipment, especially in the emergency department. "Being able to quickly locate clean and available equipment will reduce the time our patients have to spend in the ED," she explains, "and provide an overall better experience."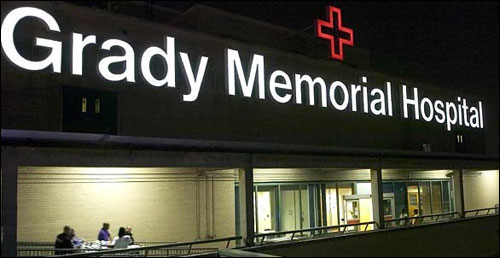 The integrated system consists of Intelligent InSites' operational-intelligence platform and asset-management and temperature-monitoring software, as well as RTLS and sensory hardware provided by CenTrak. CenTrak's battery-operated tags combine the company's Gen2IR infrared technology (to determine a tag's location) with 900 MHz active RFID technology (to communicate the tag's unique ID number and location information to an RFID reader). Each Gen2IR emitter beacons an infrared signal with a unique identifier. The tag receives the emitter's signal and transmits its own ID, as well as that of the emitter, to an RFID reader via a 900 MHz signal. The real-time location data is then processed by Intelligent InSites software, which interprets that tag's location, based on data culled from the reader. The infrared technology does not require line of sight (a tag underneath a blanket, CenTrak claims, can still receive an IR emission), but because infrared signals cannot penetrate walls, the use of IR technology accurately isolates an asset to a particular room.
Grady Memorial has installed all of the hardware necessary to enable the facility-wide reading of the tagged equipment, Weyl says, and has tagged nearly 6,000 mobile assets to date. Intelligent InSites and CenTrak are now testing and certifying the hardware, she adds. During the next three weeks, nearly 2,400 clinical workers will be trained on the system's use, and the hospital expects the system to be fully operational by the end of next month.
Not only will the RTLS help Grady Memorial more effectively and efficiently find assets when they are required, and thereby improve patient care, but Weyl says the system will help the hospital make more informed purchasing decisions about its mobile assets. "To date, we are forced to make capital spending decisions for mobile medical equipment with limited information about how frequently the assets we own are actually used," Weyl says. "The RTLS solution will allow us to track utilization, thereby supporting better spending decisions. It's not so much about reducing inventory requirements, but, instead, about understanding how we use inventory to ensure we always have the right inventory, at the right place and time." The hospital also expects the system to improve its equipment maintenance scheduling, reducing equipment out-of-service time, and helping the facility to more effectively maintain equipment.
The hospital is currently installing temperature tags on its refrigeration units, replacing an existing manual operation that required employees to visually check every refrigeration unit and document temperatures several times daily. The CenTrak tags transmit their unique IDs and location data, as well as the date, time and temperature, as measured by built-in sensors. The Intelligent InSites platform will capture the temperature data in real time, Weyl reports, and staff members will be able to monitor and log compliance around the clock. With the temperature-monitoring application, workers will be able to receive notifications if a temperature exceeds a specified threshold, so that corrective actions can be quickly taken. Weyl adds that the system's data storage, reporting and documentation capabilities will enable the hospital to demonstrate compliance to regulatory authorities.
"All of our refrigeration units are equipped with audible alarm mechanisms, and the staff is required and does respond to these alarms fluctuations outside of established temperature range occurs," Weyl states. "Grady's staff is committed to ensuring medications are always maintained in compliance with regulatory requirements. However, the current process is manual and time-consuming, and there is still some risk for error."
With the automated RTLS environmental monitoring, Weyl says, Grady Memorial will be able to decrease the amount of time associated with manually monitoring temperatures, proactively address fluctuating temperatures, and eliminate the loss of medical inventory resulting from out-of-range temperatures.
According to Weyl, the hospital is eyeing the possibility of using the RTLS to track patients for the next phase of Find It Now. In particular, Grady Memorial is focused on tracking patients within its ED and trauma areas, with the goal of improving patient care—especially critical care.
At least one hospital is already using an Intelligent InSites and CenTrak solution to track patients. The Seattle-based Group Health Cooperative is utilizing the RTLS at its Puyallup Medical Center, in Puyallup, Wash., to reduce patient waiting times during clinic visits, by bringing services to a patient's care room, as well as providing clinic staff members with real-time visibility into the locations and status of patients, care providers and equipment (see Group Health Reinvents Patient Care With RTLS).
In addition, Weyl says, Grady Memorial Hospital is considering using the technology to track hand-hygiene compliance, in order to reduce the incidence of hospital-acquired conditions. "The options are exciting," she says, "and our three-year strategy for Find It Now is robust."