Feb 27, 2015Printed electronics company Thin Film Electronics (Thinfilm) has announced a fully printed Near Field Communication (NFC) sensor tag known as OpenSense, a product designed for use on bottles to authenticate a bottle's contents, or to indicate (when read) if its seal has been broken. The "smart bottle" tag (slated for commercial launch during the third quarter of this year) will be displayed in prototype version by Thinfilm and Diageo, a maker of alcoholic beverages that assisted in the tag's development. The two companies will demonstrate a "smart bottle" of Johnnie Walker Blue Label with the OpenSense label attached to its cap and bottle at the Mobile World Conference, being held on Mar. 2-5 in Barcelona.
The OpenSense tag adheres to the side of a bottle (such as a beverage, cosmetics, a pharmaceutical product or perfume) and extends to the cap, such that any effort to break the cap's seal would also damage the tag. In that event, the tag would still respond to interrogation from an NFC reader, but would also transmit data indicating that the seal had been broken. The pre-encoded NFC tag (with 128 bits of read-only memory) could also be used for inventory management, Thinfilm reports, as well as for authentication and tamper detection.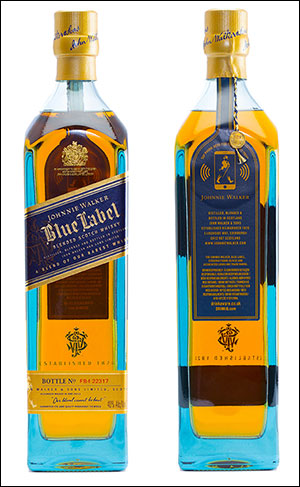 Later this year, Thinfilm says it will begin offering sample versions of its first NFC RFID sensor tag (currently known as the Thinfilm Smart Label) that could be used to collect or update data regarding an item's status (such as its authenticity, temperature exposure or approaching expiration)—whether that item is a can of beans or a high-value pharmaceutical or electronic device.
Initially, the Thinfilm Smart Label—which the company first announced and demonstrated in May 2014—will come with a printed temperature sensor, powered by a nonprinted lithium battery to determine if a predetermined temperature range has been exceeded. An NFC reader could then access that data via the tag's passive NFC chip. In the future, the company notes, it could include a printed battery instead, as well as work with a variety of other sensors (such as those for measuring air pressure).
The Thinfilm Smart Label will allow consumers to learn whether a product has been exposed to conditions that are either too hot or too cold, as well as its unique ID number and any data related to that ID. The tag could provide sensor data and the ID number to an NFC-enabled smartphone, while software could manage information related to that unique ID, such as a product's expiration date.
"Initial versions will focus on temperature and contain sensors that determine if an excursion has occurred outside of a pre-set temperature range," explains Matthew Bright, Thinfilm's product and technical marketing director. Applications will be within the pharmaceutical and perishable food markets, he adds, so individuals equipped with NFC phones could view a product's temperature history and thereby be informed if a threshold has been passed, which would render the product unusable.
Last month, Xerox and Thinfilm announced that Xerox had licensed printable Thinfilm Memory technology and would begin manufacturing labels (or other printed products) with Thinfilm's contact memory, known as Thinfilm Memory labels, with a potential to manufacture billions of the labels annually at its printing facility in Webster, N.Y.
Both Thinfilm and Xerox say they expect Xerox will eventually begin mass-producing printed NFC RFID versions of the labels, though there is no scheduled plan to do so at this time. The relationship between Thinfilm and Xerox began about 18 months ago, through Xerox's Palo Alto Research Center Inc. (PARC) subsidiary, which focuses on laser printing, as well as developments in Ethernet and graphical user interface (GUI) technologies. According to Steve Simpson, Xerox's VP of non-Xerox supplies business, PARC brought Thinfilm together with Xerox, noting that the latter's facility in Webster, N.Y., could mass-produce Thinfilm's printable memory products. Simpson says he could not identify the exact number of products that might be printed initially, but that the quantity would be significant. "It will be large-volume," he states, "but we don't have specifics" of the exact number to be printed initially.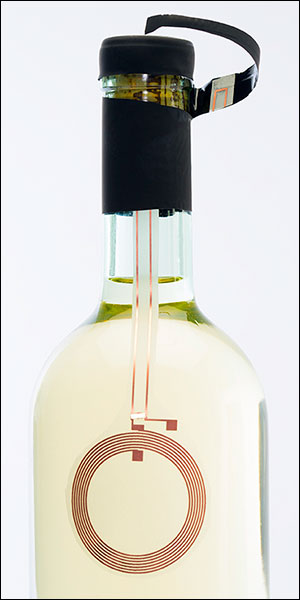 The labels printed by Xerox will require a Thinfilm proprietary contact reading device, or technology to encode and read any data stored on a labels' printed memory. The most common use case, the company reports, will be brand protection and smart consumables. The printed memory will allow users to make their devices interactive. One example is as a dispensing product—with a memory label attached to a liquid refill that can be read through direct contact by a device's onboard intelligence, such as a programmable logic controller (PLC). Once the refill has been used a specified number of times, the PLC would shut the system down. It can also monitor time, such as the number of days that a water filter or other item has been used. A notification can then be triggered on the dispenser to alert a user that the filter needs to be changed.
For brand protection, the label could be built into the filter that would trigger a light on a dispenser to indicate whether or not it is authentic. The label could be integrated into the product in such a way that it would break if anyone tried to tamper with the product or the tag, thereby making the product unusable, and leaving distinctive markings behind if removed.
Xerox is interested in NFC technology, Simpson says, and in potentially including the technology in the printed labels it will be producing. NFC could, for example, make it possible for an individual to learn about a particular product or device and its usage by tapping an NFC phone near the label. "We're definitely interested in NFC," he says. "How and when we get there is part of our strategic discussion" with Thinfilm, which he says is still underway.
The inclusion of NFC is a natural evolution from printable memory, says Davor Sutija, Thinfilm's CEO. "We've already demonstrated our integration of memory and logic" that is printable, he adds. The next step, Sutija says, is the addition of NFC transmission capability, making the labels wireless and able to speak with a user's mobile phone or tablet.
Thinfilm's goal is no less than to be at the front of a process to connect everything online—in other words, the Internet of Things. The company was founded in Norway 20 years ago, as a subsidiary of Opticon, to develop plastic memory devices. In 2009, it developed its first printed rewriteable memory intended to be used as part of a manufacturing process. In 2012, the firm released its first printed integrated system that combined memory, sensors, logic and display.
The company also acquired California-based company Kovio in 2014 (see RFID News Roundup: Thinfilm Acquires Kovio, Opens Silicon Valley NFC Innovation Center), and opened a facility known as the Thinfilm NFC Innovation Center in San Jose. More than four years ago, Kovio began offering printed high-frequency (HF) tags compliant with the ISO 14443 air-interface protocol standard. The tags offered 128 bits of memory, and had ICs made with proprietary nanosilicon ink (see Printed-Electronics RFID Tags Debut). In combination with Thinfilm's work in integrated sensor systems and smart labels, the former Kovio product has evolved to become what is now known as the Thinfilm NFC Barcode Tag, which is already commercially available.
The company expects its Thinfilm NFC Barcode Tag will commonly be used to authenticate consumer goods, as well as for tracking toys and games. The tag, Thinfilm notes, could be used in conjunction with software hosted by the company's U.K.-headquartered partner, EVRYTHNG. The cloud-based platform can be used to store RFID-related data and can be accessed by authorized parties reading the NFC labels via the NFC readers built into their phones.
Thinfilm will demonstrate prototypes of the OpenSense tag and Thinfilm Smart Label at this year's RFID Journal LIVE! conference and exhibition, to be held in San Diego, Calif., on Apr. 15-17.