Apr 19, 2015The backbone of the manufacturing industry is machines, materials and manpower. These three factors are very important, and companies are increasingly looking to track them on a real-time basis. Real-time location system (RTLS) technologies are used to automatically identify and locate objects, assets or individuals in real time. The goal of RTLS is to continuously monitor the locations of these targets. The major applications of RTLS include tracking assets, personnel and work-in-progress. To date, RTLS adoption in manufacturing has been limited, but with technology evolving, and with more companies entering the market, this industry should exhibit a high upsurge in sales.
RTLS technology can help in reducing search times and misplacements, as well as improve operational effectiveness and labor productivity, and decrease machines' idle times. Other applications include workflow management, hazardous-material tracking and the monitoring of work orders, personnel safety, and assembly line and distribution processes.

The RTLS market generated revenue of $328 million in the manufacturing industry in 2014, according to a recent report from IndustryARC. This market is estimated to grow at a high rate of nearly 30 percent CAGR through 2020. The major market for RTLS solutions in this sector is North America, with the United States leading the charge. The wide range of applications and cost variances offered in RTLS has led to several major companies, such as BMW (in Germany), Hewlett-Packard (in the United States) and Samsung Electronics (in South Korea), utilizing these systems to track various tools and their assembly-line processes. A growth in RTLS use in the manufacturing industry is projected due to strong demand in the safety services and insurance segments.
The entry of several leading companies—such as Bosch AG and Siemens AG (in Germany), ABB Ltd. (in Switzerland), and Emerson Electric and Honeywell International Inc. (in the United States)—into the RTLS market for automation is projected to raise the demand for these solutions. The entry of these companies into the RTLS market has also raised awareness in the APAC market, thereby driving sales.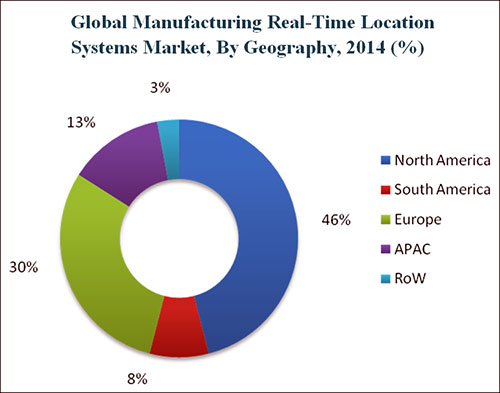 RTLS solutions have found increased adoption primarily in the process, automotive and aerospace industries. Companies such as BMW, in Germany), Aston Martin Lagonda (in the United Kingdom), Airbus (in France), Boeing and HP (in the United States), and Samsung Electronics (in South Korea) have utilized RTLS solutions in their manufacturing processes. The high return on investment from RTLS is estimated to be the major driver of growth as companies look to lower operational costs and maximize efficiency and profit.
The growing technological advancements that result in a lower price, as well as improved efficiency and non-interference of signals, are also set to propel this market. Declining prices of RTLS technologies will make the adoption of RTLS rise, particularly in the cost-sensitive APAC market. As a result, RTLS services and products will have a larger potential market. The increased adoption rates for real-time location systems and increased awareness, especially in Asia, are a major force in the growth of this market.
Akshay Reddy is an electronics consultant at IndustryARC, a research and consulting firm that publishes more than 20 reports every month in various industries, such as agriculture, automotive, automation and instrumentation, chemicals and materials, energy and power, electronics, food and beverages, information technology, and life sciences and health care. Click here to browse a table of contents for the company's "Global Real Time Location System (RTLS) Market (2014-2020)" report. Additional information is available at IndustryARC's website.