Mar 03, 2023RFID Journal LIVE! 2023 will feature vendors showcasing NFC and RFID tagging solutions designed for agricultural management, as well as exhibitors offering tagging solutions for multiple applications. To learn more, visit the event's website.
When plantations manage the trees they grow for commercial use, labor is dedicated to individual tree planting, care and harvesting. For large operations, however, the management of data related to each tree can be a cumbersome and labor-intensive task. With that in mind, Sadaharitha Plantations Ltd. (SPL) has deployed radio frequency identification (RFID) technology that tracks the identity of every tree, linked to its zone-based location, so data about each tree on the plantation can be automatically collected, updated and managed throughout its lifespan.
Sadaharitha Plantations is a commercial forester in Sri Lanka. The company operates plantations throughout the country that include thousands of acres in the western, northwestern and central provinces. The trees come in multiple varieties, including mahogany, agarwood, sandalwood, teak and rambutan, for a variety of wood products. SPL has approximately 40,000 customers, both individuals and companies, which invest in commercial forestry wood products.
Since launching in August 2002 with a single forested area, SPL has been expanding its acreage, sites and tree varieties. The solution is now deployed at one plantation, with plans to expand it to all sites in the future. The technology consists of ruggedized, passive UHF RFID tags on trees, handheld readers operated by maintenance personnel, and software to manage the collected data, all of which was provided by RFID technology company Cenmetrix.
Tracking the trees is a challenging task, and the company has used multiple methods to ensure that all trees are uniquely identified. Initially, SPL used aluminum tags to mark each tree's serial number, as well as Microsoft Excel spreadsheets to maintain records indicating which trees were planted and where, along with details about their maintenance. That information could include annual tree growth and fertilizer usage, in addition to chemical and pesticide application.
Replacing Printed Aluminum Tags with RFID
Although each tree had its own unique serial number, the weather took its toll on the tags on which the serial numbers were printed, and that made manual tracking difficult. In addition, exposure to sunlight, dirt, rain and related moisture over a period of around five to seven years made many of the tags illegible. "The main challenge was the inability to track the number of a tree due to fading of the numbering on aluminum tags," says Raqueeb Yoosoofmiya, the plantation's director of information communication technology.
Another challenge the company faced was the time-consuming nature of managing paperwork related to trees. The Excel spreadsheets required workers to record ID numbers or search for them on paperwork, as well as enter data in a central database. RFID tag reads would enable data to be automatically captured and populated on the server, so the company invested in technology that could store unique IDs digitally, while providing printed IDs. SPL had not previously used RFID for tree tracking, so the solutions required testing and evaluation. It began investigating the use of weather-resistant RFID tags. "We believe the tree numbering will be static over a period of 12 to 15 years," Yoosoofmiya says, and SPL needed a tag that could last that long.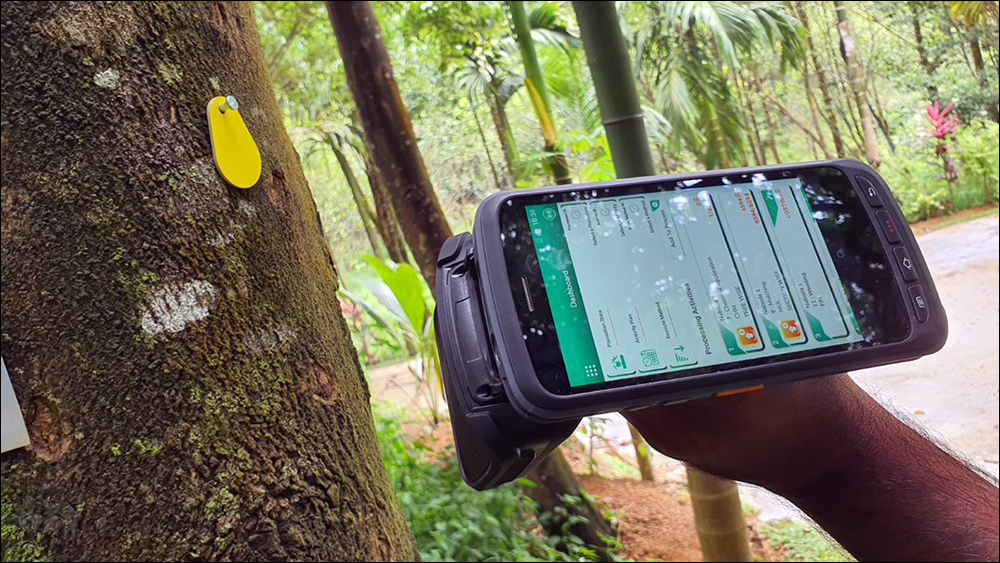 Cenmetrix, a digital identity management company, operates in the United States, Sri Lanka and Singapore, with deployments in more than 15 countries. The company enables its clients to digitize their assets and infrastructure, says Chittananda Kulatilake, Cenmetrix's director and CTO, by deploying technologies such as biometrics, RFID, artificial intelligence, traceability, blockchain and more. The SPL deployment is its second such solution for the agriculture sector. The previous deployment was an RFID- and blockchain-based food-traceability solution with the company's partner, Tracified, which was provided to the Food Safety Agency of the Republic of Azerbaijan.
Last December, SPL and Cenmetrix opted to implement an RFID solution for tree management, first at its plantation in Neboda, in southwestern Sri Lanka, to track agarwood trees. Throughout the past few months, the trees were tagged while workers conducted scheduled tree-growth measurements. Each tree's unique ID number was then linked to that tree's location based on its assigned block within the plantation, and to other identification-based details in the central server.
The tags will now be part of the plantation's regular maintenance. With a tag attached to each tree, data is captured and managed in the following way: Every week, month or quarter, employees move throughout the plantation to weed, water and prune the trees, and they carry a handheld RFID reader as they carry out these tasks. They interrogate the trees' tags and update information about which service they are providing, as well as each tree's condition.
Built for Challenging Forestry Environments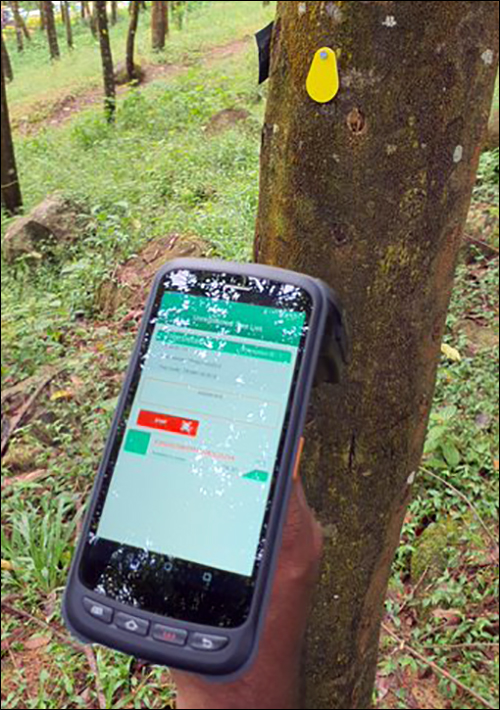 The collected data is stored and automatically forwarded to the software when connectivity is available, thereby updating the trees' status and maintenance history. When needed, the company applies chemicals and pesticides to protect the trees' health, and at such times workers use the RFID reader. They also read the tree tags when fertilizer is applied twice annually, as well as once each year while measuring tree height.
Plantation sites are often in remote locations that offer multiple challenges for wireless technologies, including the fact that the sites typically lack Wi-Fi or cellular 4G signals to access the cloud or a local server. To resolve this data-communication problem, Kulatilake says, "We had to develop a customized mobile application to be able to work offline with the database."
Kulatilake says the app comes with synchronizing features that prompt an automatic upload of data between the server and handheld devices, once the reader detects connectivity. "This allowed the site team to do their daily routine as usual," he states, "and once they were done and data synching was available, all the data would be synched to the server, updating all the required information."
To withstand the types of weather to which the forests are exposed, the RFID tags needed to be durable enough to transmit data for more than a decade. The trees are full of water, which can provide a challenge for RF transmissions, and this needed to be considered as the company designed the solution. To overcome the reading issues, Kulatilake says, Cenmetrix deployed RFID tags that could accomplish a long read distance, given the environment in which they would be operating.
Automated Data About Tree Health, Maintenance
Sadaharitha Plantations says the IP68-rated UHF RFID tags chosen were provided by a third-party supplier and were not specifically designed for this particular application. "We were able to deploy robust RFID tags which were suited to be used even for more than 10 years," Yoosoofmiya says, "given the harsh and extreme tropical weather conditions."
SPL selected a handheld reader designed to withstand outdoor environments, though the company has declined to name the technology provider. The commercial forester already had internal software in place to manage data related to its day-to-day plantation operations. Therefore, Cenmetrix integrated its own software to feed data to Sadaharitha Plantations' existing management system via a Web-based application programming interface.
The collected data provides a variety of benefits, according to the company, beginning with information about the specific services conducted and the conditions of the trees as each service takes place. The data also offers analytical benefits, since SPL can now measure the costs related to tree maintenance. Because the technology records every transaction that takes place for each tree, the forestry company can calculate the costs related to any given tree.
What's more, management can inventory data about its plantations, as well as the complete history of tree services, and that data can be accessed remotely. All ongoing activities will now be administered on a day-to-day basis, as needed, from the company's headquarters in Colombo, Yoosoofmiya reports. "As of today," he says, "Excel worksheets maintained at the Neboda plantation have been eliminated and the tree information is now available in a central database." Cenmetrix plans to market the solution to other customers globally for use in managing plants and other agricultural products.
 Key Takeaways:
Sadaharitha Plantations has brought automated data to its forested groves by way of an RFID tag on each agarwood tree, along with handheld readers and software hosted on a central databased.
With the solution, SPL can now view the status of its forests and conduct analytics regarding costs versus sales for specific trees.