Feb 01, 2006Back in 1999, Colder Products, a St. Paul, Minn., company that makes quick-release couplings and tube fittings, got a challenging request from one of its customers, Huntleigh Healthcare of Luton, United Kingdom. Huntleigh makes inflatable cuffs that go around limbs to immobilize them, and it wanted an easy-to-use coupling that would ensure only its cuffs were connected to its pumps.
Colder Products began searching for a way to create a smart coupling for Huntleigh. The company hired Rick Garber, a designer of electronics products by training, to head the project. He explored a variety of technologies and concluded that radio frequency identification offered the best solution. But there was one problem: Garber couldn't find an RFID vendor willing to develop an interrogator small enough to fit in the female side of the coupling (some of the connectors are smaller than a golf ball).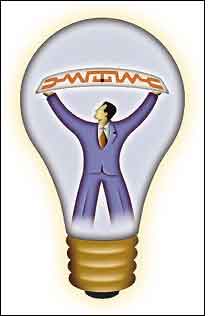 Undeterred, Garber decided to build his own interrogator. He got in touch with Philips Semiconductors, attended a training session on how Philips' RFID chips work and designed a transponder based on the company's I-Code 13.5 MHz chip that could be baked into Colder's plastic couplings, as well as tiny interrogators that could be embedded in the female side. (Colder buys chips from Philips, has them bonded to an antenna of its design by a third party and embeds them in its products.)
Huntleigh never wound up using the RFID smart couplings, because it didn't need to collect data and because Colder designed a simpler, less expensive solution. But its challenge launched a whole new line of business for Colder Products that is boosting annual revenue. The company now has customers in the chemical, electronics, food and pharmaceutical industries that are using the RFID couplings to avoid expensive manufacturing mistakes and reduce their liabilities—benefits that far outweigh the small additional cost that an RFID transponder adds to the product. The male side of the coupling typically goes on a bag-in-box packaging containing liquid. Information about the date the liquid contents were produced, lot number and expiration date can be written to the transponder. The data is read as the two sides of the coupling are united, and software systems can be set up to alert a machine operator before the wrong liquid is used. So far, Colder has RFID-enabled two complete product lines, comprising 28 stock-keeping units. Another 30 SKUs will get the RFID upgrade in 2006.
"With the projects we have in design today, we expect revenues [from the RFID products] will easily double or triple this year from what they were in 2005," says Garber, who now manages Colder's smart technology business unit. "And in 2007, they will likely be double 2006."
While many companies are struggling with how to put RFID transponders on products to track them through the supply chain, some forward-thinking manufacturers are embedding RFID in products, such as cell phones, power tools and computers. Companies say that embedding RFID in their products enhances their ability to serve customers. RFID-enabled products are easier for companies to track, maintain and recycle, and they can boost workers' productivity. They can also be more fun or convenient for consumers to use (see "More Products Have RFID Inside" sidebar at end of article).
RFID, Phone Home
Finland's
Corp.
, the world's largest maker of cell phones, is embedding a 13.56 MHz RFID interrogator in its ruggedized Nokia 5140 and 5140i phones for commercial applications and the 3220 model for consumers. Nokia's aim: Enhance the functionality—and the value—of its phones.
"Back in 2002, we were looking at how to make the phone a platform for new applications," says Gerhard Romen, head of market development for Nokia's Mobile RFID Solutions unit. "We realized that if we incorporated a full-blown RFID reader-writer into the phone, we could use an RFID tag on an object to initiate transactions, and then everything else happens automatically."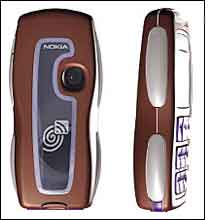 Nokia has developed back-end server software and some basic applications that allow its RFID-enabled phones to download or upload information to databases. The first application it has developed is called the Nokia Field Force Solution, designed for field service and security personnel who must routinely check on doors, gates, safety equipment, meters or other devices, and report back on their status.
Biffa, one of the largest waste management companies in the United Kingdom, is using the Nokia Field Force Solution to comply with new European Union legislation that requires waste containers to be examined every two years and to undergo a full inspection every five years; companies need to keep a record of inspections and inspection failures. To comply with the legislation, Biffa attached RFID tags to its containers. During inspections, engineers tap their phone to the tag to identify the specific container and then use the keypad on the phone to indicate whether containers have passed or failed. The RFID read is used as proof that the container was physically inspected. The data is transmitted to a back-end database via the cell phone network. If the engineer is outside the cellular network's area of coverage, the information is stored in the phone and then uploaded automatically when coverage returns.
Nokia prices the Field Force Solution based on the number of users, but the company's main aim is not to boost revenue by selling applications that run on its phones. Instead, it wants to enhance the loyalty of existing customers and attract new customers by making its phone an indispensable tool. It has built the Field Force Solution on open standards. The RFID reader uses the ISO 14443A air interface protocol. The server applications run on Windows 2000 or Windows XP, and the applets on the phone are Java-based. Nokia offers a software development kit that independent software developers or corporate IT departments can use to develop their own RFID-enabled phone applications.
Romen believes that as RFID technologies proliferate, there is potential for consumer applications. For instance, a visitor to a large hospital or university campus might tap their phone near an RFID transponder embedded in a sign and download directions to the maternity ward or English department.
A Tool for Serving Customers
Robert Bosch Tool Corp.
, a Mount Prospect, Ill., company that manufactures power tools and accessories, offered its customers a system of identifying tools, which are often stolen, with bar code labels and inscribed serial numbers. But bar codes get damaged during normal use of the tool and can be removed by thieves, and serial numbers can be filed off.
Several large construction companies approached Bosch in 2003 seeking a better way to manage tools on job sites. Bosch looked at creating a more durable inscription and other technologies before deciding that embedding an RFID tag in the tool offered the best option for its customers.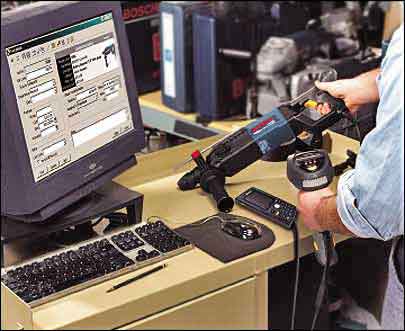 In 2004, Bosch began researching how to embed the tag in the tools and what data needed to be put on the tag. The company wanted a solution that would work with both new and existing tools, including those made by other manufacturers. Bosch anticipated that construction companies and those involved in a specific trade, such as plumbing or electrical work, would want a single method to track all their tools.
Bosch settled on an ISO 18000-6B UHF tag provided by Intermec Technologies. It tested the passive tag in the field and put it through extensive vibration testing to make sure the tags would survive life inside a power tool. Bosch engineers created software that would allow them to write the model and serial numbers of the tool to the tag at the manufacturing plant. It also worked with companies that provide tool-tracking software, so that they could upgrade their products to track the tools using RFID data.
As part of its Safe & Sound RFID System, Bosch is putting tags only in professional-grade tools for customers who request it. It's offering the tags in 65 different SKUs.
When a customer requests tools with RFID tags, Bosch pulls the products out of the normal distribution channel, opens up each tool, glues a UHF tag to the interior of the tool housing and writes the serial and model numbers to the tag. If a customer wants to tag products already in use, it ships the tools to Bosch with a spreadsheet listing the tools and the serial and model numbers. The tools are tagged and the data is written to the tags. Customers can then upload the data to existing tool-tracking software (not provided by Bosch), and use a handheld RFID interrogator from Intermec to read the tags as tools are checked in and out of a tool crib (a cage where tools are often stored).
Bosch is not looking for an increase in tool sales from the RFID project, but the company still sees Safe & Sound as a strategic initiative. "We've already realized benefits from the project because our customers had a business problem, and we stepped up and addressed a critical need—managing their assets more effectively," says John Doherty, Bosch's Safe & Sound product manager. "We're creating a better relationship with customers."
Bosch also maintains tools for some of its customers, and the RFID tags in the tools will help it improve its ability to provide this service to customers. Some tools, for instance, must be checked after so many hours or cycles in use. "If their tool-tracking system notifies us when a tool is due for maintenance, we can have a technician go out and service it," he says. "That enables us to enhance our services to our customers and meet their needs. We foresee more options like that as the technology matures, but you have to walk before you run."
Maintaining an Edge
IBM
has been exploring the benefits of embedding transponders in its blade servers used in data centers and workstations. One potential benefit for IBM's customers would be the ability to track the location of its servers—a large company might have hundreds in a variety of locations around the world. Another benefit is the ability to maintain the computers more effectively.
Hagen Wenzek, leader of the global electronics team at the IBM Institute for Business Value, a unit of IBM Business Consulting Services, says it makes sense to embed the tag in blade servers and workstations for a number of reasons. First, it is hard to find a place to attach the tag on the device externally. And it's less expensive to design the tag into the product because the tag becomes just one more item on the bill of materials, and no labor is needed to apply it after the product has been manufactured—or worse, installed in a data center.


By storing the computer's serial number and other information in the RFID tag, staff maintaining the equipment could quickly interrogate the tag and determine what components are in the device, what the software configuration is and other information that makes it possible to upgrade or repair the device more quickly and effectively.
But IBM is looking to go a step further. It has filed a patent for encoding data in Electrically Erasable Programmable Read-Only Memory (EEPROM), a type of nonvolatile memory on microchips, in an RFID tag in the workstation. Data on the tag could be updated by the computer administrator using the keyboard and computer commands or by using an RFID interrogator.
The manufacturer would write the product serial number and MAC address (a unique serial number for identifying the computer on the network) to the tag when the computer is made. When a company buys the computer, its IT department would not have to unpack the box to encode the tag with data about who will use the computer and what software needs to be loaded onto it. When the unit is given to an employee and connected to the network, it could download all the necessary software automatically, reducing the need for technicians to set up the computer manually.
If the computer goes down, a service technician could interrogate the RFID tag to get the product serial number (which is needed to learn the hardware configuration) and instantly get user information and the software loaded onto the machine. "With this type of setup, you get into some really interesting discussions around how to maintain the machines more efficiently than ever before," says Wenzek. The same basic approach could be used to improve maintenance of almost any high-value complex electronic machine, such as MRI and CAT scanners.
The Promise of Life-Cycle Management
An ambitious project involving 22 organizations around the world, including 11 major manufacturers such as Bombardier Transportation, Fiat and Caterpillar, is developing systems to collect and analyze data throughout the life of products and their components. The project—dubbed PROMISE, for product life-cycle management and information tracking using smart embedded systems—has a budget of 15 million euros, 8 million of which were put up by the European Union.
"We are developing systems for gathering information about a product from the beginning of its life to the end of its life," says Dimitris Kiritsis, a scientist at EPFL, the Swiss Federal Institute of Technology in Lausanne, who initiated the 42-month project in November 2004. "The information might be used to improve designs for new versions of the product, to improve maintenance of the product during the middle of its life and to more efficiently recycle the product at the end of its life."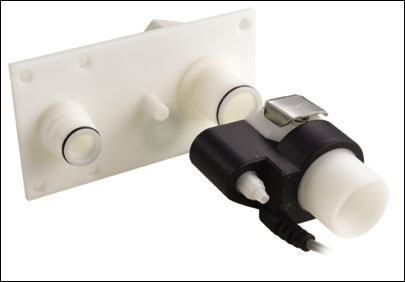 The various PROMISE projects are using passive RFID transponders, active RFID tags, sensors and onboard computers to gather data. But passive RFID has the advantage of being low-cost and offers the ability to link information that's already being collected with data on individual components. PROMISE is also developing middleware for transmitting data to back-end systems, and decision support and knowledge management applications to help companies better maintain complex equipment and other assets.
Vehicle owners, for example, could track components and associate data about the conditions under which a part was used with the part itself. Let's say a clutch is used for five years in a delivery truck that does mostly highway driving and then is removed, repaired and put into a different vehicle that does mostly stop-and-go city driving for a year. The owner could calculate the remaining life of the clutch, knowing that during its first five years of life, it didn't get heavy use. Similarly, the temperature of the environment in which a machine was used, or the oil or air pressure during operation, could be stored in a database, analyzed and used to predict more effectively when a part might break down.
Kiritsis says the systems being developed under PROMISE should also improve recycling. "Companies need to be able to make better decisions about individual components that have reached the end of their lives," he says. "Should you remanufacture it, reuse it or discard it?"
The Embedded ROI
Whether embedded information devices and related information systems provide enough valuable data to offset their cost depends on the product. In some cases, there is a clear return on investment for the product's end user. For instance, upwards of $1 billion worth of tools and equipment was stolen from construction companies in the United States in 2004, according to the
National Equipment Register
(NER), a company that provides theft-prevention and recovery services to the industry. Bosch's Doherty says its RFID system adds 2 percent to 5 percent to the cost of the tool. But companies that can reduce the number of tools that are lost or stolen can easily recoup their investment in RFID within a year.
The ability to collect and analyze data quickly, without having to disassemble a product, is critical, says Duncan McFarlane, head of the Centre for Distributed Automation and Control within the Institute for Manufacturing at the University of Cambridge, and director of the Auto-ID Lab at Cambridge. "We did some work with a computer manufacturer who wanted to analyze what to do with laptops that have been traded in," he says. "Do you throw it away, resell it, or disassemble it and reuse the parts? You need to analyze the product specifications, but you also need to look at the state of the screen, how many hours it was used and so on. If you spend more than 15 minutes testing it, the labor cost burns up any residual profit in the product."


Another potential benefit for end users is reduced liabilities. IBM's Wenzek points out that lawsuits, particularly in the United States, are becoming an unfortunate cost of doing business, and RFID could be a cost-effective way to create audit trails that show that a company did everything it could to operate within existing regulations. In the airline industry, for instance, there is a growing problem with counterfeit parts; an airline that knowingly purchases counterfeit parts that contribute to an accident would face certain lawsuits. By using RFID to authenticate parts and track them, a company could show in a court of law that it was not liable.
Colder Products' customers can use the company's smart couplings to reduce costly manufacturing mistakes and create a record of how products were produced. For instance, when a container of chemical is connected to a machine, the transponder in the male side of a coupling communicates with the interrogator in the female side in the manufacturing equipment, enabling the machine to record which batch of chemical was added and at what time. These records can be used to show that all reasonable measures were taken to ensure the safety of products.
The couplings can even be used to reduce warranty liabilities. One of Colder's customers is a manufacturer of large industrial printers used for billboards and other large high-resolution displays. The printer company's customers sometimes use another company's inks, which are incompatible with its printers and cause them to break down. Since the printer maker couldn't prove the wrong inks were used, it had to repair printers under warranty.
The printer maker now uses Colder's smart couplings in the printer and ink cartridges. When customers attach a container to the printer, the machine reads the RFID tag and confirms the right ink is being used. If customers try to use the wrong ink or ink that has passed its expiration date, they get a warning that doing so will void the warranty. This has reduced the printer company's repair costs and warranty liabilities significantly.
Garber believes Colder Products has only just begun to tap the market for smart couplings. He says the company is working on a low-cost RFID transponder that could be used by chemical and food producers in high-volume applications. "Today, our typical customer is going to consume about 75,000 male couplings with transponders in a year," he says. "With this high-volume transponder, one customer is looking at using 2 million a year. We have another potential customer that could use up to 50 million a year." With volumes like that, developing smarter products is smart business.
More Products Have RFID Inside
Embedding RFID in products is a growing trend that can be traced back to 1999 when toymaker
Hasbro
created
Star Wars
action figures that came with a small pedestal with an RFID tag inside. When a child brought a handheld device close to the pedestal, it played a short sound clip related to the action figure. The toys were a hit. More than 3 million transponders were used in the figures, making it one of the single largest RFID applications ever.
For the 2004 holiday season, a toy company called Little Tikes introduced the MagiCook Kitchen, a plastic stove with an RFID interrogator and pretend food items with embedded transponders. The interrogator identifies the food placed on the stovetop and triggers one of more than 100 prerecorded cooking phrases related to the item. Little Tikes says the toy was popular, and for the 2005 holiday season it added Intelli-Tikes packs, which have more food items with embedded RFID transponders.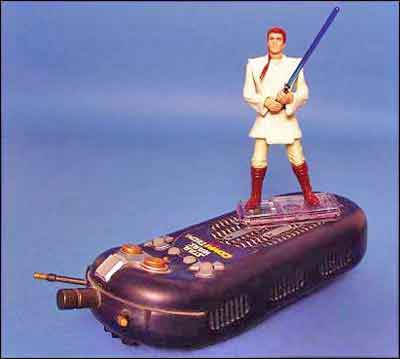 But RFID-embedded products aren't just for kids. Here are some RFID-enabled consumer items.
Cell phones: Samsung and LG are selling mobile phones n South Korea that have an RFID chip in them. The chip works with an RFID payment system used in the country's mass-transit system. Riders simply pass the phone near an interrogator in a turnstile to pay their fare. NTT DoCoMo of Japan also offers smart phones with RFID transponders that can be used to store electronic funds and pay for small purchases.
Cooking range: Thermal Solutions of Wichita, Kan., has patented a smart cooking range that has an embedded interrogator that reads tags in pans and regulates the temperature based on recipe instructions written to the tag.
MP3 player: Hyun Won, a Korean company that produces MobiBLU MP3 players, introduced in December the DAH-1800T model, which has an embedded RFID transponder that can be used to pay for fares on public buses and subways. Consumers can charge up to 70,000 won (about US$70) on the MP3 player's transponder at ticket windows of subway stations or newsstands.
Office chairs: IBM has filed a patent for a smart office chair that has an embedded RFID interrogator. It reads a tag in an employee's identity badge and automatically adjusts the chair to the person's personal settings.
Shopping carts: Carttronics, a Carlsbad, Calif., provider of cart-return systems, has patented a method of tracking returned carts with RFID transponders embedded in the wheels or casters, to encourage customers to return carts by awarding them credits in a frequent shopper program.
Wine: Modulgraf, an Italian printing and packaging company, has created a wine label that has an embedded RFID transponder. Liquor stores can purchase a handheld device that allows customers to interrogate the tag and hear prerecorded information about the wine.