Aug 12, 2014San Francisco International Airport is testing a new location-tracking system that could be used to help visually impaired travelers make their way from curbside to gate. The system—designed and installed by startup Indoo.rs (pronounced Indoors), with help from one of its partners, StickNFind Technologies—leverages Bluetooth Low Energy (BLE) beacons, a mobile phone application and Apple iPhone's accessibility features and Voiceover technology. It was initially developed as part of the San Francisco Entrepreneurship-in-Residence program, launched in March by San Francisco's mayor, Edwin M. Lee, to explore innovative solutions to civic challenges.
BLE-enabled beacons are designed to transmit unique ID numbers that trigger actions on smartphones or other BLE-enabled devices. Work on the airport project began in April, and the first iteration was completed in July. In the San Francisco International Airport's Terminal 2, nearly 500 StickNFind BLE beacons have been affixed to walls, ceilings and pillars, typically above eye level and out of reach, and made to match the color of what they are on, explains Markus Krainz, Indoo.rs' CTO. The StickNFind beacons, which were developed per engineering specifications determined by Indoo.rs' engineers, are approximately the size and thickness of a bottle cap, and come with batteries that can last about four years.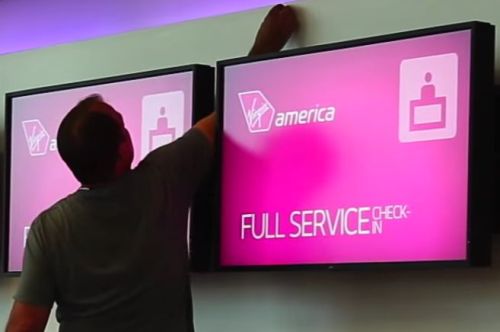 The design required a trade-off between battery life and transmission rates, Krainz says. "We specified how the beacons were to be made, and StickNFind manufactured the beacons," Krainz says, noting that the beacons have to be very accurate because the system is designed specifically for the visually impaired. In addition to the beacons, the system includes software from Indoo.rs that features state-of the-art algorithms that make up the core of the application that runs on an Apple iPhone. Indoo.rs worked with the airport personnel, who provided flight schedules, building plans and other data that the company used to create the mobile application and install the equipment, according to Krainz. Also, Indoo.rs worked with members of San Francisco's LightHouse for the Blind and Visually Impaired to test the system in the airport.
As the traveler moves through Terminal 2, that individual's Apple iPhone receives the unique ID transmitted by each beacon the person passes. This data is combined with data calculated by sensors in the phone, including the compass and accelerometer that sense movement, speed and direction, to compute the location, Krainz says. The application delivers the location information, which can then be conveyed via Apple's Voiceover technology and maps on the phone's screen. The information can tell a traveler if he or she is near a water fountain, an electrical outlet, a restroom or a gate, and provides directional information such as "the gate is at 2:00," or "proceed straight ahead for 5 feet and turn left" (to see more about the system, watch this video).
Indoo.rs expects the airport system will be extended into other parts of the airport, but Krainz says any future rollouts are up to airport officials. The company anticipates more testing and refining of the solution, with the goal to have it ready for an extended rollout late in the third quarter or early in the fourth quarter.
Indoo.rs—founded in 2010 by Krainz and the company's COO, Bernd Gruber—is headquartered in Vienna, Austria, with offices that opened in 2012 in Palo Alto, Calif. The company is focused on wireless applications, and early on saw the opportunities related to BLE, says Krainz.
Indoo.rs' localization software can be used in conjunction with a range of technologies, leveraging data from a device's sensors (including accelerometer, gyroscope, barometer and compass) with radio signals such as 3G, Wi-Fi, geomagnetic fields and BLE, to determine accurate location and positioning. The software is developed in C++ and can be used with both iOS and Android smart devices, as well as in micro-controllers. A software developer's kit (SDK) is available for license for a monthly fee. The company recommends Bluetooth beacons provided by its partners: Kontakt.io, BeaconInside and StickNFind.