Jun 24, 2015In 2005, Carlo K. Nizam was head of supply-chain operations at Airbus UK, and he had a problem. Roughly half the inventory he was managing was held at the aircraft manufacturer's first-tier suppliers' premises. The lights Airbus bought for use in its wings and landing gear, for example, were being shipped directly from the light manufacturer's facilities to the companies assembling those sections of the planes. That way, Airbus did not have to receive the lights, store them and then ship them to the wing and landing gear firms.
But control and traceability of all processes was government-mandated, and it was hard to keep track of supplies that were not under Airbus' direct control. Sometimes lights that were delivered to the landing gear company would not be entered into the SAP terminal Airbus had installed at the facility, so Airbus would not know the parts had arrived. Nizam had been reading about Walmart's use of RFID to track pallets and cases and realized it could be the answer to this problem.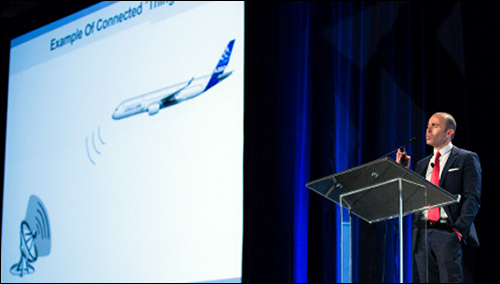 Nizam ran an RFID pilot to track parts at a supplier's location, and while it worked beautifully, Airbus did not embrace the system. Undeterred, Nizam kept promoting RFID within the company. He eventually conducted a pilot at a manufacturing facility that led to deployment. Then, he did another pilot and another, until Airbus created its Value Chain Visibility and RFID Program.
As head of that program, Nizam oversaw a strategic effort to harmonize the full suite of processes across the Airbus value chain, to increase process visibility, measurability and operational efficiency. The effort led to the installation of an Airbus Business Radar infrastructure that consists of an active, ultrawide-band RFID system combined with a passive RFID system at assembly facilities to track aircraft parts, logistics containers, tools, jigs, subassemblies and other critical assets.
The RFID technologies are helping to enable a "smart future factory" concept that lets managers see a digitalized view of what is happening on the factory floor in real time, automatically and without manual input or paperwork. Workers, for example, can look at their computer screens or tablets and see items moving in real time on the shop floor, click on individual items to see if they are delayed, and run reports that compare what is happening with what should be happening, so any issues can be identified and promptly addressed.
At the same time, Nizam led Airbus' effort to develop airline industry standards for RFID on parts. He also helped grow a new revenue line for the company from RFID solutions consulting for external customers, which has seen double-digit growth year over year. In July 2009, Airbus became the first commercial aircraft manufacturer to use permanent RFID tags on parts for its A350 XWB aircraft. Four years later, Airbus became the first aircraft manufacturer to permanently tag traceable parts across its entire fleet.
Nizam's team also has helped Airbus Helicopter, Airbus Defense & Space and other companies in the Airbus group use RFID to boost efficiencies. The Airbus RFID effort has helped to change the entire aviation sector. Parts suppliers, maintenance, repair and overhaul companies, and airlines are now beginning to take advantage of tags put on Airbus planes and looking for new ways to use RFID within their operations.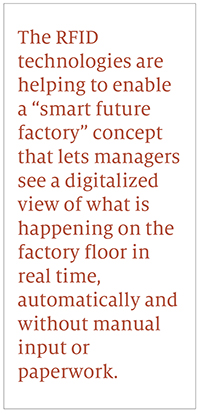 Moreover, Airbus' approach to using RFID as a platform to deliver benefits enterprisewide has set an example for companies in other industries. Since 2007, when Nizam invited RFID Journal to Hamburg, Germany, to learn about Airbus' grand plans for RFID and see some of its RFID deployments and pilots, he has been generous with his time and willing to share what he has learned with other potential users of the technology.
In April, Nizam was named head of digitalization for the Airbus Group's ICT organization. He will work with business leaders at the various Airbus companies to develop and implement an integrated digital transformation strategy. It's a big task, covering RFID, the Internet of Things and other existing and emerging technologies, but Nizam, as always, is up for the challenge.