Oct 31, 2014When Royal Caribbean International's newest cruise ship, the Quantum of the Seas, embarks on its maiden voyage on Nov. 2, its passengers will be treated to several RFID-based features, including passive high-frequency (HF) RFID "WOWband" wristbands that they can use to unlock their staterooms' doors and make purchases onboard. The ship is also adopting RFID luggage tags, enabling guests to use their cell phones to view the locations of their bags during loading and unloading.
Quantum of the Seas, the world's third-largest cruise ship, will be based in Bayonne, N.J., during its inaugural season sailing (2014 to 2015). The 1,142-foot-long ship includes 2,090 passenger staterooms and 16 passenger-accessible decks, and features multiple new technologies. For example, passengers can access RFID-enabled Royal iQ kiosks (as well as a Royal iQ app on their smartphones) to access updates related to the events in which they are scheduled to take part, and to manage details regarding their voyage.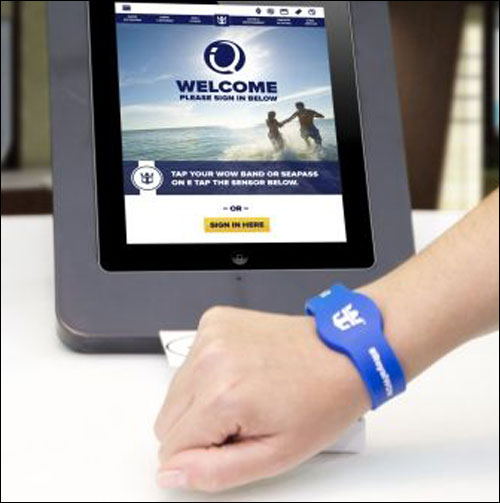 Royal Caribbean has set a goal for a maximum 10-minute check-in time for Quantum of the Sea passengers, who will have already created a boarding pass online that includes their own ID photo. When embarking, guests will proceed through a smart check-in process that starts with a scan of the bar-coded boarding ID card that was sent to their home prior to the cruise. Staff members will then attach a passive ultrahigh-frequency (UHF) RFID tag to each luggage item, and will link the unique ID number encoded to that bag's tag with the passenger and his or her stateroom number, using an MC9190-Z handheld reader provided by Motorola Solutions (now part of Zebra Technologies). When the bags are then moved from the receiving area onto the vessel, personnel will read the tags in order to update their status. Porters will again interrogate the UHF tags as they begin carrying them to passengers' rooms, and one final time as each bag is deposited at its appropriate room. Guests can download the Royal iQ app and use its luggage-tracker feature to monitor the movements of their bags and receive status updates, such as "checked in," "onboard," "in transit" and "delivered." (At press time, the Royal iQ app was available only iPhones and iPads, but a version for Android devices was expected to be posted on the Google Play website soon.)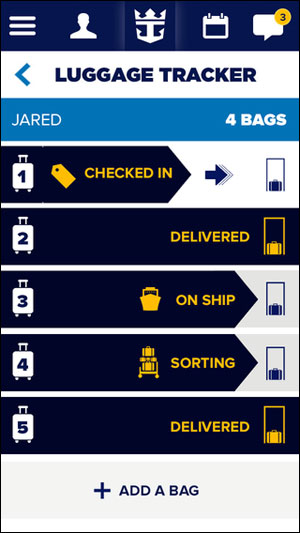 Prior to arriving at the ship, passengers can purchase a WOWband wristband for $2, which would then be waiting for them within their guest staterooms. They can also buy the band at a Royal iQ kiosk.
"The wristband is used very much the same way the room key is used," says Bill Martin, Royal Caribbean Cruises Ltd.'s CIO. A user can access his or her room by swiping the wristband near the RFID-enabled door lock, which then prompts the lock to release and allow that person room access. At the ship's restaurants, bars, casino, gangway and arcade, as well as at areas set aside for the Adventure Ocean youth and teen programs, the wristbands can be read at the point of sale (POS), where VeriFone POS RFID readers are installed, in order to make payments. In this case, an account is set up for that individual in advance, and he or she is then billed at the end of the voyage.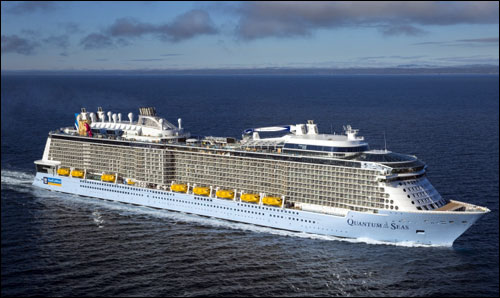 The wristbands are made with a 13.56 MHz NXP Semiconductors Mifare Ultralight C RFID chip complying with the ISO 14443 standard—a more secure option than the ISO 15693 standard, according to Michael Hrabinas, the executive VP of Feig Electronics, which provided the HF readers used in the self-service Royal iQ kiosks. The cruise ship installed approximately 280 Feig Electronics Obid Classic Pro CPR 40 RFID readers, Hrabina reports.
In addition, the cruise line installed battery-operated VingCard RFID-enabled lock mechanisms at 3,394 doors, to provide guests with access to their rooms. The locks' RFID readers enter a low-power sleep state when not in use. "It's important to extend the battery life through power-management techniques," Hrabina says. The approach of a tag awakens the device, which then reads the tag, controls the door lock and returns to the sleep state. Two AA batteries can last for up to three years, he adds, and for tens of thousands of transactions.
In addition, Martin says, the cruise line's staff will be equipped with about 500 mobile devices containing a built-in RFID reader, or with readers designed to plug into a device's USB slot. The USB readers were provided by Identiv, he adds.
Aaccording to Martin, Royal Caribbean created its own software to manage read data based on tag reads, with assistance from multiple vendors.

"Guest convenience is number one," Martin states. "Wearing a wristband allows the guest to forget about carrying a card around with them. They are waterproof, so they can wear them everywhere, in any activity." The RFID wristbands, he explains, offer an advantage over the magnetic-stripe key cards used by many hotels and cruise lines. "We have the added benefit of eliminating the de-magnetized card issue that plagues a lot of hotel properties, particularly when the guest uses the card over longer periods of time."
RFID technology is also part of the onboard photo service provided by The Image Group. Passengers will be able to tap their WOWband bracelets against an HF reader mounted on a table, to save and purchase pictures of themselves taken by The Image Group's photographers.
The cruise line intends to install the same RFID technologies aboard two new ships: the Anthem of the Seas, scheduled to launch in 2015, and the Ovation of the Seas, launching in 2016. "We plan to use RFID on future vessels," Martin says, "but have not made a decision on retrofits to older vessels yet."