Apr 10, 2014The following are news announcements made during the past week by the following organizations:
Zebra Technologies;
William Frick & Co.;
Murata;
Q-Track;
RFTrail;
Xtreme RFID, Vizinex RFID; and
Alien Technology.
Zebra Technologies Debuts New Solutions and IoT Applications
Zebra Technologies has unveiled three new EPC Gen 2 and ISO 18000-6C compliant RFID solutions—the ZT400 RFID Series, ZE500R and ZXP series 7 with UHF encoding—at the RFID Journal LIVE! 2014 conference and exhibition, held this week in Orlando, Fla. In addition, the company demonstrated Zebra's new cloud-based Internet of Things (IoT) platform, known as Zatar. The ZT400 RFID Series are mid-range industrial printers that support a wide range of media capabilities and media-delivery options to print RFID labels for almost any application. Available in 4-inch and 6-inch models, the printer will be available for purchase later this month. The ZE500R print engine includes advanced RFID features designed to provide greater tracking capabilities for improved operational efficiencies. For example, Zebra reports, it features a quick-change module drive system to reduce printer repair time, and all three rollers can be exchanged in minutes, with no need to access the printer's electronics. The new ZXP Series 7 with UHF Encoding card contains Zebra's patented antenna design and Impinj's Monza 4QT chip. It provides a read range of up to 50 feet, according to the company, making it suitable for identification, access control and transaction processes. It can be used, for instance, to track people in order to increase personal safety and facility security, capture guest and visitor data at live events and conferences, and enhance the customer experience by enabling guests to easily share information with their social-media contacts. The 48-bit unique ID feature protects against card cloning and provides a card authentication method to uniquely identify every card. Zatar is a Web- and cloud-based IoT integration platform for connecting legacy and smart devices—such as iBeacons, printers and RFID readers—to the Internet, and enabling third-party applications to easily work with the devices over an open-source application programming interface (API). It is designed to let companies control their IoT devices (such as RFID tags and sensors), share IoT data and access to IoT devices, and add social-media functions to IoT devices, among other things. Earlier this month, Zebra announced, with Trimble, that it will integrate Trimble's ThingMagic RFID readers and devices enabled with ThingMagic embedded RFID technology into Zebra's Zatar platform. The Zatar platform's user experience is built to be simple and intuitive, Zebra explains, so that anyone can set up and operate an IoT solution. According to Zebra, businesses rely on devices and sensors to identify, locate and sense conditions throughout their operations. These devices and sensors can easily become cloud-connected to Zatar via the deployment of the Zatar Gateway, which is powered by Intel's NUC (or Next Unit of Computing), a small, enterprise-grade computer that provides reliable local processing, connectivity and security. "For businesses to ensure their data is complete, accurate and available when you need it, a cloud-based IoT solution like Zatar needs reliable connections between devices and users," said John Deatherage, Intel's marketing director, in a prepared statement. "As IoT solutions require true machine-to-machine communications, where actions are executed automatically with less human intervention, the connection and quality of the local computing gateway, powered by the Intel NUC, is even more critical." The owner of a winery, for instance, could attach inexpensive sensors to each bottle within its inventory, and use Zatar to remotely manage that stock. Taking it one step further, the firm could offer a value-added experience for customers by leveraging the sensors to inform them of each bottle's pedigree, temperature, humidity and transit shock history. The customer could call up that item's specific information by using a Zatar application on his or her Apple iPhone or iPad. Other key features of Zatar include the ability for businesses to create their own Zatar apps, Apple iOS Accessibility, support for open standards (Zatar uses CoAP, an Internet Engineering Task Force standard for the Internet of Things), collaborative functions, security functions and more.
William Frick & Co. Introduces Two New SmartMark RFID Tags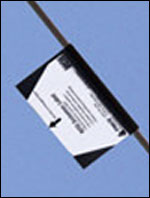 William Frick & Co. has announced that it has expanded its SmartMark product line with the addition of two new RFID tag solutions designed for a variety of applications. The SmartMark products are ultrahigh-frequency (UHF) EPC Gen 2 tags that are ISO/IEC 18000-6C-compliant. The High-Performance Metal Mount RFID tag can be read directly on metal surfaces from a distance of up to 20 feet, which William Frick & Co. says is ideal for tracking such metal assets as fleet trucks, forklifts and tractors, as well as IT equipment. It features an Alien Technology Higgs-3 chip and has multiple mounting options, ranging from permanent adhesive to a magnetic backing for quick removal and reuse. The Ultra Long Range RFID tag can be read from 65 feet away, the company reports, making it a suitable solution for tagging overhead assets, such as pole-mounted transformers or cables. It features a Monza 3 chip from Impinj. Both tags are outdoor-durable and offer ultraviolet (UV), water and chemical resistance. The tags can be customized with messaging, artwork and serial information. For applications requiring specific read ranges, William Frick & Co. says it can customize the form, antenna and materials to account for such variables as temperature, impact, abrasion, chemical or UV exposure, and reader and tag position, in order to accommodate a customer's exact requirements. The new tags were on display at the RFID Journal LIVE! 2014 conference and exhibition, held this week in Orlando, Fla., at William Frick & Co.'s booth.
Murata Expands HF RFID Tag Family for Tracking, Certification and Authentication Applications
Murata has announced the expansion of its LXMS series, a family of small, high-frequency (HF) RFID tag products, with the new LXMS33HCNK-167 tag. Operating in the 13.56 MHz band and compliant with the ISO 14443 standard, the LXMS33HCNK-167 tag measures 3.2 millimeters by 3.2 millimeters by 0.7 millimeters (0.13 inch by 0.13 inch by 0.03 inch) and can be used with any reader-writer combination that conforms to the same standard. It features NXP Semiconductors' NTAG212 and has 1024 bits of memory. The tag is ideal for numerous operating environments and surmounts such design challenges as high temperature and humidity levels, according to Murata. In addition, the company reports, the new tag suits a wide range of applications and object tracking, certification and authentication applications, making it suitable for use in the smart device market. The LXMS family of tags features antennas embedded directly into the multi-layer substrate, allowing the tag to be extremely small. The LXMS tag is resistant to harsh environmental conditions; when used with a 200 mW reader-writer, its read range is typically 15 millimeters (0.6 inch), Murata adds. "In the less than 18 months since we first introduced the LXMS HF series, we have made considerable strides in its development. We are always striving to not only meet, but exceed market expectations," said Gerry Hubers, Murata Electronics North America's business development manager, in a prepared statement. "By changing the IC, the LXMS series is truly a NFC Forum type2 (ISO 14443A) compliant tag, making it very favorable for the smart device market." Samples of the LXMS33HCNK-167 tag are now available. Pricing is $1.00 per piece in volume, with an approximate lead-time of 12 weeks.
Q-Track Unveils Near-Field RFID Tag that Weighs Less than 2 Ounces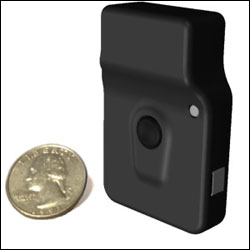 Q-Track Corp has unveiled a new compact, lightweight personal tracking tag that leverages the company's patented Near-Field Electromagnetic Ranging (NFER) technology. The QT-701 NFER Tag, designed for industrial indoor applications, weighs only 1.76 ounces (50 g) and measures only 33 cc in volume. According to Q-Track, the tag employs a unique low-frequency (LF), long-wavelength radio signal to achieve accurate (40 centimeters rms) indoor location results, even in complex, non-line-of-sight environments. Near-field wireless technology, the company explains, is an important and emerging area in RFID. Specific applications include LF and high-frequency (HF) RFID, Near Field Communication (NFC), RuBee (IEEE 1902.1), wireless power transfer and NFER. NFER tags, unlike typical active RFID or Wi-Fi solutions, transmit at low frequencies (1 MHz), and with long wavelengths that typically measure approximately 300 meters (984 feet), according to Q-Track (see RFID Helps Halt Collisions Between People and Robots). This makes the transmission easier to read in what are considered hostile RF environments, Q-Track notes, such as those containing a great deal of metal. The company's tags are battery-powered and employ a proprietary air-interface protocol to communicate with a receiver. Q-Track demonstrated the performance of the QT-701 NFER Tag at the RFID Journal LIVE! 2014 conference and exhibition, held this week in Orlando, Fla.
RFTrail Announces New RFID Cart Auditing Tool for Auditing Assets
RFTrail, has announced its SmartAudit Cart, an RFID-enabled tool designed for auditing assets in industrial or commercial environments. The cart, which can be used to replace RFTrail's handheld RFID SmartMobile, provides real-time auditing metrics on a mobile platform, resulting in audit and productivity reporting for decision-support. The SmartAudit Cart was designed for rapid auditing within data centers, but can also be used in technology labs, tool rooms and other high-audit areas. The SmartAudit Cart is a battery-powered, ruggedized cart with integrated RFID data-collection equipment and components from leading RFID manufacturers, RFTrail reports. The SmartAudit Cart can be deployed with high-performance antennas for mass-auditing, according to RFTrail, and an optional handheld wand accommodates auditing at a granular level (such as tools in bins or boxes, or on shelves) or container contents (such as assets in boxes, servers in a rack, files on a shelf and so forth). The cart's graphical user interface features a touchscreen for ease of use, and incorporates real-time metrics. Simple configuration tools allow the cart to be adjusted to fit various settings and performance requirements.
Xtreme RFID, Vizinex Announce New Mount-on-Metal Tag
The partnership of Xtreme RFID, a custom manufacturer of one-piece, fully encapsulated RFID tags for asset tracking, and Vizinex RFID has announced the Allied Series VX-Mid HT, the second product in the companies' growing series of RFID tags for harsh industrial environments. A mount-on-metal RFID tag designed for high-temperature applications, the VX-Mid HT combines Vizinex's ViziCore RFID tag technology, Xtreme's proprietary plastic injection-molding process and the new Fortron ICE polyphenylene sulfide (PPS) material from Celanese Corp. Celanese's Fortron PPS is a semi-crystalline polymer that features high-temperature performance for temperatures up to 240 degrees Celsius (464 degrees Fahrenheit) and resistance to fuels, oils and solvents, according to Xtreme RFID. The polymer also provides hardness, stiffness and dimensional stability, the company reports, and is inherently flame-resistant. According to Xtreme RFID, this new material has enabled it and Vizinex to expand the line of Allied Series of encapsulated RFID tags and build on the existing VX-Mid RFID tag engineered for yard management, returnable transport items, and other industrial environments (see Xtreme RFID and Vizinex Jointly Market Rugged Passive UHF Tag). The new mount-on metal VX-Mid HT tag offers a read range of more than 25 feet and is rated IP 68 (signifying it is dustproof and waterproof). According to Xtreme RFID, the VX-Mid HT is suitable for use in oil and gas environments, where assets such as drill bits, collars, borehole liners and so forth spend thousands of hours underground, at temperatures of up to 464 degrees Fahrenheit and pressures up to 30,000 psi; medical applications, in which sterilization processes such as autoclaving are utilized; and for tools used in industrial autoclave and high-temperature fabrication operations. The Allied Series Tag was showcased at the RFID Journal LIVE! 2014 conference and exhibition, held this week in Orlando, Fla., in Xtreme RFID's booth.
Alien Technology Launches European Commercial Four-Port Fixed UHF Reader
Alien Technology has introduced the Alien ALR-9680-EMA commercial-grade ultrahigh-frequency (UHF) EPC Gen 2 reader for the European, African and Middle Eastern markets. The company unveiled versions for North America and China a year ago (see Alien Technology Unveils New 4-Port Fixed UHF Reader). Housed in a metal chassis, the reader features 4 monostatic antenna ports that Alien Technology says lend themselves to low-cost antenna systems; Power-over-Ethernet (PoE) functionality that takes power from any existing Ethernet infrastructure and eliminates the need for external power supplies; and autonomous mode of operation that reduces network traffic and minimizes central processing, thereby helping make large rollouts more scalable. In a prepared statement, Pat Ervin, Alien Technology's VP of sales and marketing, said the reader "brings the flexibility of 4-antenna ports and Alien Reader Protocol, which adds local intelligence and processing inside the reader and reduces the processing overhead required elsewhere in the system." The ALR-9680, Alien adds, is suitable for small, cost-sensitive rollouts, the company reports, or—due to the on-reader processing—it can be used in large-scale implementations seeking to minimize the amount of central processing consumed by each reader. Customer samples of the ALR-9680-EMA are scheduled to be made available on May 1 of this year, with production units scheduled to ship on June 1.