Nov 12, 2015The following are news announcements made during the past week by the following organizations:
Jamison RFID, Cybra;
HID Global, Omni-ID;
AIM;
Reveal Mobile, Digital2GO Media Networks;
View Technologies;
DecaWave, and Time Domain.
Jamison RFID and Cybra Announce Item-Tracking Solution for Retailers
Jamison RFID and Cybra have jointly introduced the new Cybra-Hawk RFID-based electronic article surveillance (EAS) loss-prevention and inventory-management solution, a portal station that the two companies say is designed to meet the special requirements of retailers.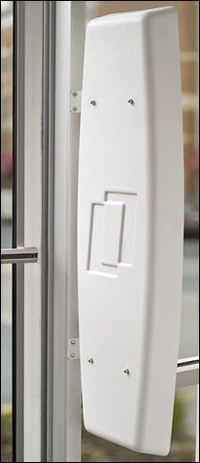 The solution combines Cybra's EdgeMagic RFID Control software platform—designed to manage edge devices and to commission, write to, read and verify RFID tags—with Jamison RFID's Hawk RFID all-in-one read station, a power over Ethernet (PoE) RFID portal that includes a choice of available RFID readers and four high-gain antennas. The Hawk is designed for collecting tag data only, without additional alarms and electronics. At 39 inches tall and 12 inches wide, the Hawk is lightweight and can be mounted to a wall or doorway quickly and easily, according to Jamison RFID. It plugs into an Ethernet device and can be easily integrated with back-end systems (all wiring, connectors and cabling are in place).
The Cybra-Hawk solution allows retailers to use real-time, RFID-based EAS technology to help prevent theft and shrinkage, the companies reports, as well as track and manage inventory at the item level across the supply chain. The Cybra-Hawk portal solves the problem of false reads that occur when retailers use RFID solutions designed for warehouses in their retail environments. Distribution center dock doors have much broader read zones than, for example, a customer entrance to a mall store, the companies explain. Warehouse RFID solutions will pick up too many false reads if placed in a store. The Cybra-Hawk portal, in contrast, provides a focused read zone that can be used for receiving items, automating inventory counts on the shelf, preventing theft and transacting sales at a checkout counter. A combined EAS and RFID tag eliminates manual counts and bar-code scanning.
The Cybra-Hawk solution is available now.
HID Global and Omni-ID Resolve Patent Disputes
HID Global has announced that, under the terms of a confidential settlement, the patent-infringement litigation that Omni-ID had initiated against certain HID Global products has been amicably resolved. HID Global will continue to manufacture and sell its complete range of RFID products, including ultrahigh-frequency (UHF) on-metal tags, in the United States and around the world, and HID Global now enjoys a worldwide license to the applicable patents.
The suit was filed in mid-2014 in the United States District Court, Western District of New York. In the suit, Omni-ID had claimed that it pioneered and implemented an RFID tag system that isolates a tag from surfaces that could disrupt the signal sent from an RFID reader. The company had indicated that its patents describe a decoupler of minimal thickness that captures and holds radio waves emitted from a reader without interference from nearby liquid and metallic surfaces. Omni-ID had claimed that HID's InLine Tag Ultra RFID tags infringed upon that patented design.
In a prepared statement, Marc Bielmann, HID Global's VP of identification technologies, said that despite the parties' differing legal positions, HID Global is satisfied with the business resolution it has reached with Omni-ID. "With this resolution," he said, "HID Global will be able to continue to expand its UHF products range without limitation for the benefit of its customers."
George E. Daddis, Jr., Omni-ID's CEO, added in the statement that Omni-ID's goal "is to drive the enablement of RFID into our core Industrial Internet of Things (IIoT) market and open the doors to driving further global adoption overall—this agreement represents another step in that direction."
AIM Drafts Standard for Testing RFID Readers' Effects on Medical Equipment
AIM, an international industry association focused on bar-code, RFID, real-time location system (RTLS) and mobile-computing technologies, has published a draft version of a new standard for testing the effect that an RFID reader's electromagnetic emissions might have on non-implantable medical electrical equipment and systems. The organization has now opened a 30-day public-review opportunity for the standard.
The proposed standard—known as the Medical Electrical Equipment and System Electromagnetic Immunity Test for Exposure to Radio Frequency Identification Readers—was developed by AIM's RFID Experts Group (REG) Healthcare Initiatives Work Group. Its purpose is to provide test methods and test levels for assessing the immunity of the equipment and systems to the electromagnetic emissions.
The standard establishes test criteria for a variety of RFID specifications and frequencies: ISO 14223, 134.2 kHz; ISO 14443-3 (Type A), 13.56 MHz; ISO 14443-4 (Type B), 13.56 MHz; ISO 15693 (18000-3 Mode 1), 13.56 MHz; ISO 18000-3 Mode 3, 13.56 MHz; ISO 18000-7, 433 MHz; ISO 18000-63 Type C, 860-960 MHz; and ISO 18000-4 Mode 1, 2.4 GHz.
Various studies have been conducted to determine the effects of passive ultrahigh-frequency (UHF) RFID systems on medical equipment and electromagnetic interference (EMI). In July 2008, a study by researchers at Indiana University, Purdue University Indianapolis and systems integrator BlueBean found no incidents of EMI from passive UHF RFID systems (see New RFID Study Finds No Interference With Medical Devices), while a study carried out in 2010 by the U.S. Food and Drug Administration, in collaboration with major implantable pacemaker and ICD manufacturers, demonstrated the effects of RF emissions from RFID readers on implantable cardiac devices (see Study Finds RFID Readers May Affect Pacemakers, But Pose No Urgent Risk).
Interested reviewers can download the document (without charge) at AIM Public Review, or by visiting the AIM Store, located in the AIM Marketplace. The public-review process for these documents will officially end on Dec. 9, 2015.
Reveal Mobile, Digital2GO Media Networks to Share Beacon-Based Data
Reveal Mobile, which has built an analytics platform that delivers mobile-audience data to help companies improve product and advertising performance, and Digital2GO Media Networks (D2GO), a player in proximity-based consumer engagement, have teamed up to share two unique data sources derived from Bluetooth beacons.
D2GO provides customers with real-time, location-aware alerts primarily based upon its global network of Bluetooth beacons. Individuals using apps with D2GO's technology receive prompts to engage with content relevant to their location, such as receiving offers when entering a retail location outfitted with D2GO beacons. Reveal Mobile is building a nationwide database of beacons installed inside businesses, stadiums, venues, airports and shopping malls. Its technology sits inside hundreds of news and weather apps, reaching millions of users monthly, according to the two companies. As smartphones and tablets come in contact with beacons that the firm has classified as a particular business type, they build anonymous audience segments based upon these real-world behaviors: business traveler, sports fans and frequent shoppers.
In this partnership, Reveal Mobile will share with D2GO its mobile-audience data, the devices they see "bumping" into D2GO beacons, and the demographic and behavioral data previously associated with the devices in exchange for D2GO's beacon names and locations. D2GO can then share this audience data with its own customers, as well as reach these devices across the ad networks to earn additional revenue.
"One of the hurdles of using beacons for real-time, location-based ads is having a large enough mobile audience to make the effort worthwhile. If only 1 to 2 percent of retail visitors have that retailer's app installed, the brand is severely limited in the amount they can learn about their mobile audience," said Mike Canevaro, D2GO's CEO, in a prepared statement. "We chose Reveal Mobile to help overcome these hurdles because of their scale and proven technology. Their nationwide network of apps creates a larger pool of audience data for our customers, thus expanding the amount of devices bumping into D2GO's beacons."
Brian Handly, Reveal Mobile's CEO, added in the statement that the key to Reveal Mobile's mission to create a valuable source of mobile-audience data is to use Bluetooth beacons to aid in determining device location. "While we can detect and classify any Bluetooth beacon, whether it's iBeacon, Eddystone or some other format, we always prefer to source the data directly when possible," Handly explained. "We arrive at definitive answers and powerful audience data much more quickly when working in tandem with partners like D2GO."
View Technologies Launches inView Solution Partner Program
View Technologies, a joint venture between Stanley Black & Decker and RF Controls, has announced the launch of its inView Solution Partner Program, which the company says is designed to create an ecosystem of value-added reseller (VAR) partners to accelerate end-to-end, market-ready real-time location system (RTLS) and RAIN RFID solutions for companies in the retail, manufacturing and logistics spaces.
View Technologies' inView platform consists of the ultrahigh-frequency (UHF) Echo smart antennas, RF Controls' RFC-6100XR RFID reader and software that can be easily integrated into enterprise and Internet of Things applications and systems. The InView solution provides real-time, item-level visibility for the billions of items incorporating RAIN RFID (passive UHF) tags, with the unique ability to locate tags in three-dimensional space from great distances. (see View Technologies Launches Long-Range RTLS for Passive UHF Tags).
View Technologies says it is currently seeking partners who want to extend item-level visibility into their customers' solutions. According to the company, InView Solution Partners will be primed with the product, tools and support required to deliver compelling RAIN RFID solutions that are integrated, tested and optimized for their customers.
The inView Solution Partner Program provides VARs with data and business event notifications, the company reports, opening market opportunities and increasing revenue while addressing customer problems. The program also includes sales and technical training and certification, as well as marketing and expert resources for all View products and services, thereby allowing partners to accelerate adoption in the growing RAIN RFID marketplace.
DecaWave and Time Domain Partner on Serving Micro-Location Market
DecaWave, a provider of ultra-wideband (UWB) semiconductors, and Time Domain, a provider of UWB hardware and software development, have announced a strategic partnership to serve growing commercial and industrial markets for precision ranging and localization. The deal establishes Time Domain as DecaWave's preferred partner for navigation and tracking opportunities based on two-way time-of-flight (TW-TOF) ranging, the two companies report, and grants DecaWave a worldwide license to Time Domain's patent portfolio.
The partnership pairs DecaWave's chip technology with Time Domain's development ecosystem to shorten systems integrators' development cycles and speed time to market for new location-based solutions. The agreement also provides a framework for collaboration on products, regulatory standards and industry symposia, according to the companies.
"The ubiquity of GPS has made location-based information a vital part of our daily lives," said Ciaran Connell, DecaWave's CEO, in a prepared statement. "However, many emerging applications are demanding an even greater degree of location precision and reliability, as well as the ability to operate seamlessly indoors and outdoors. We are partnering with Time Domain to capitalize on these global trends, which have created an ideal environment for UWB-based micro-location to flourish and thrive."
As part of the cooperation and licensing deal, Time Domain will be granted Strategic Partner status within DecaWave's successful Partnership Program. Time Domain will pursue TW-TOF ranging applications in industries for which mobile ad hoc operating environments are the rule rather than the exception, such as mobile robotics, smart mobility and autonomous operations.
The two companies also indicate they have committed to expanding their collaboration in other areas in order to promote the adoption of UWB technology worldwide, including coordination on industry and regulatory standards and the creation of a UWB industry forum. In August 2015, Time Domain announced the PulsON 330 (P330), its first original equipment manufacturer (OEM) module based on DecaWave's DW1000 chip (see RFID News Roundup: Time Domain's PulsON 330 RTLS Module Uses DecaWave's DW1000 UWB chip).