Apr 10, 2012Employees at Disney's theme parks, as well as on its cruise ships, have an easy start to their day when it comes to retrieving costumes. A worker can simply locate a required garment within a storage room, bring it to an RFID-enabled self-service kiosk, present his or her ID badge and walk away. The company installed the RFID-based solution at most of its parks worldwide last year, managing close to $100 million worth of costumes, as a way for staff members to more quickly check their garments in and out, while also improving the visibility of those items through the laundering and repair process, and reducing the amount of time required to perform inventory checks. However, says Vinny Pagliuca, the company's director of creative costuming and entertainment metrics, an increase in employee job satisfaction has been an unexpected benefit.
In addition to pleasing its staff, Disney reports, the solution has paid for itself in less than a year, by slashing its inventory-counting time from approximately 180 labor hours (within the larger costume storage areas) down to only about two hours. The system has also increased the accuracy of the inventory checks, from 85 to 90 percent accurate to nearly 100 percent. What's more, says Pagliuca—who described the system to attendees at RFID Journal LIVE! 2012, held last week in Orlando, Fla.—the need to staff checkout counters has been eliminated, thereby freeing up personnel for other tasks.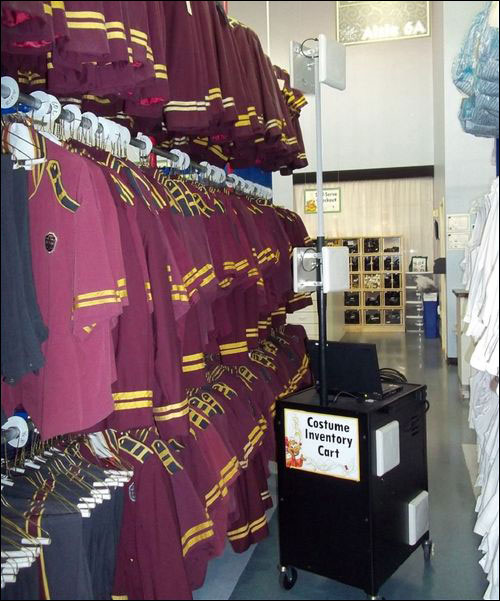 Disney maintains approximately $100 million worth of costume inventory worldwide, with about half of the garments used at its Walt Disney World park, in Orlando. The company had installed a bar-code-based costume inventory system during the mid 1990s, for all of its parks worldwide to track the checking in and out of costumes, as well as their laundry cycles. In the late 1990s, the firm then implemented management software known as the Garment Utilization System (GUS), featuring additional reporting capabilities, that could hold a greater amount of data than the previous software.
Scanning bar codes was time-consuming, however, requiring workers to distribute the costumes to cast members, and to receive garments that needed to be laundered. An employee's costume can comprise more than 20 components, each of which had to be hand-scanned using a bar-code reader. In addition, inventory checks typically involved 15 to 20 employees working about nine hours at some of the larger sites. These costume storage sites are used by staff members who perform in theatrical programs, or who simply work with guests at Disney's theme parks, as well as those working on ships operated by Disney Cruise Line. At each site, workers can walk through aisles of garments, in order to select and check out those required for a particular day's work.

During the past few years, Disney has explored the use of radio frequency identification to manage its costume assets, first using high-frequency (HF) tags, and has run the tags through the laundry process to determine if they could sustain those conditions. The tags worked well, Pagliuca says, and the company thus issued a request for proposals to RFID vendors, some of which proposed ultrahigh-frequency (UHF) solutions. Disney then tested Fujitsu Frontech North America's WT-A611 passive EPC Gen 2 UHF RFID tag (a rubber-encapsulated inlay designed specifically for use on laundered items). From this testing, the company ascertained that the WT-A611 tag could operate well after being washed, and that it offered a longer read range than the HF tag, which could make the process of conducting inventory counts easier. What's more, the company realized that UHF Gen 2 passive tags were rapidly becoming a standard—with wide adoption in the retail supply chain, for example.

According to Pagliuca, Disney designed the RFID software that manages read data and links that information to the existing Garment Utilization System. "We had GUS with bar codes," he states, "We just converted it to operate with RFID." The GUS software resides on the local Disney database in place at each of the company's locations.
Now, as new costumes arrive at a Disney site from a vendor, 30 to 40 percent already have tags sewn into them, with Disney employees attaching tags to the remaining 60 to 70 percent. Each tag is placed within a pouch, which is then sewn into an unobtrusive location on the costume where it can easily be read (such as in a waistband). Establishing these locations took time, Pagliuca says, and a guidebook has been created to indicate the proper location for affixing tags on each type of garment or accessory. For items composed of hard materials (instead of textiles), the tags are attached using an adhesive.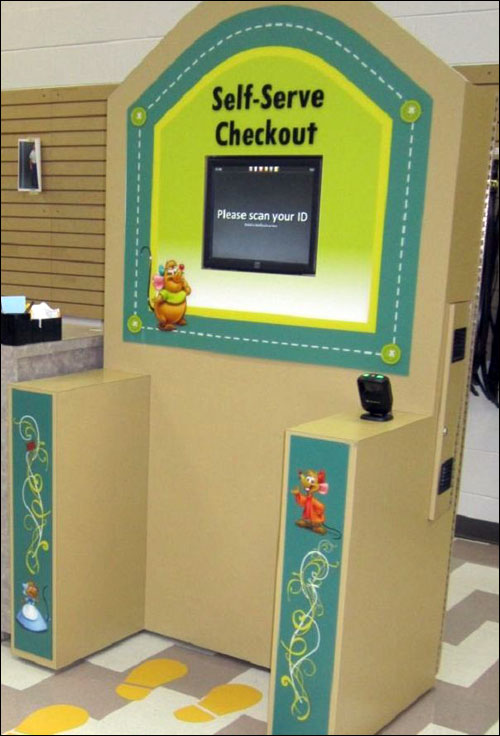 Once a tag is attached, its ID number is linked to the garment in the GUS system, and the costume is then placed within the storage area, accessible by cast members.
At the beginning of a shift, a cast member can walk through the aisles of costumes, select his or her garments and proceed to an RFID checkout kiosk. The kiosks, designed by Disney, have ThingMagic readers built into them. At the checkout kiosk, the employee hangs the selected garments on a rod, places them on an RFID-enabled counter or carries them through an RFID portal. The worker then swipes his or her ID badge through a magnetic-stripe or bar-code reader at the kiosk, thereby prompting the display of that individual's face and name on a video screen. The interrogator captures each garment's tag ID number and forwards that information via a cabled connection to the GUS software, which displays those garments on the screen and prompts the employee to accept the transaction by pressing "done." The checkout process is then complete, and the cast member can continue on with that day's work, while the system records which garments were checked out.
Upon returning the costumes, cast members throw them into a chute in which another ThingMagic reader captures each garment's tag ID and updates the status for that piece of clothing. The soiled costumes then pass through a portal en route to the laundry area (laundry is managed internally at Disney World, while at Disneyland, in Anaheim, Calif., it is shipped to an outside vendor). The portal readers update each garment's status, indicating when it enters and exits the laundry area.

The collected data enables management to know where garments are located, as well as how often they are used, and to compare that information with any laundry invoices (in the case of Disneyland and some other parks that employ outside laundry vendors). What's more, Disney uses the system to expedite inventory counts. Prior to the adoption of RFID, the inventory-taking process was performed by manually scanning bar codes. To manage this large task, the company had to shut down a location and assign 25 workers to scan the bar-coded label of every garment and accessory—a process that typically took nine to 12 hours to complete. Now, only one or two workers can finish the job within about an hour, using an RFID-enabled inventory cycle count cart with a reader and three antennas. Staff members simply roll the carts down aisles, reading the tags as they pass.
"Our project goal is to make ourselves more efficient and better manage inventory," Pagliuca states. "But when it makes cast members happier, that leads to a better day for them. Their first experience of the day is getting their costume. If they have a bad experience there, they can take that bad feeling to the guest."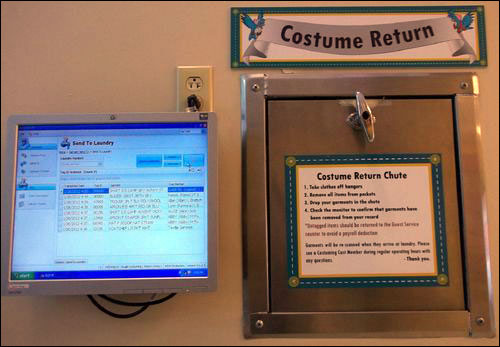 Disney World has 25 costume-storage areas and 40 issue counters (at which costumes are checked out, and which are now RFID-enabled), and checks out 23,000 costumes daily. Altogether, Disney is currently tracking 3 million garments and accessories with tags sewn into or glued onto those items—1.6 million of which are located at Disney World.
Since the RFID system's installation last year, Pagliuca says, "We've gained substantial savings—above a million dollars."