May 09, 2017More than a year after installing an ultrahigh-frequency (UHF) RFID system to track the movement of its bulk storage, MSC Distribution reports that it has reduced labor costs and boosted invoicing accuracy, and that it can share data with customers regarding the locations of their goods. The solution, provided by Doylestown, Penn.-based technology company Advanced Mobile Group (AMG), enables MSC to identify which zone each tagged product enters and leaves through, thereby ensuring that pallets or packages of goods do not end up missing or fail to meet schedules.
MSC Distribution, a dry and liquid bulk packing and storage third-party logistics (3PL) firm, built a new facility to serve the industrial triangle between Houston, San Antonio and Austin, Texas. Thousands of products move through the facility and spend at least some time in storage. Those items vary from palletized dry goods to drums and bagged goods, and are typically stored or moved around the facility via a forklift.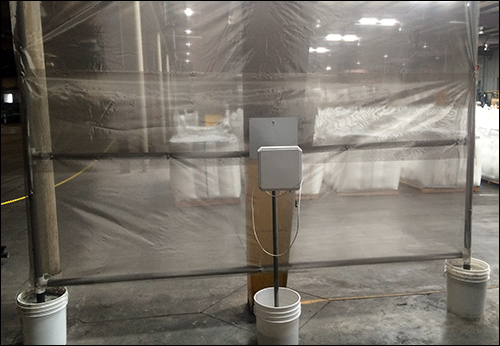 Managing the billing for each stored item can be complex, the company reports, since the kind of storage provided affects the price. For instance, MSC Distribution offers cold storage, as well as areas with higher ceilings or various types of lighting, each of which requires a different price for customers. Traditionally, it was difficult for the company to identify where bulk goods were being stored for invoicing purposes, as well as when available space might be under-utilized to improve efficiency. In addition, if a product is stored in one area for an unexpectedly long time, tracking the exact time that it remains there can be difficult.
The location of goods is especially important when it comes to volatile products, such as chemical agents used during fracking and other processes. Ensuring that those products are monitored, and that their whereabouts is known at all times, is critical to the company.
MSC Distribution wanted to automate the process of collecting goods storage data for billing. It also sought to share that information with customers so that they could make more strategic decisions themselves, such as scheduling the pickup of an item that has been in storage for a long period of time, or understanding whether their goods have arrived at the facility or have moved on to a customer site.
The solution is a UHF RFID system using AMG's ViziTrace technology and Zebra Technologies readers, says Steve Weiss, AMG's project leader. Initially, AMG worked with MSC to determine how the technology could reduce the amount of time employees spent searching for goods, as well as labor related to calculating invoices. MSC wanted to be able to track not only large containers, but also small ones that may be mixed in with large pallet loads.
Before undertaking any installation, Weiss says, "We need to understand how we can improve their business." Facilities such as the one operated by MSC Distribution, he explains, "have a wide variety of goods to track," which can include sacks, drums, barrels and square wooden containers. MSC needed to tag every item, no matter the form factor, and to ensure that each tag could be interrogated while passing through RFID reader portals.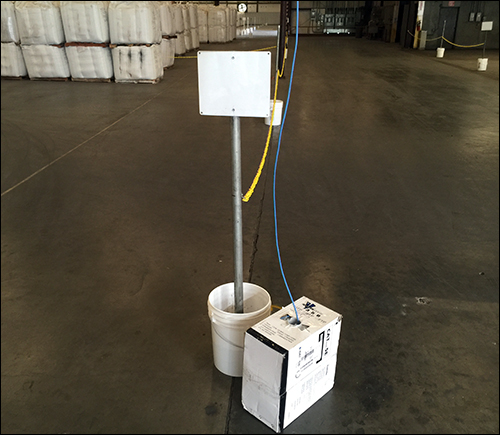 AMG developed a process to print and encode the tags (which were provided by a variety of vendors) onsite, and to then place a tag on each item. That included identifying a tag that could hang on metal, such as stainless steel drums, as well as other tags that could be affixed directly onto other containers made of plastic, polyethylene, fabric or paper.
AMG installed approximately 11 fixed RFID readers at zone egresses and at dock doors, so that the company could identify when items entered or exited a given area. The antennas were installed in such a way as to enable the reader to identify the direction in which goods were being transported. Zebra's FX9500 RFID readers capture each product's tag ID number, along with its direction of movement, then forward that data to MSC's server, where ViziTrace software interprets the information. Staff members also carry Zebra MC9190-Z handheld readers when searching for specific loads within zones.
The RFID-based solution, Weiss says, has helped the company to manage what often comprises large, unwieldly pallet- or bale-type packages, for which bar codes would have been difficult to locate and scan. Ultimately, he reports, the solution has proven to be an accurate and efficient way to automatically identify storage locations and manage billing information.