Dec 14, 2009As a transitional bridge toward the adoption of cell phones with built-in Near Field Communication (NFC) RFID technology, one French retailer has launched what it views as an easy and low-cost introduction to just what NFC-enabled phones can offer consumers. Since April of this year, French children's clothing retailer Tape à l'Oeil has been providing its customers with a loyalty card containing an adhesive RFID sticker that they can then apply to their mobile phones, in order to receive discounts at the company's 130 stores. The loyalty-card solution, developed by Adelya, uses RFID chips and interrogators from Inside Contactless.
"The main objective of Tape à l'Oeil was to create a new type of customer relationship with more interactivity, more freedom and more impact," says a spokesperson for the retailer, who asked to remain unnamed. The company wanted a system that moved beyond a traditional loyalty card that customers must store in their wallets, the spokesperson explains.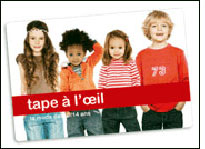 Most industry watchers predict that it will be several years before NFC handsets become commonly available to European consumers. Carloman Grelu, Inside Contactless' EMEA sales engineer, expects to see strong market penetration beginning in 2012. While this system does not allow payments with the NFC-enabled stickers, Grelu says, it might do so in the future. However, he notes, there are no specific plans for the technology to be used in that way yet.
The sticker, manufactured by FCI Microconnections, contains a PicoPass NFC-based passive 13.56 MHz RFID chip that comes with a unique ID number encoded to its 2 kilobits of memory. A customer can sign up for a TAO Le Club card online, or at any Tape à l'Oeil store, by paying a €3 ($4.39) annual membership fee. The card, which includes a peel-off sticker containing the RFID tags, comes in a box with instructions regarding which types of discounts the card provides (such as accrued points based on the amount of money spent at the store), as well as how to use it.

The card's owner then goes online and logs onto the
TAO Le Club
section of the retailer's Web site, and inputs the tag ID number printed on the card, as well as his or her name, home address and other personal data, which is then stored on an Adelya-hosted server running the Loyalty Operator Platform software.

When the customer visits a Tape à l'Oeil store and is ready to make a purchase, he or she can tap the card or sticker against the Inside Contactless Accesso USB desktop contactless RFID reader, thereby linking the purchase with his or her own TAO Le Club ID number. The patron then accumulates points based on purchase amount, which are stored on the Loyalty Operator Platform and can be used for discounts on future purchases. To redeem the points and receive a discount on a later purchase, the shopper simply taps the sticker again at the point of sale.
To date, Grelu says, Tape à l'Oeil has sold its TAO Le Club cards to 300,000 of its customers, thus making it France's largest NFC-based loyalty program.
"Novelty is the key benefit here," the Tape à l'Oeil spokesperson states, referencing the ability to use a phone as a loyalty card for earning discounts. "It is a good way to educate consumers towards mobile phone loyalty," the spokesperson adds, making the move to NFC-enabled mobile phones more natural when such devices become more common.
In 2010, the clothing retailer plans to focus on developing additional discounts, awards and services for those using its loyalty stickers.