Nov 25, 2014DuPont is no stranger to the world of apparel, as Michael Burrows, the company's business-development manager, pointed out to attendees at IDTechEx's wearable technology conference on November 20. After all, he said, the company commercialized nylon and Lycra.
Now, through its Microcircuit Materials division, DuPont is applying its know-how to the Internet of Things, by developing stretchable, screen-printable electronic inks for use in wearable electronics. Working with apparel company Clothing+, a Finnish manufacturer of sports wear with integrated biometric sensors, and Maxim Integrated, a developer of integrated analog devices, the Microcircuit Materials division has created a prototype shirt with an integrated three-lead electrocardiogram (ECG), as well as temperature and motion sensors.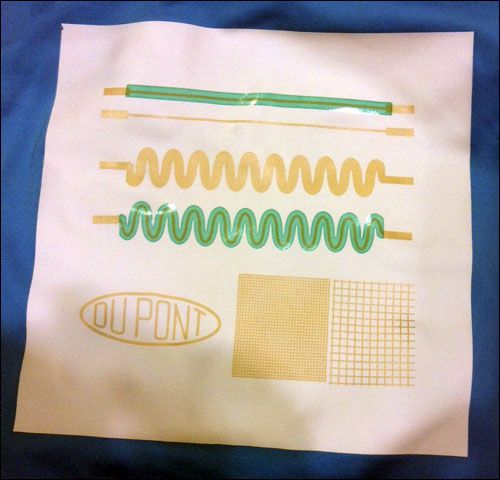 DuPont has developed two specific products: a stretchable conductor and a stretchable dielectric encapsulate material composed of thermoplastic polyurethane. Manufacturers can use both versions with conventional screen-printing processes to deposit thin circuits onto textiles and protect those electronics.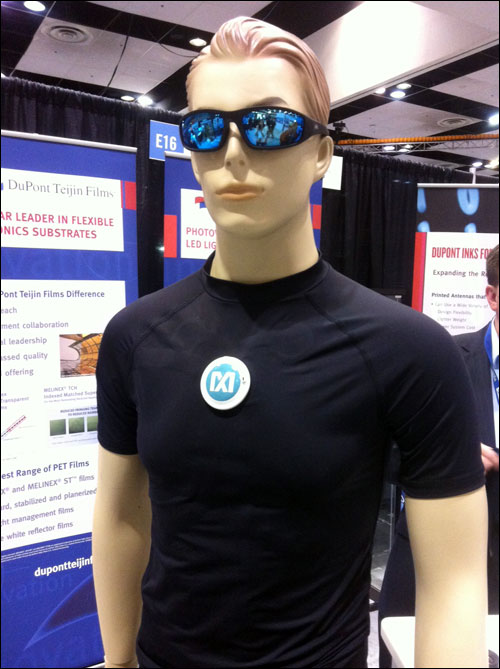 According to Burrows, who helps develop advanced materials for solar energy storage and bio-sensors at DuPont, the printed electronics can be laundered in a standard washing machine up to 100 times without experiencing any performance loss. At the DuPont booth, a swatch of nylon with the printed materials could be twisted and forcibly stretched with no apparent negative impact on the material's integrity.
The prototype shirt includes a small hard plastic disk containing sensors and a battery. The disk is roughly the diameter and thickness of an Oreo cookie (perhaps not the best analogy for workout clothes) and connects to the shirt's integrated circuitry via an interface well known in the apparel world: conventional metal snaps. The disk can be removed before the shirt is laundered. Were the shirt not a prototype but an actual marketable product, it would be sold with a smartphone app used to collect the biometric data and provide goal-setting features or helpful hints designed to improve exercise performance.
Burrows said three possible use cases for DuPont's screen-printable electronic inks in apparel applications are for environmental monitoring, health-care applications and performance enhancement—through products such as the prototype sensor-integrated workout shirt. Of these applications, performance enhancement appears to be the furthest developed so far.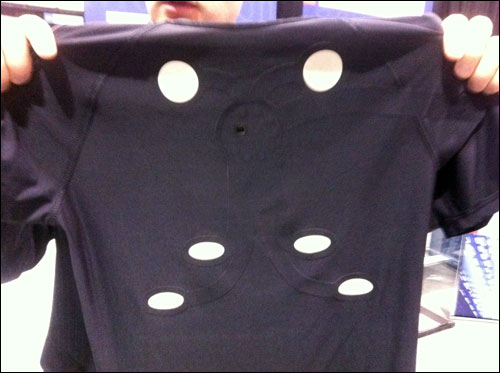 Sensoria, another smart apparel startup, employs a conductive yarn to weave socks with integrated pressure sensors that, when paired with an ankle cuff containing an accelerometer, a gyroscope and a Bluetooth radio, can track a runner's cadence and speed, as well as determine where she tends to put the most pressure on her feet. Using a smartphone app, the runner can also set cadence or speed goals, which the app can audibly guide her toward reaching in real time. Certain types of foot-fall pressure, such as striking down on the heel rather than landing on the ball of the foot, can cause injury over time. The Sensoria app is designed to alert runners who tend to heel-strike, and to coach them toward landing more in the center of their feet.
In addition, Sensoria sells a sports bra for women and workout shirts for men, all of which come with a fitness sensor that can be removed for laundering. At the conference, Davide Vigano, Sensoria's CEO, said the company's long-range vision is to become an enabler for integrating sensing capabilities into apparel made by large, established clothing brands.
"We want to be the Gore-Tex of wearables," Vigano said.