Dec 09, 2015Art Mall, a shopping center in the Ukrainian city of Kiev, is piloting a real-time location system (RTLS) in order to better understand shopper traffic throughout its stores and send relevant location-based data to app users on their Bluetooth-enabled smartphones. The solution, developed by Leantegra, combines Bluetooth Low Energy (BLE) beacon, Wi-Fi and ultra-wideband (UWB) technologies. The mall is testing the accuracy of the data collected, determining the value for business owners, and educating store managers about the system's ability to collect and display data and analytics regarding shopper behavior.
With the data collected from Leantegra's hybrid system, the mall hopes its stores can learn information that could help them to attract more foot traffic or prolong the amount of time individuals dwell at specific locations, says Yulia Vanchenko, Art Mall's marketing director. The pilot began in September 2015 and is slated to finish in February 2016.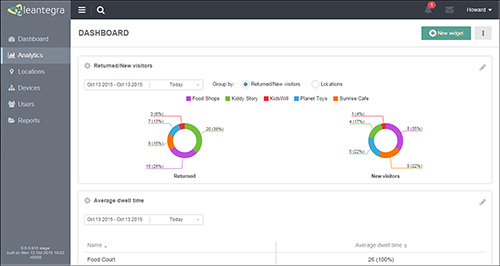 Leantegra, based in West New York, N.J., with offices in Ukraine, Israel and Poland, was founded in December 2014 to provide retailers with affordable, easy-to-install mobile solutions. The company determined that existing technology developed to provide proximity-based information was costly, while less-expensive beacon systems did not provide sufficient intelligence. RTLS solutions such as those using UWB typically require software and wired readers. Beacon-based systems cost less and can deliver content to consumers' mobile phones, but cannot pinpoint those individuals' locations.

Leantegra reports that it has developed a low-cost, out-of-the-box solution utilizing beacon, UWB and Wi-Fi technologies. The system includes battery-powered PowerBeacons—Wi-Fi-enabled Bluetooth beacons requiring no wired installation—UWB PowerMotes carried by mall customers, and an application and cloud-based content-management software available for users via Leantegra's hosted server, known as the CVO Portal. The key device is the PowerBeacon, a gateway that monitors all wireless traffic from multiple devices.
The PowerBeacons work in two modes—Bluetooth and UWB—the latter of which enables users to track a person's location via a UWB-enabled, battery-operated device known as a PowerMote. The PowerBeacon transmits a beacon signal to phones within its range, and also receives UWB and beacon transmissions from those with PowerMotes, either on wristbands or on a small device that can be attached to a user's belt or the front of a shopping cart.
Using the hybrid solution, Leantegra's customers can accomplish two goals: tracking consumers' locations and sending content to their phones or tablets. The system is able to pinpoint the real-time locations of PowerMote wearers to the mall's operator and stores, thereby enabling the retailers and mall to better understand how shoppers move around the facility, where they do or do not visit, and how long they dwell at each spot. That information can also be paired to point-of-sale data derived from a retailer's own software.
By building in beacon functionality, the system also offers content to consumers. While walking about the mall, a shopper can receive beacon-triggered transmissions on his or her mobile phone via the Leantegra app. The phone app will then display content specific to that user's location, such as promotions for a store in the vicinity or a coupon.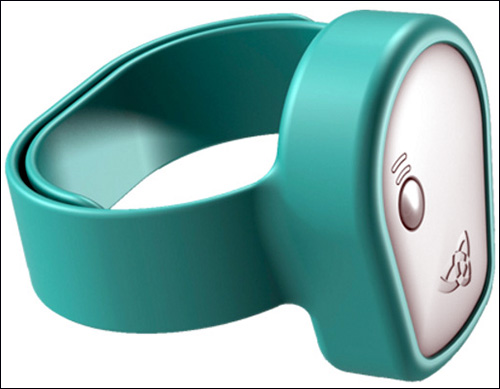 The mall has installed 17 PowerBeacon prototypes on the ceiling across an area spanning approximately 27,000 square feet.
For the pilot, Art Mall is loaning a limited number of PowerMote wristbands to its shoppers. The mall intends to use these devices to help users track children or other individuals, though this function has not yet started. "This is a handy solution for teachers or parents that need to control groups of children," explains Val Chekalkin, Leantegra's CMO. Each child wears a PowerMote wristband that transmits its unique ID number at preset intervals via a UWB signal. The PowerBeacons receive those signals and send the transmission-related data to the CVO Portal, where Leantegra software determines the wristband's exact location and displays it on the portal's dashboard, for viewing by mall management. A parent or teacher, for example, can download the mall's app, which connects to the Leantegra location-based software, and link the specific wristband IDs of their children. Teachers and parents will be able to use the app to set up an alert that they can receive on their phone in the event that a child's wristband leaves or enters a specific area.
The PowerMote UWB and BLE devices can also be attached to products, such as electronics on display. This would allow a retailer to view the number of times that a product was moved, based on its UWB location data, and thus how often it was being viewed by a customer.
In addition, Art Mall is inviting consumers to use the Leantegra app to receive beacon-based coupons and promotional information. The mall has its own app that provides information regarding each shop and enables visitors to collect bonus points for making purchases. Leantegra set up a Connected Venue Operators (CVO) software portal to integrate its own app with Art Mall's, Chekalkin explains.
In addition, consumers can use the Leantegra technology via the mall app to view their own general location, based on beacon data, and access directions to reach a particular store.

With UWB and BLE location data, the system also provides analytics. For instance, it displays, on the cloud-based server, the number of individuals that have passed near a store or food court, how many stopped there and when this occurred. Stores and mall management can then access that data via the CVO Portal as needed.
The Art Mall project is the first such pilot in Ukraine, Chekalkin reports, while Leantegra has demonstrated the technology for Breeze Creative, a digital agency in Israel, and is working with Helen Marlen Group—a Ukrainian omnichannel retailer that sells such brands as Gucci, Burberry and Alexander Wang—to install a pilot at its retail locations in the future.
Companies like Art Mall would pay for the system by buying the hardware outright, and then make monthly software license payments, as well as pay for access to data stored on the cloud-based server. Leantegra is marketing its solution for use at airports, concerts, festivals, museums, retail locations and other venues.