Oct 14, 2014U.K. retailer John Lewis is preparing to launch an RFID-enabled pilot at its flagship store in London by early next month that will allow shoppers to create an image of a specific chair or sofa with the fabric covering of their choice, using toysize pieces of furniture and swatches of fabric. The system includes a low-frequency (LF) reader built into a counter, and passive tags attached to tiny models of furniture and samples of fabric.
The store already offers customers a service known as Any Shape, Any Fabric, by which potential buyers at the store can proceed to a display on the wall and select cards depicting various styles of chairs and sofas, as well as cards dedicated to specific fabric types and colors. They can then manually input the details printed on the cards into a computer at the store, in order to view what that piece of furniture might look like with the fabric selected. (The Any Shape, Any Fabric service is also accessible online.) However, John Lewis' innovation team, headed by John Vary, the company's innovation manager of IT, wanted a technological option to make the experimentation with shapes and colors simpler and more fun.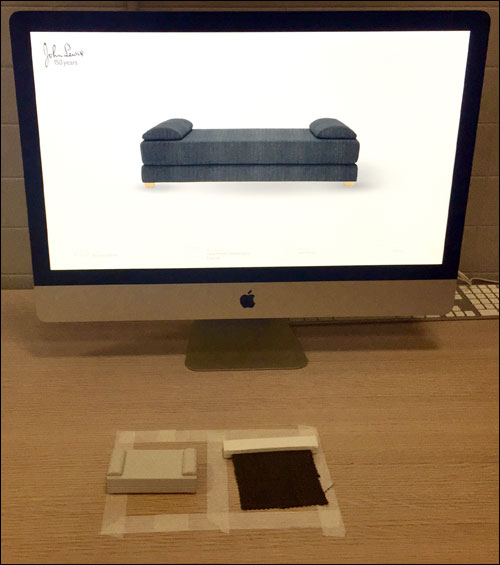 Vary's team developed a system that included passive LF RFID tags to transmit a unique ID for each shape or fabric, as well as software (developed in-house) to combine the fabric and shape selections and then display an image of that item on a monitor.
Vary says he and two fellow team members began building the RFID solution in March 2014. They were already familiar with RFID technology, he explains, and knew that LF would be a preferable option to high-frequency (HF) or ultrahigh-frequency (UHF), which could result in stray reads due to their longer read range. They began designing the software to manage the collected read data, and applied RFID tags to shapes and fabric pieces, while installing an LF reader into a countertop. Vary declines to reveal which model of RFID reader is being used.
With the solution in place, Vary says, when customers wish to browse furniture options, they can select from 15 possible sofas or chairs, each represented by a small, RFID-tagged model of the furniture itself. There are 20 fabric swatches, also with RFID tags attached. Customers can pick up a shape and a swatch and place each on a pad above the reader, which captures each item's unique ID number and forwards that information to software that links those IDs with the items' descriptions and displays the image accordingly. For instance, if someone selects a certain sofa and a navy blue fabric, the display will show that piece of furniture in that fabric on the screen. If two models or two fabric samples are erroneously placed above the reader, the device will capture only the one placed there first.
The RFID system will be piloted at the company's flagship store on Oxford Street, in London, from early November through most of December. Vary says the company will then remove the technology and evaluate the results, make any necessary changes, and reinstall the system in January 2015. He declines to provide specific long-term goals for the firm or its 41 stores, but says, "This is an innovation that we want to learn from and evolve before rolling out."

RFID, Vary says, "opens up a lot of opportunity," including using the technology for analytics regarding which combinations are most commonly selected, based on how often particular shapes or fabrics are read.
During the pilot, Vary says, John Lewis plans to collect data that will enable it to understand which items are selected most often. However, he notes, the greatest interest for the company is determining how easy it is for customers to use the system. "We're interested in seeing how people are engaging with it," he states.
Vary says his team also plans to share details of the technology and the pilot with other stores within the company, in order to create a roadmap for further deployments.
The innovation team expects customers to challenge the boundaries of what the technology can do, Vary adds. He wonders, for example, if individuals might put the fabric on top of the shape—and, if so, whether the system would read both cards.