Aug 21, 2020Global fuel station, convenience retail and petroleum wholesale market software provider PDI is deploying a software platform that uses Internet of Things (IoT) data and, in some cases, artificial intelligence (AI). The system collects information from fuel tank sensors and store points of sale (POS), identifying inventory levels while enabling digital solutions for customers.
During the past few months, the company has been able to forecast trends and begin making sense of customer behaviors in the midst of the COVID-19 pandemic. That information, PDI reports, helps fuel stations, their convenience stores and fuel providers ensure that the right product is available when needed, whether it comes out of a gas pump or is selected off a store shelf.
PDI, based in Atlanta, Ga., has served the fuel industry for decades. The company provides software to manage fuel consumption, pricing, logistics and marketing via loyalty programs, according to Vladimir Collak, PDI's engineering VP for innovation and platform. The fuel stations and their suppliers use the software to better manage inventory levels and fuel pricing. Convenience stores, such as those attached to the fuel stations, employee the system to manage inventory and POS data.
Earlier this year, the company began providing analytics. Since then, Collak says, PDI collected data generated from IoT sensors to identify trend results related to COVID-19-based economic changes. Additionally, he adds, the pandemic has accelerated consumer interest in app-based systems for fuel stations, including advance purchasing, curbside pickup and traditional loyalty programs for fuel discounts. "We're seeing this digital transformation," he says, adding that the data—which can be generated from IoT sensors or other systems—can help PDI support that transformation.
According to Collak, the data indicates that customer behavior has varied throughout the past few months. Most retail establishments, he says, are independently owned and operated, with thin fuel margins. Tracking fuel inventory has traditionally required that workers manually check fuel levels by lifting a manhole cover and inserting a measuring stick into the tank. That method was largely replaced in the 1980s by automatic tank gauge (ATG) sensors that employees can read to identify when fuel needs to be reordered.
For ATGs that do not employ an ordering system such as PDI's, that meant someone would have to record the measurements manually, using paper and pen, then place orders based on that information. With PDI's solution, the data can be wirelessly collected using the station's existing Wi-Fi or wired network, and then be automatically stored in the cloud. Inserted into each tank at the station, the probe measures fuel height, while the ATG translates that height to the tank's fuel volume. That data is then forwarded to PDI's cloud-based software, most commonly using the station's Wi-Fi network, cellular system or wired connection.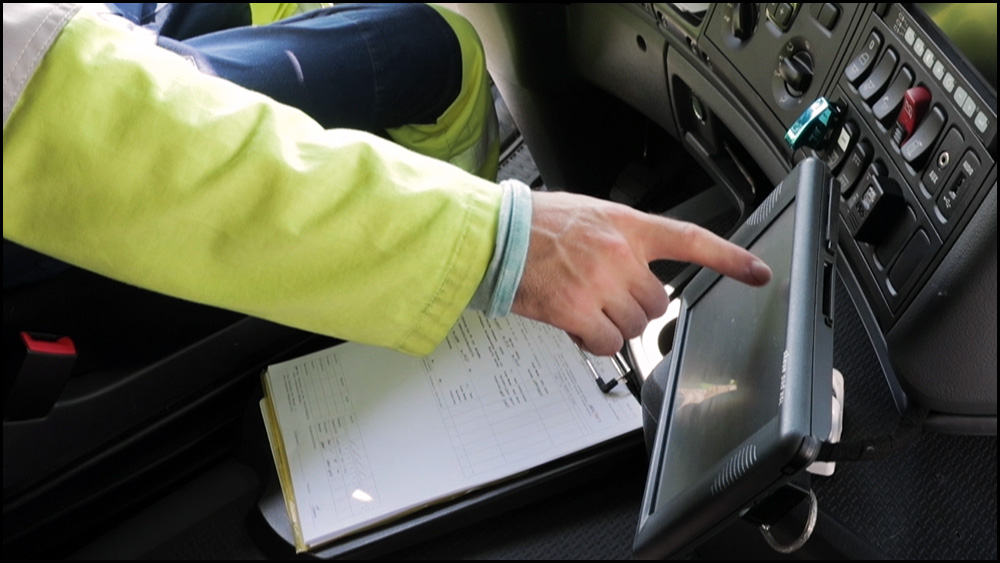 The system's users, as well as PDI, can conduct real-time polling to ascertain fuel levels. The company's IoT-based solution can provide operators with a real-time view into fuel inventory, as well as push alerts once low levels are reached. Additionally, a business that owns multiple fuel stations can view the status at each station at any given time. Once the fuel reaches a minimum level, the software can automatically prompt a replenishment order, preventing stations from running out of fuel, while avoiding unnecessary deliveries.
For instance, if a gas station consumes an average of 8,000 gallons of fuel per week, trucks may deliver that amount of fuel on a weekly basis. Without IoT data, an increase or decrease in demand could create logistical problems or fuel "run-outs." If a truck were delivering the typical 8,000 gallons but the station had served fewer customers than usual and thus had 3,000 gallons remaining in its tank, only 5,000 gallons would fit and the truck would be left with excess fuel. In such scenarios, the company delivering the fuel would often charge a fee to the station. "It's very expensive for retailers to make a mistake of not predicting fuel sales correctly," Collak states.
"Smart tanks" can provide data for mobile apps, allowing consumers to view nearby fuel stations The system can also be used at the station's convenience store. "Recently, there has been an increased demand for digital experiences," Collak reports. "Consumers sare used to having mobile apps for everything. COVID has accelerated that push for digital experiences," such as mobile payments, ordering products before arriving at a store and picking them up curbside. "The [retail] industry is certainly challenged in the COVID situation."
The collected data can help consumers view where gas is sold, as well as which products might be available at the convenience store. PDI manages inventory data based on the real-time capture of POS information, and the software tracks in-store trends in order to understand which products are selling and at what rate. Consumer patterns have changed due to the pandemic, but business owners and operators are still learning what those trends mean and how to predict them in the future.
"Sales patterns have changed," Collak explains, regarding beverages, food, cigarettes and other items. "Our technology has been able to help them better understand the trends," as well as adjust their business approach accordingly. Globally, he says, retailers and fuel stations need to build "smarter and smarter applications" to enable more purchasing options for those who do not wish to enter a store or peruse physical shelves. PDI sees a trend toward convenience stores and stations providing fresh foods, such as sandwiches, salads and produce, that can be ordered via the mobile app. The company says its software can provide the data required to allow such transactions via a station's app.
Since the pandemic began, PDI has recognized patterns of fuel consumption change, initially dropping precipitously in the spring and then rising slowly throughout the summer. "But they are not uniformly back up at each location," Collak states. "These are the kinds of trends we watch on a daily basis. We're able to watch those trends and provide insight to the industry," not just at specific stations but globally. Customers using the system, he notes, include station owners, wholesalers and oil companies.