May 17, 2013Sanraku Hospital, in Tokyo, Japan, and the No. 3 People's Hospital, in Wuxi, China, are currently testing a smartphone-size handheld RFID reader that promises to reduce the likelihood of medication errors, thereby preventing death or injury that could result from such mistakes. The reader, along with the RFID patient wristbands that both hospitals are employing, was developed by BayNexus, a three-year-old developer of radio frequency identification and wireless solutions focused on health-care applications, as well as other vertical markets.
Jason Liu, the company's president, CEO and cofounder, spent the past three years working with Sanraku Hospital to develop the BayNexus BN-HH-G2 handheld reader, and the past two years partnering with the No. 3 People's Hospital. Both facilities, he explains, sought a small, easy-to-use device with which nurses could quickly and accurately identify patients and medication, and thereby "prevent deaths due to injection of wrong medication, to avoid any medication error."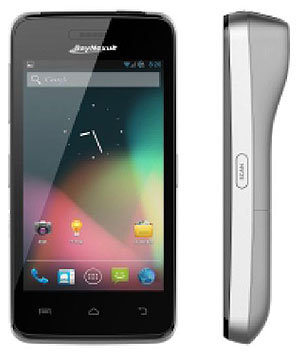 The resulting device is a slim handheld—measuring 5.4 inches by 2.7 inches by 0.67 inch (137 millimeters by 68 millimeters by 17 millimeters)—that can easily slip into the pocket of a nurse or other health-care work. The BN-HH-G02 is available with a choice of three different RFID readers: high-frequency (HF), complying with the ISO 14443 and ISO 15693 standards; ultrahigh-frequency (UHF), complying with the ISO 18000-6C (EPC Gen 2) and ISO 18000-6B standards; or 2.4 GHz, complying with the ISO 18000-4 standard. Other features are a linear image bar-code scanner for reading 1-D and 2-D bar codes, a 4.3-inch touchscreen, a GPS unit, a 5-megapixel camera and three types of wireless connectivity: cellular (GSM/GPRS), Wi-Fi (IEEE 802.11 b/g/n) and Bluetooth 4.0. Earlier this year, the BayNexus reader was chosen as a finalist for RFID Journal's Best in Show award (see Finalists Unveiled for Seventh Annual RFID Journal Awards).
Sanraku Hospital is using a version of the BN-HH-G2 that reads 2.4 GHz passive RFID tags, Liu explains, owing to concerns in Japan that a reader operating anywhere within the UHF band (860 to 960 MHz) might cause RF interference with certain types of medical equipment used in that country. The 270-bed hospital utilizes the reader in conjunction with BayNexus' 2.4 GHz RFID patient wristbands. The solution's benefits, Liu explains, include not only medical error prevention, but also real-time visibility, improved billing accuracy and increased work efficiency, freeing up nurses so they can devote more time to patient care. To verify that an individual is receiving the proper medication, a nurse uses the BN-HH-G2 handheld to read the RFID tag embedded in the sterilizable wristband, and then scans the bar code printed on the drug's container.
This handheld provides real-time confirmation and updates regarding patient information stored in the hospital's electronic medical record (EMR) system. One of the most important aspects of this project, according to BayNexus, is injection safety. At the bedside, immediately prior to injection, the drugs are compared with the latest prescription information stored in the EMR, by simply scanning the bar code printed on the drug's container and reading the ID number encoded to the RFID tag on the patient's wristband. This system is connected with the hospital's injection drug inventory and traceability system, which reflects injection drug picking and mixing data entered into the system, also via the handheld. For phase one of Sanraku's RFID implementation, BayNexus reports, the hospital aims to promote patient safety while reducing drug inventory shrinkage. During phase two , the facility plans to expand its usage of BayNexus' RFID technology to manage medical equipment.
There were no commercially available 2.4 GHz passive tags on the market, Liu says, so BayNexus had to develop its own passive 2.4 GHz inlays. The company's 2.4 GHz wristbands contain NXP Semiconductors' Ucode HSL chip, which complies with the ISO 18000-4 standard for passive 2.4 GHz inlays. (Tags complying with that standard, Liu notes, use the same air-interface protocol as those complying with the ISO 18000-6B standard for passive UHF tags. The Ucode HSL is designed to support both ISO standards and RF bands.)
Liu says he has also developed 2.4 GHz RFID tags and wristbands made with an EPC Gen 2 UHF chip modified to work with a tag antenna designed for 2.4 GHz transmissions. By the end of the year, he adds, BayNexus plans to offer a 2.4 GHz version of the BN-HH-G02 able to read both types of 2.4 GHz tags. That is, the 2.4 GHz version of the BN-HH-G02 will be able to interrogate not only passive 2.4 GHz tags complying with the ISO 18000-4 standard, but also passive 2.4 GHz tags complying with ISO 18000-6C—similar to how the UHF version of the BN-HH-G02 can read 860 to 960 MHz passive RFID tags complying with the 18000-6B standard, as well as those complying with ISO 18000-6C.

China's No.3 People's Hospital, on the other hand, has opted for the UHF version of the BN-HH-G02, as well as affixing BayNexus' passive UHF RFID wristbands and passive asset tags to equipment. In addition, the Chinese hospital is testing a BayNexus-developed smart cabinet to control access to restricted drugs. With the smart cabinet, a hospital's pharmacy places narcotic and psychotropic drugs into RFID-tagged containers, and stores them in the automated medication-dispensing cabinet. By using the BN-HH-G02 handheld or the cabinet's control panel, a nurse can verify authorization for opening the cabinet via her RFID badge. After verifying that she is permitted access, the cabinet unlocks automatically, and the nurse can open the drawer and remove the desired medication, after which she closes the drawer, thereby causing the cabinet to relock within seconds. The cabinet then performs an inventory count of its contents, by reading the RFID tags of the remaining drug containers, and the result is automatically uploaded to the database.
Both hospitals plan to conclude their testing of BayNexus' products soon, Liu reports, with a permanent rollout of the BN-HH-G2 handheld scheduled for August 2013. Sanraku Hospital, he notes, is also interested in using the device's GPS functionality, probably for vehicle management.
Liu earned a Ph.D. degree in electrical engineering at Canada's McMaster University. Prior to co-founding BayNexus in July 2010, he held a variety of positions, including as the director of technology development at Neology, an RFID solutions developer based in San Diego, Calif.
"I've heard from a law-enforcement agency in Florida that is looking to read both bar codes and RFID," Liu states. What's more, he says, a major aircraft manufacturer and a global delivery-services provider have each expressed interest in BayNexus' handheld. The firm now seeks a systems integrator in the United States to market and deploy its products.