Aug 05, 2016Being a bicycle courier comes with its share of workplace hazards, including potholes, angry cab drivers and trucks with large blind spots. But one of the most insidious threats is the air the cyclists breathe, which, in congested urban corridors, can contain high levels of nitrogen dioxide (NO2), carbon monoxide (CO) and particulates emitted by diesel engines, which can cause health problems after long-term exposure and exacerbate any existing respiratory ailments, such as asthma.
Bike couriers in London, where NO2 levels along Oxford Street have been found to be among the highest in the world, are especially vulnerable to these environmental health risks. London, along with the English cities of Birmingham and Leeds, failed to meet safety limits on NO2, set by the European Union, for five years. And a 2015 study conducted by King's College London estimates that long-term exposure to air pollution leads to 9,500 premature deaths in that city each year.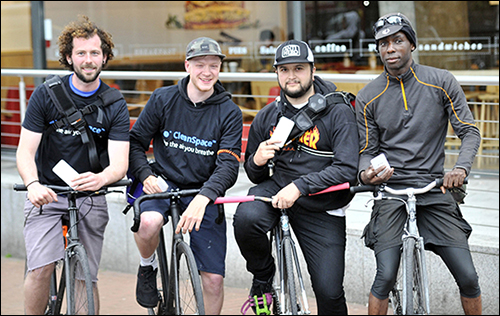 In order to quantify and monitor the air pollution to which these couriers are exposed, a U.K.-based delivery service called Gophr plans to outfit its London cycle couriers with sensors and location-tracking tags. The sensor tags are being provided by CleanSpace, a company that is building a crowdsourced map to measure air pollution in London. CleanSpace is owned by Drayson Technologies, a technology firm founded by Lord Paul Drayson, a British entrepreneur and politician. The sensor tags are powered by an RF-energy harvesting module made by Freevolt, which Drayson Technologies also owns. The module harvests energy from 1.8 GHz (GSM) and 2.4 GHz (Wi-Fi) signals within its range.
"A good courier will [bike] 60 to 70 miles per day," says Gophr's founder, Seb Robert, so air pollution "is a massive issue for them." Plus, Robert says, outfitting cyclists with air-pollution sensors rather than putting the sensors on a conveyance that runs on fossil fuels, such as vehicles or motorcycles, helps Gophr's couriers to understand air pollution without also contributing to it.
The CleanSpace tag, which measures 66.5 by 131.5 by 9.5 millimeters (approximately the size of many smartphones), contains a Bluetooth radio that it uses to communicate with the courier's smartphone. The tag contains a carbon monoxide sensor and a thermistor. It does not measure NO2 or particulate suspended in the air, but, according to a news article in The Guardian, CO levels are used "as a surrogate for vehicle pollutants, such as fine particulates… and nitrogen dioxide." (Lord Drayson, the sole person authorized to speak on behalf of CleanSpace, Drayson Technologies and Freevolt, was unavailable and therefore not able to confirm this and other information about the technology—such as how often or reliably the tag is able to harvest enough RF energy to collect, store and transmit the sensor data to the paired smartphone.)
The couriers will also download a smartphone app provided by CleanSpace, which collects the sensor data and shows the rider, in real time, the level of air pollution to which he or she is being exposed, through a map that shows his or her location, along with a color code. Red indicates a high pollution level, yellow, a medium level, and green, low.
The app also stores the sensor data to show the rider historical exposure patterns, and uploads the sensor and location data to CleanSpace's cloud-based mapping platform, so that the data can be added to a crowdsourced map of London that provides aggregated pollution data from all CleanSpace tags. The app also tallies up how many miles the user has biked, and awards CleanMiles to that individual based on the distance traveled. (CleanSpace has been selling the tags to London residents since last year and, on its website, says that it is working with local businesses to offer rewards to residents who bike, run or walk, instead of driving. Those residents could then redeem those CleanMiles for special offers provided by those businesses.)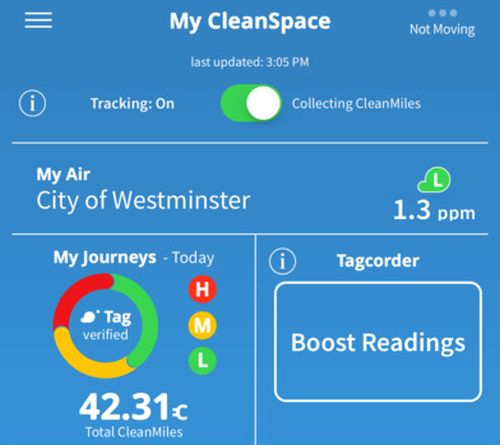 However, Robert explains, the technology will not work as described above for many bike couriers, because they tend to turn their cellular service and/or GPS location tracking on and off throughout their workdays in order to conserve the battery life of their phones (which are their personal property, and not issued by Gophr). With its cellular service and/or GPS location tracking turned off, the phone can still collect CO sensor readings from the CleanSpace tag, but it can't track each reading's location, nor upload the sensor data in real time. So Gophr and CleanSpace are also working with Inmarsat, a provider of global mobile satellite communications services. Inmarsat, through a partnership with IoT platform provider Actility, has installed an IoT network in London based on the LoRa specification for long-range, low-power data transmissions. Inmarsat is providing the couriers with battery-powered LoRa tags, made by Abeeway, which transmit their latitude and longitude periodically to a LoRa access point located atop Inmarsat's London office.
Inmarsat will then send the timestamped geolocation data from a courier's Abeeway tag (linked to the courier to whom it is assigned through an identification number) to CleanSpace, which will marry it with the timestamped CO data collected from the that courier's CleanSpace tag, once the courier turns on his phone's cellular radio.
Robert says all 50 Gophr bike couriers are already carrying CleanSpace tags with them on their daily routes, and he will begin issuing the Abeeway location trackers next week, starting with one or two couriers, so that all of CleanSpace's partners can address any bugs. By the end of the summer, Robert hopes to have all 50 of his bike couriers carrying both tags.