Jan 16, 2015The Los Angeles Zoo and SeaWorld have both recently launched a solution provided by The Experience Engine (TE2) that enables marketing via consumers' smartphones, by providing an app that they can download, and offering information specific to a location identified via new Bluetooth Low Energy (BLE) beacons deployed throughout the parks. At the LA Zoo, guests can use their phones to take a guided tour of the recently opened Rainforest of the Americas exhibit, while SeaWorld is testing beacons throughout its park in Orlando, Fla., so that its existing Discovery Guide smartphone app now has the ability to present information based on a particular visitor's location.
TE2's solution involves more than just a determining location, according to TE2's founder, Scott Sahadi. "It takes more than just knowing a consumer's location to deliver an effective experience that can drive conversion rates," he explains. TE2's solution includes contextual data such as time, guest loyalty or product preferences, as well as proximity, to provide relevant data to that consumer.
At both SeaWorld and LA Zoo, the TE2 system, is aimed at bringing more information to visitors' phones, such as indicating where they are located, what they might be looking at and what else is available within their vicinity. LA Zoo's deployment involves Gelo battery-powered beacons, while SeaWorld is testing beacons from a variety of vendors.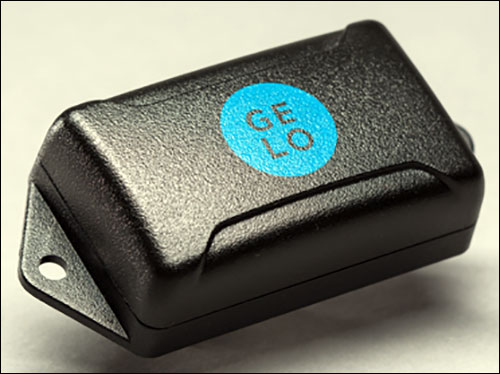 Gelo beacons are designed for customized outdoor installations, says Al Juarez, Gelo's director of sales and business development. The beacons are built to be rugged enough for all weather (they are IP66-rated for dust and water resistance) and have a long battery life. According to the company, each beacon comes with two pre-installed AAA batteries (replaceable by means of a screwdriver), with an expected operational lifespan of at least two years. At the LA Zoo, the TE2 solution consists of 40 Gelo beacons installed throughout the Rainforest exhibit. Each beacon transmits a unique ID number to nearby smartphones, enabling those phones—if they are loaded with the appropriate app—to access the data specific to that part of the exhibit, focusing on a certain animal or the environment being showcased, according to Kait Hilliard, VP of marketing at the Greater Los Angeles Zoo Association (GLAZA), which operates the zoo.
SeaWorld had already launched its Discovery Guide app—the motto of which is, "Put the park in your pocket"—for Apple iOS and Android phones and tablets, in order to send visitors promotional offers, information about animals and conservation status, basic park information and a GPS-based map to help guests navigate the park or figure out where they parked their car. Now, says Darla Morse, SeaWorld Parks and Entertainment's CIO, with the addition of the TE2 beacon-based functionality, the park can also provide location-specific special offers from gift shops and restaurants when individuals come close to those establishments.

TE2 was formed after Sahadi says he saw an opportunity to help "venue-based businesses dramatically enhance their customers' experiences." Prior to founding TE2, Scott was the CEO of Ioko North America (acquired by Piksel), a platform and services technology company focused on the media and entertainment space. (With considerable experience in the entertainment space, including for Disney and major consumer brands, Sahadi built TE2 to provide a scalable enterprise software platform that would allow brand marketers to connect with consumers via mobile devices to enhance guest experiences.
To enable customers to manage the data and make changes to what is shared with consumers, TE2 offers a software interface known as Mission Control. The company's apps can work with GPS, Wi-Fi and RFID technologies, as well as Bluetooth beacons—the latter of which, Sahadi says, have a low price point and offer "a wonderfully simple way" to reach users based on their location. SeaWorld is using Wi-Fi technology, in addition to the beacons, in some cases to send location-based data such as wayfinding and promotional data. However, neither SeaWorld nor LA Zoo are using RFID in their deployments.
The company began working with the LA Zoo in 2013 as the zoo began planning its new Rainforest exhibit. The Zoo and Botanical Gardens receives 1.6 million visitors annually, and its 113-acre site has a collection of 1,100 animals comprising a total of 250 species. It opened its 2.2-acre Rainforest exhibit in May, and included the beacons as part of the exhibit to enable the virtual tour. As a patron nears an exhibit, his or her phone, operating the TE2 app, receives a transmission from the local beacon, causing the Rainforest of the Americas app to capture information about the animal or habitat in the closest exhibit. Users can then scroll through the data, watch videos, listen to audio files or view photos. The app is available only for iPhones and other Apple iOS devices, Hilliard says, but will eventually be made available for Android-based phones as well, though there is no timeline for that release.
The zoo will begin installing a number of beacons, Hilliard says—the exact quantity has yet to be decided—throughout its entire park this coming summer. "With more beacons, we can provide more information," she says, such as reminding visitors that the bird show or elephant-training program will begin in 15 minutes, as well as providing the route they would need to walk to get there. Based on data indicating where people are clustering, managers could also send messages that could serve to redistribute the traffic flow, such as reminding guests crowded within a specific area that the restaurant is serving lunch, or offering information about other programs being held in another area of the park.
In February 2014, SeaWorld rolled out its Discovery Guide app at its three SeaWorld locations (San Diego, Orlando and San Antonio), as well as at three other parks it operates—Busch Gardens Tampa and Williamsburg and Sesame Place. The app pushes information about the park to visitors' mobile phones, and also offers a scavenger hunt and a map that indicates the easiest route to a specific location, based on a user's position within the park, as determined by his or her phone's GPS functionality. In November, Morse says, SeaWorld began testing a variety beacons at its SeaWorld Orlando park, as well the TE2 Mission Control software used to send data directly to the Discovery Guide app. "Beacons will allow us to offer a more personalized experience," she adds, since they can provide location data that is more precise than what is possible via GPS, and thereby enable the park to send information in three categories: dining (when a visitor is close to a restaurant), merchandise (when an individual nears a gift shop) and education (by delivering information related to an animal exhibit near a guest's current location).

To date, Morse says, the dozens beacons are focused around the dining and merchandise areas at SeaWorld Orlando, though she expects them to also be used at exhibits in the future. The testing centers on how the beacons can enhance the guest experience with contextual data that goes beyond a person's location to other information such as that person's interests, dietary requirements, or what is available in the stores. She says she, or employees at the restaurants or stores, can use the Mission Control software to change data that is sent to phones based on, for example, the time of day and the type of food being served.
This year, Morse says, she expects to continue experimenting with the TE2 beacon system, and to expand how it is used to include more exhibits. If the technology works well in Orlando, it will also be installed at the company's other theme parks, such as SeaWorld San Diego and SeaWorld San Antonio. Using Bluetooth beacons to deliver personalized information to a smartphone app, she reports, is a way to give visitors what they want. "For kids, this is their life," she states. "They think nothing of the immediacy of information. In fact, if it's not there, that's a big deal." However, she notes, the Discovery Guide app's most popular feature is the one that helps visitors locate their car, based on their phone's longitude and latitude GPS readings when they signed into the system at the time of parking.

TE2 is currently in conversations with other theme park companies, hotels, casinos, cruise ships and stadiums, Sahadi says, as well as very different enterprises, such as universities, that are interested in providing location-based data to customers (or students). Other companies, he says—such as consumer brands—are also interested in testing the technology for providing promotional offers to consumers.
The technology also works with wearable BLE sensors in cases in which mobile devices might not be convenient. At a water park, for example, a BLE device could be built into a lanyard, while at an airport, a BLE device could be attached to luggage.
According to Sahadi, potential users continue to come up with their own use cases for the system as well. For instance, if a store at a theme park or stadium is selling a perishable product and needs to reduce its inventory of that item, a manager can log into the Mission Control software and send a discount offer to visitors within the immediate area. Or if Mission Control was being fed weather report data, it could identify an approaching rainstorm and issue alerts to visitors in uncovered areas, indicating where they could find shelter. "What we learned early on is that the use cases to connect with a guest are limitless," Sahadi states, The important point to the solution's success is that it must provide a value to consumers, he says, adding that as long as they gain information of value, consumers will download and use the app.