Oct 30, 2015BJC HealthCare, which operates 12 hospitals in Illinois and Missouri, is in a multiyear process of deploying radio frequency identification technology to track and manage the thousands of medical supplies it uses.
The high-frequency (HF) RFID system consists of cabinets with built-in readers, passive HF RFID tags, handheld reader wands, and Cardinal Inventory Management Solution software on a cloud-based server to manage the collected data, all provided by Cardinal Health. BJC is installing the technology first in its cardiac cath labs, followed by its gastrointestinal (GI) labs, its intervention radiology department and its operating rooms. To date, the company has installed 70 cabinets in 27 rooms, within nine departments and five hospitals, tracking a total of 2,708 stock-keeping units (SKUs). The system is expected to be completely deployed by the first quarter of 2017, with between three and five times more cabinets than are currently installed, at three to five times more locations across its 12 hospitals.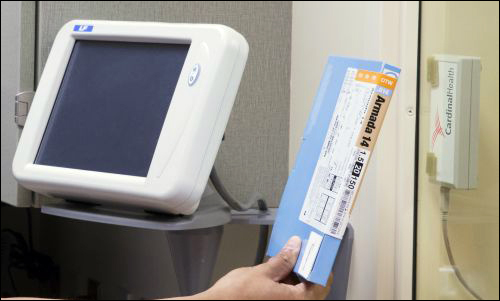 BJC HealthCare is one of the largest nonprofit health-care organizations in the United States, serving the greater St. Louis area, as well as mid-Missouri and southern Illinois. Its hospitals each use equipment and supplies that function as tools during procedures or are implanted into patients.

Prior to the RFID system's installation, the hospitals and the units within them employed multiple manual methods to monitor equipment and supplies, says Stephen Kiewiet, BJC's VP of supply chain operations. The hospitals purchase a variety of goods directly from suppliers, and also maintain an inventory of consignment items onsite for specific procedures, remaining in ownership of those supplies until each product is used on a patient. In either category, the products' expiration dates must be closely tracked to avoid the need to discard them before they can be used. In addition, some items sometimes become lost, and a lot of labor is spent responding to product recalls or conducting inventory checks.
"These departments are busy," Kiewiet says, "and there are times when something looks low and they order more." This manual reordering process can lead to excess inventory onsite.
With an RFID system in place, the organization believed it could gain a real-time view of each item and its location, expiration date, and lot and serial numbers.
In early 2014, the hospital launched a pilot involving two cardiac cath labs and one GI lab, which it completed within one year. Afterward, financing was approved to deploy the solution across the entire organization's medical and surgical supply rooms.
Some items arrive at the hospitals with passive HF RFID tags already attached by their supplier, while hospital personnel affix tags to the packaging of other products. The employees use a variety of 13.56 MHz tag makes and models, compliant with the ISO 15693, standard, says Jean-Claude Saghbini, Cardinal Health's inventory management solutions general manager.
For any products that do not come pre-tagged by their manufacturer, a staff member scans the bar codes that the manufacturer prints on those items' packaging. The bar-coded data includes that item's universal product number (UPN), model, lot, serial number and expiration date. By scanning the bar code, a worker can marry that information to the RFID tag that he or she affixes to that item's packaging. From that point forward, the tag is linked to all pertinent information, whether read by a shelf or handheld reader, or at a point-of-care station. All data is stored in Cardinal Health's cloud-based server.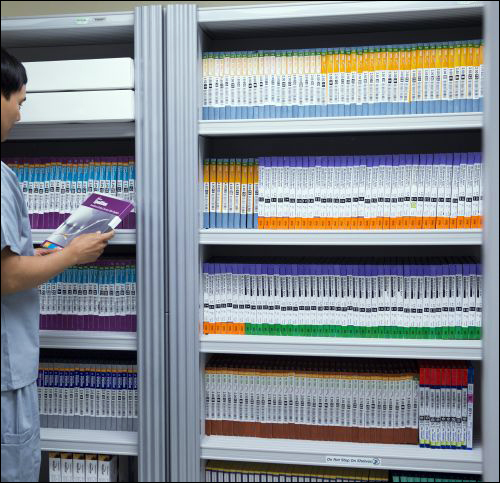 The items are placed in Cardinal Health cabinets installed within each lab's storage area. Each cabinet's RFID reader captures the unique ID number encoded to a product's tag and uses the hospital's local area network (LAN) connection to send that data back to the software. Cardinal Health's software then updates that item's status as being stored in that specific cabinet.
When a certain item is required for a procedure, a staff member removes it from the cabinet. Once a product is taken out, the cabinet's reader ceases to interrogate the item's tag ID, and the software thus determines that the object has been removed. In the OR, clinicians use a point-of-use RFID reader to read the tag ID and thereby assign that product to the patient. That data is collected in the cloud-based software, thereby documenting that the item has been used. If the product remains unused, it is returned to the cabinet when the procedure is finished. If the item's tag is not interrogated by the procedure reader, nor placed back in the cabinet, the software determines that the object is missing and displays an alert on the software dashboard. Kiewiet says he or other staff members will see that alert the next time they sign into the software (which happens on a daily basis), and can then go to the clinical staff on duty and find out what happened.
During the pilots, Kiewiet says, the organization began seeing benefits about six months from the start date, as personnel became accustomed to the technology. The key benefits have been reduced loss due to expiration or simple misplacement of an item, as well as lower inventory levels. He notes that during the second half of the pilot, there was not a single expired item at any of the three sites. Kiewiet expects to find that the RFID system also decreases the amount of labor time that clinicians spend looking through equipment during inventory checks or seeking expiring products. The two cardiac cath labs and single GI lab that piloted the solution are still using the technology, while the other cardiac cath labs have taken the system live as well.
Clinical personnel can also view an alert on their computer screen in the operating room if a device that they are preparing to implant in a patient has been recalled or has expired.
Once the system is live within all operating departments, Kiewiet says, the company hopes to have a new Epic patient records system in place. It then intends to integrate the Epic system (which also would share data with the billing software) with the information collected and stored by Cardinal Health. In that way, when a tag is read in the OR, that information could be linked to the appropriate patient automatically, updating the system regarding which item was used on which patient, and that could then prompt the billing of that item to that individual. This plan, however, is long-term, he says, and remains a hypothetical discussion for now.
The health-care group hopes to use the RFID system to reduce the amount of unnecessary inventory onsite, by determining how often specific products are utilized, as well as which might commonly reach their expiration before use. The system could also enable different hospitals within the network to share less commonly used items, so that they don't need to be ordered in large quantities.

BJC Healthcare is sharing the RFID data with some of its suppliers so that they can better manage the inventory they have at specific hospitals. This will enable those companies to view when supplies are used, which ones may soon expire and when replenishment is required.
In addition, BJC HealthCare is using a Cardinal handheld reader wand at each hospital to track goods not stored in the cabinets. The unit is in use at various procedural areas, such as cath labs, intervention radiology labs and GI labs.
The Cardinal Health solution is intended for use with consumable medical devices rather than reusable assets, Saghbini says. The cabinets come with a variety of RFID reader makes and models, he adds, along with an array of reader antennas. According to Saghbini, the company has been offering the RFID-enabled cabinet-based solution for the past decade.
The use of HF RFID technology, as opposed to ultrahigh-frequency (UHF), ensures that tags are read only when in controlled storage spaces, thereby preventing stray reads, and that they work well on metal and around liquids. The tags are low enough in cost to be attached to items ranging from balloons and stents to valves, pacemakers and tissues, Saghbini says. Cardinal Health also offers a version of the solution that employs bar coding instead of RFID technology, he adds, as well as a simple kanban version.
According to Saghbini, waste in high-value implantable devices is a $5 billion cost nationwide each year, resulting from products expiring before they can be used, excess inventory being ordered, shrinkage and labor costs. "We've had the solution in place for 10 years at various hospitals," he states.