Jun 09, 2006Orthopedic implants manufacturer Biomet is set to start an RFID-tagging project in Holland. The company believes this will improve service to its customers, as well as its own reverse logistics.
Starting in July, the company's Biomet Europe division will add 13.56 MHz tags to orthopedic knee implant items in five "loaner" sets it already sends to surgeons. Each set contains around 100 parts. By adding an RFID tag to the plastic packaging surrounding each part, the company believes it can better ensure that loaner sets are complete before being shipped, then quickly and correctly checked upon return.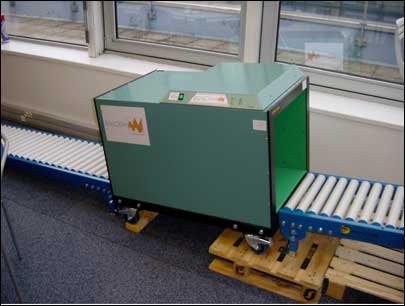 Each set contains all the component implant parts required to replace and repair knees, hips or other joints. One knee operation might use up to 10 separate items. While many items are shipped in a set, only a few modular parts will be used for each particular operation. After the needed parts are selected, the remainder of the set will be returned to Biomet's distribution center in Dordrecht, the Netherlands.
After the parts have been returned to the DC, the company will have to determine which items have been removed from the set in order to invoice correctly for items used. Biomet will then need to replenish the loaner set before sending it out once more.
Currently, all items are identified by means of a bar-coded label attached to an item's packaging. To check for missing items and calculate an invoice, a task worker must scan every barcode—a time-consuming, error-prone process that can take up to 20 minutes. Biomet expects to be able to increase productivity in its warehouse by using RFID to track this consignment stock, as well as improve stock counts, delivery reliability and turnover.
During the trial, replacement items slated to be added to the loaner set will have to be tagged as part of the replenishment process. For this and other reasons, the company says it has not yet studied how much time it could ultimately save by using RFID.

Only loaner sets with knee joints will be tested at this juncture. Earlier testing had reportedly shown that read rates of 100 percent could be achieved with replacement knee parts, whereas some of the company's other products have proven harder to tag and read reliably. For example, spinal parts are apparently too small for tagging, while the cement used to fuse the replacement parts inside the body is packaged in metal foil, causing interference with a tag's RF signal and resulting in a lower read rate.
Jan Willem Bartz, former CIO at Biomet Europe, is currently the managing director of RFID systems integrator Applaza. Biomet's initial tests with EPC Gen 1 ultrahigh-frequency (UHF) tags in 2004 resulted in too low a read rate for RFID use to be practical. However, in December of last year, the company began trials using a high-frequency (HF) tunnel reader and tags that comply with the IS0 18000-3 standard and use phase-jitter modulation (PJM). That system, supplied by Australian HF RFID specialist Magellan Technology, is said to have delivered the 100 percent read rates required by the application.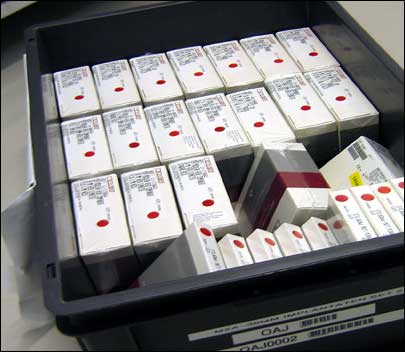 This summer, Biomet plans to use 4- by 8-centimeter tags from Aivar Technologies, made with inlays from Tagstar. From the start of the trial, the RFID system will be fully integrated with Biomet's mySAP ERP system, which incorporates SAP's Auto-ID Infrastructure application development software. "RFID-tagged or non-RFID-tagged items will be handled the same way by the SAP system," says Bartz.
This software integration means the RFID used in the trial will be part of the company's day-to-day operations—an essential scenario, says Bartz, to determining the value of using RFID. "The solution has to be 100-percent implemented before we can compare it to existing operations," he says.
No date has yet been set for determining the effectiveness of the RFID system, though Bartz believes any benefits could lead to further tagging of loaners sets, including those for other types of implants such as hip replacements, as well as deployments at other Biomet DCs in Europe.
In addition, Bartz points out, RFID might help not only Biomet but also its hospital customers. Those hospitals with a tunnel reader would be able to see exactly which parts have been delivered, eliminating the need to check boxes to make sure parts required for surgery are present.