Sep 12, 2012Following several years of piloting custom solutions that transform Near Field Communication (NFC)-enabled mobile phones into keys that can unlock doors, Swedish technology provider ASSA ABLOY has released a commercial version of the solution—known as Seos—which is currently being tested within hotels, offices, industrial sites and homes. This system enables companies or homeowners to provide specific individuals with access to certain doors, even at limited times, with an application on their NFC-enabled phone, or by using an add-on that manages the NFC access-control data. The Seos system utilizes iClass SE RFID readers and iClass credential software provided by HID Global, ASSA ABLOY's California-based division.
Work began on the solution years ago, says Daniel Berg, the VP of ASSA ABLOY's mobile keys division, when the company built custom systems for several customers using NFC technology to provide digital keys for the purpose of access control. Two years ago, the firm supplied an NFC-enabled access-control system to Clarion Hotel Stockholm, for a four-month pilot in which a limited number of guests received a Samsung NFC-enabled mobile phone loaded with the ASSA ABLOY software application required to manage read data. ASSA ABLOY provided the readers installed at the doorways, as well as another interrogator for checking out in the lobby, which enabled the deactivation of digital hotel room keys and the checking out of guests.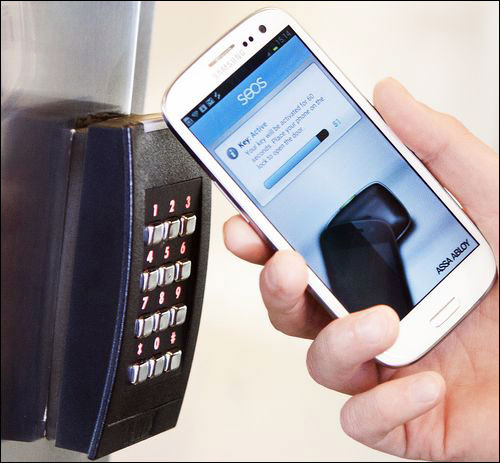 HID Global provided technology for a similar test, conducted at Arizona State University in summer 2011, utilizing access-control readers in doorways, as well as NFC-enabled phones for trial participants (see RFID News Roundup: HID Global Launches Pilot of NFC Smartphones Carrying Digital Keys for Access Control, Announces BlackBerry Credentials). In this case, the company supplied HID's software, loaded on microSD cards containing a module that can function as an NFC passive tag and reader. The microSD cards, provided by Dallas, Texas, contactless-payment company DeviceFidelity, were inserted in students' phones—Blackberry Bolds, Apple iPhones 4s models and Android-based Samsung handsets. Both systems employ HID Global's iClass SE readers and iClass Seos credential software, but can function with other NFC readers as well.
"We've been testing the [Seos] technology around the world," says Berg—specifically, in Europe, North America and Asia. ASSA ABLOY has been providing NFC readers in access-control devices at doorways, along with the software application required on mobile phones and the secure delivery software infrastructure that determines who is authorized to enter a secured area, and when. The system offers other functionality as well, such as PIN codes that may be required, or the ability to revoke access to particular individuals.

To provide access to an employee, visitor or guest, hotel or office-building operators first transmit a "digital key" that can be used to open a lock by means of an NFC reader connected to that lock. An invitation is sent to that person's mobile phone. He or she can then accept the key, which consists of a unique encrypted ID number and any necessary access rules, which are stored either on the phone's subscriber identity module (SIM) card, its built-in secure element or a microSD card. The user also downloads the Seos iClass user interface application, enabling an encrypted NFC transaction between the phone reader and an access-control reader.

In residential environments, a homeowner can tap his or her NFC phone against an interrogator located at the front or back door, which will automatically unlock that door. The Seos system also allows that individual to share access with authorized parties—even if for only one occasion—without having to loan out physical keys. For example, if a worker requires access to the house to perform a repair, that person's phone could be authorized wirelessly in the Seos system, and the authorization could then be revoked once the task was complete. A nanny could be provided access to the house—and to certain areas within that home, if readers were installed at interior doorways.
At an office building, digital keys can be sent to specific phone holders, granting them access to offices, conference rooms or maintenance areas. The system can also provide access to computers, printers or other office equipment that management may wish to restrict to authorized users.
The NFC-enabled phone ecosystem still has limitations, however, that may delay adoption. Thus far, only a limited number of mobile phones worldwide are NFC-enabled. What's more, mobile-phone service providers also need to supply the mobile network to link NFC data from the phone's NFC RFID module to the servers managing access control—whether the server is hosted by a security company, ASSA ABLOY or another entity.
For mobile phones that are not NFC-enabled, ASSA ABLOY can provide a microSD card with an NFC module that a user can install in his or her handset. However, some phones lend themselves to this kind of upgrade more than others (if there were a great deal of metal in that part of the phone surrounding the microSD card, for example, it would affect its NFC RFID module's transmission). Until NFC capability becomes more prevalent in phones, Berg says, the solution can be used with NFC-enabled cards, such as HID Global's new iClass Seos card, which contains a 13.56 MHz passive RFID inlay compliant with the ISO 14443 Type A standard.