Aug 10, 2016Fifty years after the first episode of the Star Trek television show aired, two North American museums have opened an exhibition that re-creates the Star Trek experience, with the help of passive high-frequency (HF) 13.56 MHz radio frequency identification technology. In early 2015, the Canada Aviation and Space Museum, in Ottawa, and Austria-based producer EMS Entertainment co-developed the exhibit, known as Star Trek: The Starfleet Academy Experience.
The exhibition is running at the Canada Aviation and Space Museum through September, and at New York City's Intrepid Sea, Air & Space Museum through October. EMS then plans to install similar versions of the exhibit at a series of other North American sites, extending into 2017. EMS Entertainment provides the entire experience, including display items and content for the exhibit, as well as technology that includes RFID readers and wristbands.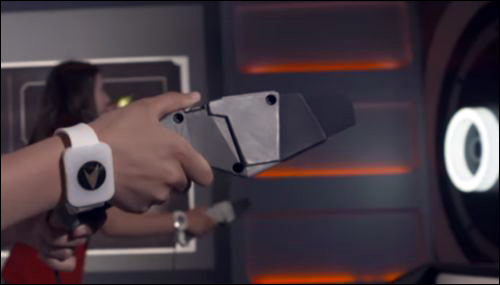 Alex Benay, the president and CEO of the Ottawa museum's parent company, Canada Science and Technology Museums Corp., says he began working with EMS on an interactive exhibit to coincide with the Star Trek TV program's 50th anniversary (the first episode, "The Man Trap," aired on Sept. 8, 1966). Science fiction and science fact are closely related, he explains, and many technologies shown on the TV series 50 years ago have since become a reality (for example, the Bluetooth-enabled headsets now commercially available are similar to the wireless earpiece that Lieutenant Uhura wore on the show).
"We didn't want an artifact-based exhibit," Benay explains. "We wanted something that was cross-generational and that could bring people into the experience." Therefore, his team developed the Starfleet Academy concept so that children and adults alike could test their skills at a variety of exhibits and earn an assignment in Starfleet, based on their perceived strengths.

The exhibit is designed to replicate parts of the television show, according to Christoph Rahofer, EMS Entertainment's CEO and executive producer of Star Trek: The Starfleet Academy Experience. Props and costumes from the TV series are on display, says Mike Onysko, the Intrepid museum's marketing VP, and visitors can use RFID-enabled wristbands at seven interactive zones to collect pictures, videos and scores, and to earn their Starfleet membership. RFID readers are installed at each zone, which include a sick bay with a medical tricorder, a planet projection map, holograms and a shooting game using Star Trek phasers. Another RFID-enabled interactive feature is Leap Motion, which uses voice recognition to enable participants to speak with a Klingon (an alien being featured on Star Trek).
Each individual is issued an RFID bracelet that he or she returns at the end of the visit. At a kiosk, the user inputs personal information, including name and e-mail address, to which results can then be sent. That data is linked to the unique ID number encoded on that individual's wristband RFID tag.
Visitors tap their wristbands at a reader installed at each of the exhibit's zones, thereby linking their activity scores—or pictures of themselves interacting with the exhibit—with their unique identifier. Every reader has a cabled connection to the server, on which EMS' software stores scores and videos or pictures of each visitor, along with that person's unique ID. A guest can participate in making a diagnosis at the medical bay by tapping his or her wristband near a reader, and then attempt to diagnose the medical problems of a Klingon patient (a life-size model of an ailing Klingon is on display in the medical bay) and input the resulting diagnosis. The visitor can also take part in a quiz, using the RFID reader and the wristband to store the test results with his or her user ID.
In addition, guests can take a selfie using digital versions of the characters from the show, learn how to speak Klingon by listening to words in that language and trying to repeat them as closely as possible (voice-recognition software is used to evaluate each user's performance), step into a transporter to "beam up" on a video screen, and test their phaser skills by firing at digital images of targets. At each zone, Onysko says, are quiz stations that are activated by the RFID bracelets, "to test visitors on their command skills and knowledge." The participant's scores, images and, in some instances, videos (for instance, while being transported) are stored and linked to that user's ID.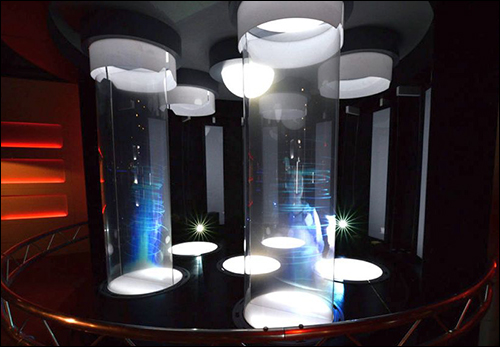 Another RFID reader is installed in the area at which visitors exit the exhibit (at the starship's bridge). "At the conclusion of the experience," Onysko states, "the visitors are able to see all their results, [and] a video of themselves being transported." They can then receive the content via e-mail, Benay explains, as well as share their results on social networks, such as Facebook. However, the system does not connect to these sites itself, but rather to an e-mail address only.
EMS installed 60 RFID readers at each of the two museums, in order to accommodate the large number of visitors. The RFID system is designed to enhance the customer experience, Rahofer says, but offers other benefits as well. "We are using [historical] data to enhance visitor flow and traffic," he adds, "as well as determine where we need to increase capacity." For instance, if EMS notices a great deal of activity taking place at some zones and less in others, it could choose to rearrange those zones' locations.
One challenge to the system is related to software, Rahofer notes. The large amount of data in the form of pictures or videos, he explains, creates hefty files, requiring EMS to find a balance between compressing file size to accommodate visitors' e-mail folders and using high-quality images. In addition, he says, the company had to "teach staff how to best maintain and collect wristbands at the end of the exhibit, and erase all customer data."
"We have a lot of people going through [the experience]," Benay says, and they are coming out of the exhibit "happy and smiling." Typically, he reports, between 600 and 800 guests participate at the Star Trek exhibition in Ottawa daily. The museum keeps approximately 1,000 wristbands onsite.
(Photos courtesy of the Canada Science and Technology Museums Corp.)