Sep 11, 2012Sissy's Log Cabin, a jewelry retailer located in Arkansas, has been employing an RFID-based solution for the past five years at its stores in Pine Bluff and Little Rock, in order to more accurately and quickly inventory the trays of watches, gems and fine jewelry that it displays and sells. Now, having opened a new store this year in Jonesboro, the company is preparing to expand the system, within the next 12 months, to include that location as well. The technology, known as Gem-Where, provided by Indiana RFID company Northern Apex, utilizes EPC Gen 2 passive ultrahigh-frequency (UHF) RFID tags applied to jewelry, a wand RFID reader cabled to a laptop, and middleware that interfaces with a store's jewelry-management software.
Sissy's Log Cabin was among the first companies to use the Gem-Where solution, beginning in November 2007, according to Kim Rieve, the jewelry retailer's chief financial officer. The retailer sells engagement rings, watches, earrings, necklaces and other fine jewelry, and uses Jewelry Computer System (JCS) software at the point of sale (POS) to track which items are sold. To manage the high-value goods in showcases, staff members spent several hours on a daily basis inventorying its merchandise. This manual method of painstaking inventory counting is a common practice at most jewelry stores, since the items are small, and are often moved daily from the storefront to the back room, in order to protect them from theft after business hours.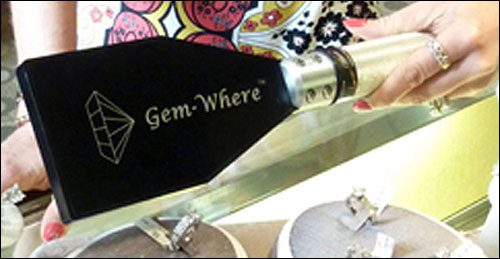 Sissy's sought a way to make the inventory process faster and simpler for its staff. Although there are many item-level RFID-based solutions used by retailers, Kevin Knuth, Northern Apex's business-development manager, says few are specifically oriented for jewelers. Using RFID to track jewelry can be challenging, he explains, due to the presence of metal, as well as the aesthetic requirements of a very small tag for small items.
Northern Apex developed a wand (an integrated RFID reader and antenna), connected to a computer, that can be waved over a tray of jewelry, enabling a user to read each tags (the tags' make and model vary). Sissy's also wanted an RFID solution that would integrate with its POS software, thereby automatically updating the inventory count in the RFID-based software.

With the Gem-Where system, Sissy's staff can conduct inventory checks multiple times daily. Prior to opening the store each day, workers take trays of jewelry out of storage and place them into the glass showcases, to be displayed for customers. Before being inventoried, a tray of jewelry is assigned to a specific showcase, the ID number of which is input into the Gem-Where middleware and stored in the JCS software. An employee then uses the wand to read the RFID tags of all jewelry on that tray. The wand, attached to a computer mounted on a wheeled cart, is moved from one showcase to another, as needed.
Once the staff member exits the Gem-Where program, the data is transmitted to the JCS software. In the event that an item is found at a location where it should not be, the JCS software immediately displays that data on the laptop screen so that workers can immediately retrieve that piece of jewelry and move it to its proper spot. If it is determined that an item is missing, that detail is also listed on a daily report printed by the store management.

The technology has proven to serve other purposes as well, Rieve says. For example, a customer once accidentally picked up a piece of jewelry while returning her cell phone to her purse. Before she left the store, a staff member noticed that an item was missing from the tray, and the staff used the wand to search for it. When the wand was placed next to the woman's handbag, it identified that the jewelry was within. "The system has caught several of those kinds of things," Rieve says, adding that inventory checks can now be performed in approximately one quarter of the time required for the manual method.
Northern Apex sells the Gem-Where solution to typically small or midsize jewelry stores and chains, as a kit that includes the wand, as well as Gem-Where middleware and RFID tags. In addition, the company provides a Smart View Counter Pad that serves as a tablet PC and an RFID reader. This device can be carried by staff members within the store, and can be used as part of the sales process. In this case, the retailer can give a key fob with an embedded RFID inlay to each regular customer. In the Gem-Where software, each individual's unique ID, encoded to the key fob's RFID inlay, is linked to that individual's name and purchase history, as well as any items that he or she viewed but did not buy.

Upon arriving at the store, a shopper presents the fob to the Smart View Counter Pad, which lists all items that customer looked at previously (in case he or she may want to do so again), or other similar products, or identifies new items that match something already purchased. When the patron is shown a piece of jewelry, the salesperson uses the pad to read that item's tag, thereby updating the record of every product viewed.
Even if the store does not use RFID-enabled fobs for customers, the Smart View Counter Pad can be utilized to maintain a record of which items each salesperson showed to a particular customer. In this way, the software collects a record of items viewed, which can then be compared against those sold. The technology also enables management to monitor the amount of jewelry shown by each salesperson. In addition, while reading the ID tag on a piece of jewelry, the Gem-Where software can also link that item's ID number with images of other products that might go well with it, for viewing by the customer.
Northern Apex is currently working on further upgrades to the system—for example, creating an RFID solution whereby a wand would be able to read RFID tags through glass, thus enabling employees to wave the wand over a cabinet rather than having to reach inside. At present, reading UHF tags through glass can be challenging—sometimes, the jeweler rolls the tag up to fit inside a ring, for instance, and then fills a tray with 20 tagged rings placed in close proximity to each other.
Northern Apex offered high-frequency (HF) versions of its RFID solution for jewelry beginning in 2006 (see Indiana Jeweler Uses RFID to Track Its Trinkets). About a year later, however, the company switched to offering a solution based on UHF EPC tags and readers.