Jan 13, 2014RFID tag, reader and chip provider Alien Technology has begun marketing a new radio frequency identification tag that combines a relatively long read range with a miniaturized form factor, for use on small objects such as jewelry or cosmetics. The Glint tag (model ALN-9715) not only offers a read range of approximately 3 feet, but it can further boost that range if one side of the tag is attached to or touching a metal object, by utilizing that metallic object as an extension of the tag's antenna. (This feature does not work if both sides of the antenna are in contact with metal.) The EPC ultrahigh-frequency (UHF) RFID tag measures around 1.06 inches by 0.38 inch (27 millimeters by 10 millimeters) in size—about as long as the diameter of a U.S. quarter. Alien released the tag this month, and has already begun shipping it to customers.
Alien Technology developed the tag for a market that it perceived as not being well served by existing RFID tags. "We've been keeping an eye on the jewelry and cosmetics markets," says Neil Mitchell, Alien's director of marketing. Most existing EPC tags used on jewelry, Mitchell explains, require what he refers to as a tail—a section of the tag's antenna that loops through an object or dangles from it, which can be detrimental for small items for which aesthetics are important.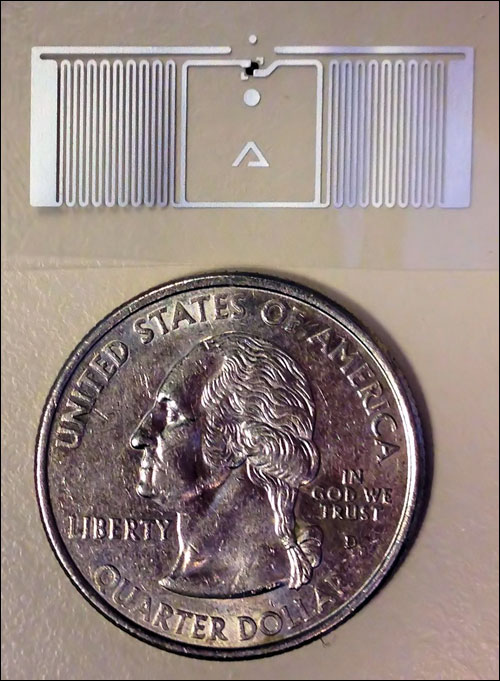 According to Mitchell, the tail must be long enough to provide a sufficient read range for capturing the tag's ID number from a distance of more than a foot. Alien Technology created its own smaller inlay by making the antenna narrower than its predecessors and fitting it tightly into a very small space. The Glint inlay would then typically be embedded in a customer's label.
In addition, Mitchell reports, the Glint is designed in such a way that if one side of it comes in contact with an object composed entirely or partially of metal, the transmission would actually be boosted. However, he adds, his company is still testing that function, and thus cannot specify the exact amount by which read range could be boosted. Typically, he envisions the tag would be embedded in a user's own label, such as price tag, one side of which could then be affixed to the metal object, such as a necklace, ring or packaged cosmetic product.
The tag is also designed for use on any other metallic object, or for a non-metallic item, such as a small plastic object that must be tracked.
The Glint tag is being shipped to end users in the United States and worldwide for use primarily on jewelry and cosmetics, Mitchell says, while Alien also continues to carry out tests on its new tag. "I think we have yet to see the scope of deployments" for which the tag could be employed, he adds, noting that end users often identify ways to use new technology that the developers had not originally considered.
The Glint inlay, made with a built-in Alien Higgs-4 chip, is not the smallest tag in Alien's portfolio. For example, Alien's SIT inlay, with a Higgs-3 chip, measures 0.472 inch by 0.354 inch (12 millimeters by 9 millimeters). However, the SIT tag offers near-field operation only; as such, it features a much shorter read range than the Glint tag, requiring that readers be located within a few inches of the tag in order to be read reliably. The SIT tag is designed for use on such items as pharmaceutical vials, bottles or blister packs, for which a very small form factor is necessary, but a long read range is not be required. The Glint model, by comparison, is a bit longer but has considerably greater read range, Mitchell says, thereby lending itself well to jewelry tagging. Users could read the tags of jewelry within a case, for instance, without having to remove each item.
"This is an option that I think will open new opportunities for the jewelry and cosmetics market," Mitchell states, since some potential users may have opted not to deploy RFID because they considered the tags to be unsightly or offering too short a read range.
The Glint tag is available now for volume ordering, Alien reports, and will be exhibited at the company's booth (#620) at this year's RFID Journal LIVE! conference and exhibition, to be held on Apr. 8-10, in Orlando, Fla.