May 25, 2023Technology firm Paragon ID, a provider of identification solutions, is further expanding into real-time location systems (RTLS) technology, following its acquisition of the business and assets of UWINLOC (see Paragon ID Acquires RTLS Company UWINLOC). Aerospace companies are the first to test Paragon ID's battery-free tags and sensors that can be energized by a radio frequency identification (RFID) reader within the vicinity, and then send the location or sensor data to a server via a user's choice of frequencies, such as Bluetooth Low Energy (BLE) or ultra-wideband (UWB).
By eliminating the need for batteries in tags and sensors, the companies explain, such devices could be permanently built directly into components or equipment, since they don't require battery replacement. The tags or sensors could then wirelessly transmit data, such as strain or temperature measurements, as well as precise location, leveraging ambient energy. In the long term, the companies expect their combined technology to be adopted by solution providers for aerospace, oil and gas, or other industrial applications, as well as healthcare, and it could also be built into commercial smart-home products.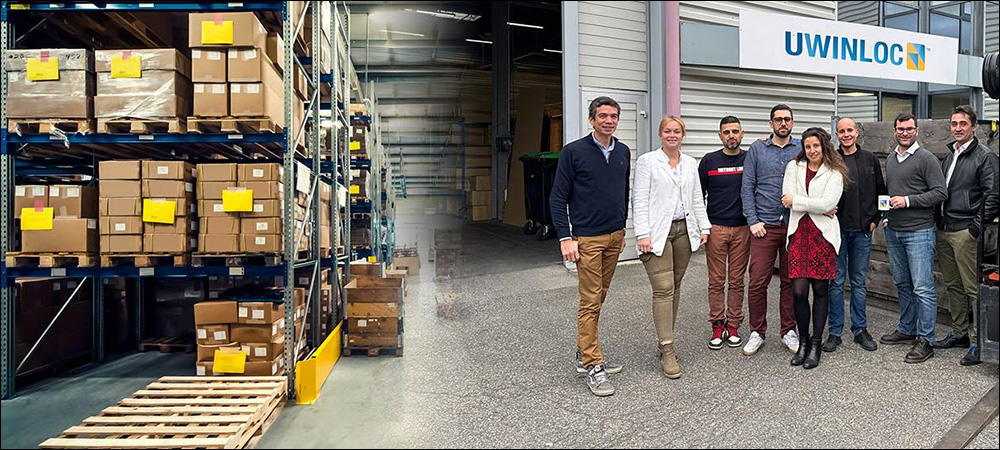 For many years, UWINLOC has been developing traceability solutions using battery-free tags. The company, based in Toulouse, France, developed its solution for use with equipment and inventory management in warehouses and storage yards. UWINLOC was founded in 2006 and it has since filed 25 patents centered around RF energy collection and storage technology.
The company's tags gain power via ambient energy harvested from Wi-Fi routers in homes, or from UHF RFID readers in warehouses or manufacturing sites. Devices such as smartphones or dedicated gateways could then receive the BLE or UWB responses from the sensors. The platform is designed to track tools, manufactured parts and bins. Many of UWINLOC's early customers are in the aerospace, automotive and manufacturing industries, due to the company's geographic proximity to French manufacturing sites.
Paragon ID's Growth into RTLS Solutions
Paragon ID launched its own RTLS business in 2018 when it acquired RFiD Discovery, and its technology is intended for use in real-time tracking of assets in healthcare and industrial environments. The company's solutions have since been deployed at more than 100 hospitals, Paragon ID reports, as well as at industrial and logistics companies globally. The firm furthered its trajectory into RTLS solutions by acquiring French company Apitrak in 2021, thereby gaining its cloud-based active RFID solutions also aimed at the healthcare market.
Last year, Paragon ID acquired Spanish company Tracktio and its TrackSphere software, a location-tracking platform, to support all available RF technologies and provide solutions for industrial applications, such as real-time forklift tracking (see RFID Discovery Grows Its Offerings with Tracktio Acquisition). The TrackSphere solution is used in manufacturing, construction, logistics and other industrial sectors that work with active and passive RFID, as well as Wi-Fi, GPS, BLE, LoRa, UWB, Quuppa and optical identification.
Throughout the past years of growth in the RTLS sector, says Arron Duddin, Paragon ID's global business director for track and trace, the company has been striving to become a leader in multiple technologies and in various industries. The inclusion of the battery-free tags and sensor technology serves as an extension to RFiD Discovery's existing solution capabilities, Duddin says. "Bringing on board battery-free ultra-wideband, BLE tags and battery-free sensors really extends the potential of truly scalable IoT [Internet of Things] solutions," he states, "with all the benefits of active technologies at the price of passive technologies, which is an exciting future."
The time was right for UWINLOC to join RFiD Discovery, according to Eric Cariou, UWINLOC's founder, so that the company can meet global market needs for energy-harvesting RTLS technology. "The market is showing us, and customers are showing us, that there is a need for battery-less solutions to track [goods] precisely, based on UWB or other technologies," Cariou states.
How the Technology Will Be Used
Growth in the IoT space, with a variety of RF protocols, has taken RTLS tracking in multiple directions. "One of our key objectives at Paragon ID," Duddin explains, "is to ensure that we stay on the top of these developments, and that when a customer buys a solution… they have some form of assurance that the investment is going to be preserved over the years to come." The company had already been working with UWINLOC on energy-harvesting solutions that could operate with a range of technologies. For UWINLOC, Cariou says, "That has allowed us to get access to large corporations and the number of players that would have been otherwise quite difficult [to reach]."
The result is a solution in industrial spaces that leverages power from UHF RFID readers. The UWINLOC tags contain a variety of sensors that could detect strain, humidity, temperature and shock levels. They also include an IC encoded with a unique identifier, a radio and an antenna to receive energy and transmit data. In a typical deployment, a company could install the devices within their assets or equipment, or they could attach them to carriers or directly to goods. UHF RFID readers installed in the area transmit RF energy.
Any standard RFID reader could be deployed, set to power the tags and sensors. Those already using RFID readers could leverage two functions with the same devices, however, by interrogating UHF RFID tags and energizing the RTLS sensors. After receiving the RF-based energy, the sensors can use it to record and store measurements, then transmit that data via either UWB or BLE. The information could be sent within a relatively short range, or considerably further—at a distance of 20 meters (66 feet), for instance—than a standard passive RFID tag could accomplish.
Aircraft companies and other businesses stand to benefit from installing sensors that do not need to be accessed for battery changes, Cariou says, and from the reduced cost of installing cables or other power services. Both cables and batteries add extra weight to components that need to be lightweight, he adds, such as aircraft wings. Another application could involve tracking the conditions within equipment at an industrial or manufacturing site, for the purpose of maintenance management.
The companies are now in discussions with multiple solution providers. "The drive right now," Duddin states, "is to engage with electronics manufacturers and solution providers who have ideas on taking this technology to market."
Key Takeaways:
With the acquisition of UWINLOC and its MahVis solution, Paragon ID is providing a battery-free RTLS solution for partners such as those building aircraft-management systems.
With early versions of the technology, companies can wirelessly track sensor data, such as strain in an aircraft part, without requiring batteries or battery replacements.