Aug 10, 2021Metalcraft has opened a new subsidiary in Ames, Iowa, known as Inlay Innovation by Metalcraft. The company's goal was to provide custom inlay manufacturing so its clients could purchase customized labels, with inlays designed and manufactured in the United States by the spinoff company for specific applications. The facility has already begun developing, testing and building inlays specific to customers' orders.
Inlay Innovation operates out of a 3,800-square-foot site at  Iowa State University's Research Park, where it is tied to the college's  Center for Industrial Research and Services, according to Kyle Bermel, Metalcraft's COO. Its location at the university provides the spinoff with access to its academic facilities, interns and professors, and the facility has four employees onsite for design and manufacturing. Inlay Innovation opened in June 2021 and is now building inlays according to customers' specific needs. It has a production capacity of 80 million labels per year, with a ribbon-cutting scheduled for Aug. 17.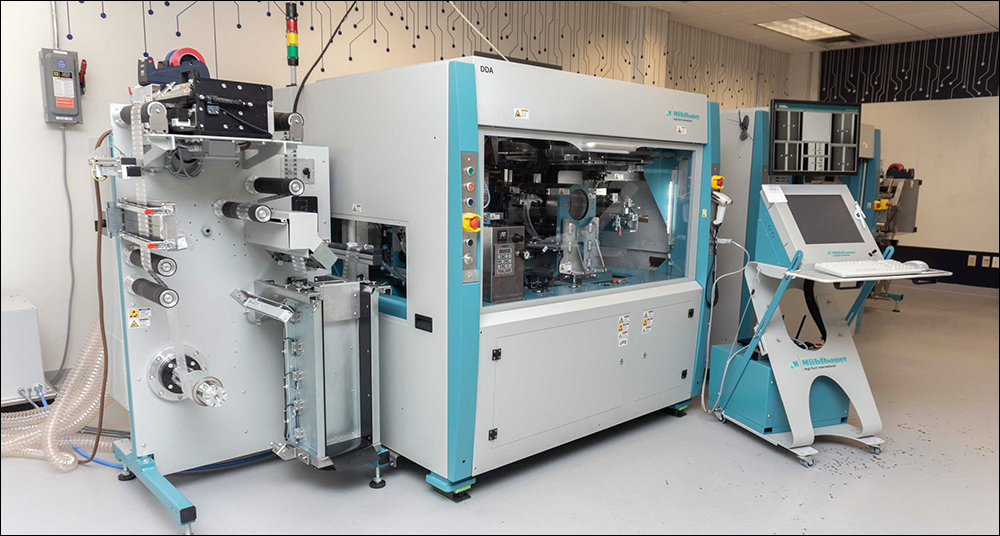 Metalcraft was launched in 1950 to provide property-identification solutions, initially with printed labels and then using barcoded labels. It continues to operate out of Mason City, Iowa. Since 2006, Bermel says, the company has been designing and manufacturing RFID labels for a variety of applications. Its customers include RFID converters, manufacturers, distributors and systems integrators, and the firm often designs unique solutions for customer orders.
Every year, Metalcraft designs and manufactures millions of RFID labels. Until now, it has purchased all inlays from third-party vendors (see  Metalcraft Offers Lowe-Cost, Longer Range On-Metal Tags and  Metalcraft Develops Metal UHF RFID Tag). The company will continue to provide such products with off-the-shelf inlays, while on-metal products leverage Metalcraft's antenna design, and says it does not intend to offer a portfolio of products with its own inlays.
The inlay is the heart of any RFID label, and it consists of a microchip, an antenna and a substrate. Every label comes with an inlay built in. Depending on how a label will be used, inlay requirements can differ widely, including the type of substrate and the antenna size. While there are inlay manufacturers in the United States and globally, the demand for UHF and HF RFID inlays is expected to grow. UHF inlays alone are selling at a rate of 14.8 percent higher volume, CAGR, between 2018 and 2026 according to  Marketwatch.
When customers approach Metalcraft, their need is typically for custom inlays that will suit a variety of applications. Companies are using Metalcraft's RFID-enabled labels for use on returnable containers, IT assets (such as laptops and office equipment), vehicle windshields (for tolling and access control) and healthcare use cases. These businesses often require labels built to sustain specific environments, necessitating ruggedization, for example, or a specific form factor.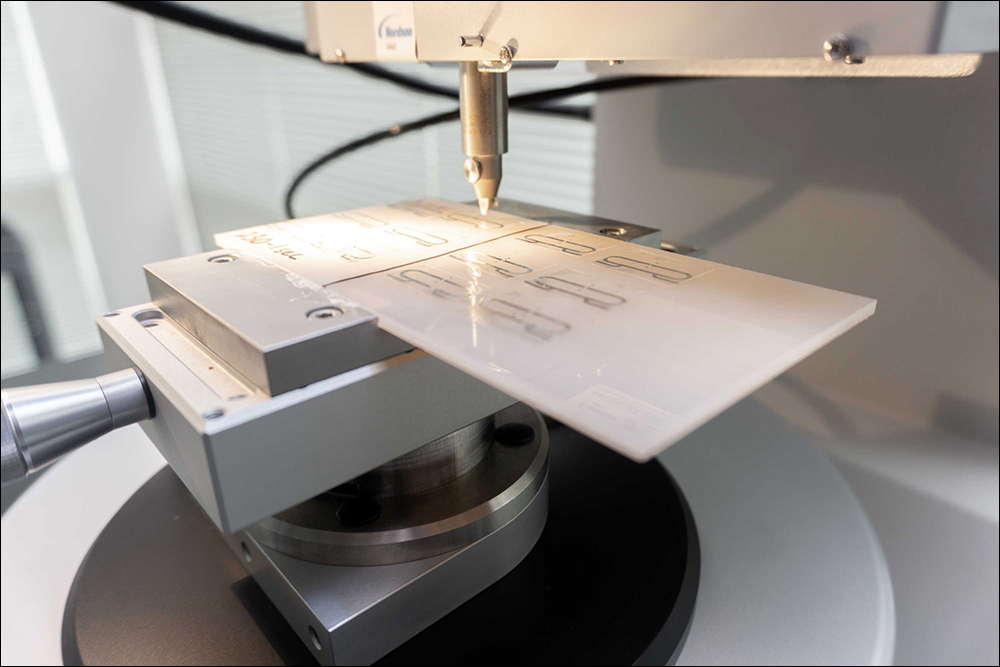 Purchasing third-party inlays can slow the process and limit the options available, the company found, especially in recent years as customization requirements have risen and the supply chain for components has become more complex. "We looked at how can we better control our supply chain" for customers, Bermel says, to ensure it can provide the RFID labels they need efficiently. Ours are high-quality, durable products that need to withstand certain environments or [be attached] to specific items." So customization "is where we do really, really well."
"The demand for the industry is picking up for those types of applications," Bermel says, with a steady uptick throughout the past decade, and the company expects to see the same kind of growth ahead. To meet these needs, he says, Metalcraft began planning Inlay Innovation in the summer of 2020. "It came together in a year," he states, "since the heart of the pandemic." COVID-19 further impacted the supply chain for customers, who wanted products manufactured in the United States, in order to make inlays more readily available at a time when many goods from overseas were being delayed.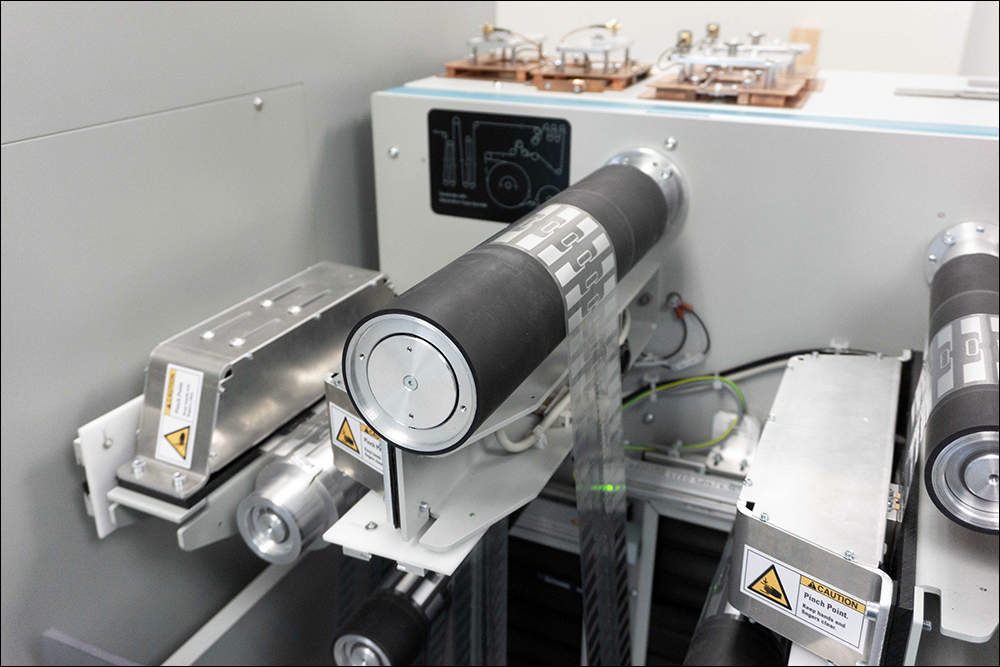 The Inlay Innovation site includes  Mühlbauer Group's DDA 40000 Direct Chip Attach system for inlay production. as well as test equipment, microscopes, thermal testing, sheer tests and weather testing for developers. The facility also provides a space for hand assembly and prototyping. "In the past, we have had a database of different inlays," Bermel says, "and we do a really good job of finding the right one for a specific use case. Now, we can take that to another level and develop it for a customer." Designing products that could be used in a customer's portfolio, he adds, helps them to better differentiate themselves.
The Inlay Innovation inlays can be used with metal tags, as well as with plastic labels for metal, glass, plastic or wood surfaces. Companies use metal tags for tracking on-metal items, such as printers, modems and computers. Plastic labels can be applied to windshields so that tolling systems or parking garages can capture a unique ID number for each specific vehicle and charge the owner accordingly.
Metalcraft's labels are also being used to monitor manufacturing work-in-process, as well as for tool tracking and race-timing. By making the products in the United States, Bermel says, the company can provide inlays for customers faster and at a lower cost, since no tariff payments are required.