Jul 22, 2021Presented here are recent news announcements regarding the following organizations: Digital Twin, Sharp Imaging and Information Co. of America, RF Ideas, CAEN RFID, Impinj, Soracom, the Industrial Internet Consortium, Auterion, and NTT e-Drone Technology.
Digital Twin Offers IoT Smart Metering Solution
Digital Twin has announced the launch of its smart metering solution aimed at the real estate asset-management sector. Combining Internet of Things (IoT) and software-as-a-service (SaaS) technologies, the solution is designed to help organizations control data and billing relationships.
For real-estate asset managers, analyzing data and making predictive decisions regarding tenants' real-time usage of utilities (water, gas, electricity, diesel and solar energy) has been historically difficult since data is typically collected and managed by third-party metering providers. As a result, the company reports, billing charges for utilities were effectively vendor-locked.
Digital Twin provides real-estate managers with a smart metering solution for real-time decision making, the company reports, including a full-stack data-communications gateway that collects data from the meter via DLMS (Secure), Modbus and M-bus. Data is transferred to the company via  u-blox's Thingstream secure communications-as-a-service platform. This data can be ingested and interrogated via Digital Twin's management console for real-time notifications and operational intelligence. Real-estate asset managers can then pass the information to billing providers.
"Digital Twin's smart energy metering solution enables real-estate asset managers to have end-to-end visibility of what their tenants' utility consumption is in real time," said Richard Creighton, Digital Twin's CEO, in the statement. "This empowers them to be more transparent and cost-effective from an individual tenant level to a portfolio-wide view. This is a win-win for all, while aiding in the real-estate fund's ESG objectives."
Sharp Adds Touchless Authentication via RF Ideas BLE Tech
Sharp Imaging and Information Co. of America (SIICA), a division of Sharp Electronics, has upgraded its Synappx application suite to include touchless mobile authentication at copiers to extend to protected environments, such as  PaperCut MF, via  RF Ideas' WAVE ID Mobile card and mobile credential reader with Bluetooth Low Energy (BLE) technology. The updated Synappx Go application enables IT managers to support a contactless solution as employees increasingly return to offices.
With the Synappx Go app, mobile-centric workers can use their smartphones to authenticate at copiers without requiring an ID card. Once authenticated, Synappx Go enables workers to safely operate shared copiers from their phones without having to touch surfaces—though IT managers can also support ID card tap, providing greater flexibility of implementation. Powered by Microsoft Azure, Synappx Go is built for Microsoft 365 and Google Workspaces. Employees' mobile devices need not be on the corporate network, minimizing device management.
"RF Ideas is proud of this collaboration with Sharp to bring a truly touchless, convenient and secure way to operate shared devices with smartphones to employees returning to the office in a wide variety of work environments," said Tod Besse, RF Ideas' senior VP of global sales and marketing, in a prepared statement. "The new Synappx Go app, working in tandem with our WAVE ID Mobile reader, will have a major impact on workplace efficiency and security across all industries."
"As employees return to the office, IT teams are tasked with ensuring workplaces are secure and safe to return to," added Dave Farrell, PaperCut's senior VP for global go-to-market, in the statement. "Together, PaperCut and Synappx Go can empower IT teams by providing control and security via PaperCut applications, and convenience and safety with Synappx Go."
The system provides the ability to print or display texted photos or attachments on a multifunction printer or professional display. The new release allows remote operations for collaboration, including sharing PDF and image files on the display, thus enabling workers to collaborate safely and conveniently via the same mobile app used for copiers. Synappx Meeting now includes autocasting to a professional display with Google Cast or Chromecast, as well as Barco's ClickShare and Miracast. It has the ability to connect to Zoom for ad hoc meetings, allowing users to create, invite and start meetings, thereby encouraging spontaneous collaboration in shared spaces.
CAEN RFID Unveils RFID Readers with Impinj ICs
CAEN RFID has unveiled its Lepton3 and Lepton7 RFID reader modules, powered by  Impinj's E310 and E310 RFID reader chips. The company reports that it is an early adopter of Impinj's new chips and is also an Impinj Gold Partner.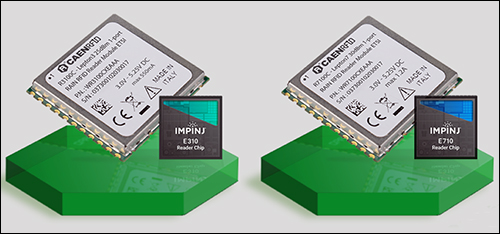 According to CAEN RFID, the Lepton3 is an entry-level module with an output power of 25 dBm and a sensitivity of -72 dBm, offering strong performances for short- to medium-range applications. The Lepton7 is a high-performance module, the company notes, with an output power of 30 dBm and a sensitivity of -85 dBm, and it is suitable for long-range applications like high-performance handheld and fixed readers.
Both modules are multiregional, the company notes. As such, a single stock-keeping unit can be configured to work in almost any country. The devices are software- and pin-compatible, enabling users to upgrade or downgrade device performances without changing their board design or application development.
Soracom Intros IoT Development Service
Soracom, a provider of Internet of Things connectivity solutions, has announced the launch of its Arc service, which allows those developing IoT solutions to leverage the firm's IoT platform using any internet connection, including cellular, Wi-Fi, Ethernet and satellite. This blended connectivity lets users mix connectivity technologies while controlling their entire network via a single, unified management platform, making IoT networking capability available to a wider array of industry solutions.
The Arc service is intended to help developers, startups and enterprises build IoT solutions using their connectivity of choice, with the ability to switch or add connectivity options as requirements change without having to rearchitect applications. Soracom says its services are available over any Internet connection. Arc provides IoT solution developers with secure access to Soracom's suite of 17 network and application services, including cloud integration, private networking, data optimization, secure remote access and on-demand packet capture.
As deployments expand, Arc is designed to reduce challenges associated with introducing new connectivity options. The service allows devices to offload data transfer from cellular to Wi-Fi when in range, while maintaining cloud integrations. Developers can prototype with Soracom's network and application services using existing Wi-Fi or Ethernet internet connections, without the need to check cellular coverage, purchase a SIM card and modem, or commit to a cellular connectivity plan. As devices are deployed to new locations, Soracom adds, the Arc service kets developers maintain secure connections over any available public network internet connection, even on networks they do not control.
"We've always wanted to give IoT innovators the option to connect devices to our platform in whichever way is best for them," said Kenta Yasukawa, Soracom's cofounder and CTO, in a prepared statement. "Soracom already supported cellular and LPWA connections. The ability to access Soracom services over Wi-Fi, Ethernet or satellite dramatically expands the range of options available to those creating new IoT experiences."
Industrial Internet Consortium Publishes Trustworthiness Document
The Industrial Internet Consortium (IIC) has published a foundational document titled  "IIoT Trustworthiness Framework Foundations." The report outlines the key concepts and benefits of trustworthiness related to real-world supply chains and offers model approaches. Trustworthiness is essential to government and commercial organizations with cyber-physical systems impacting the safety and well-being of people and the environment, IIC reports. The document builds on the Industrial Internet of Things Security Framework and is part of the IIC's Industrial Internet Reference Architecture, which provides an architectural framework of Industrial IoT systems.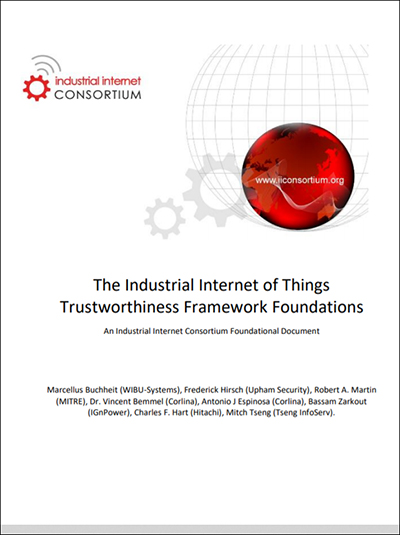 "Trustworthiness, and confidence in that trustworthiness, are an essential aspect of cyber-physical systems," said Marcellus Buchheit, the president and CEO of  Wibu-Systems and one of the document's co-authors, in a prepared statement. "Inattention to trustworthiness can lead to loss of human life, long-term environmental impacts, interruption of critical infrastructure or other consequences, such as disclosure of sensitive data, destruction of equipment, economic loss and reputation damage."
The document defines trustworthiness as a combination of security, safety, reliability, resilience and privacy, as well as the tradeoffs made in the face of environmental disturbances, human errors, system faults and attacks. Trustworthiness, according to the IIC, depends on the strategic intent and motivation of an organization, particularly its top management, to create and operate systems that inspire trust by partners, customers and other stakeholders, including the community.
"Trustworthiness is the degree of confidence one has that a system performs as expected," said Frederick Hirsch, a strategy consultant at Upham Security and a co-author of the foundational document, in the prepared statement. "It requires an understanding of the system, including interactions and emergent properties. In the digital world, trust and trustworthiness are achieved by understanding and addressing concerns related to the trustworthiness characteristics appropriately for the context of the entire system. Providing evidence of this can give others confidence."
"Concerns in a factory are not the same as those for a hospital operating room," added fellow co-author Bob Martin, a senior principal engineer at  MITRE Corp.'s Cyber Solutions Innovation Center, in the statement. "Designers must understand the many considerations involved in defining the appropriate trustworthiness implementation, including the supply chain, assembly, operation and maintenance of a system."
Auterion, NTT e-Drone Technology Form Strategic Alliance
Auterion, located in Zurich, Switzerland, and  NTT e-Drone Technology, in Saitama, Japan, have signed a strategic alliance to accelerate drone use to tackle social problems. The companies will drive the development, manufacturing, operation and sales of software-defined drone fleets to enable smart farming and infrastructure management.
"Through our strategic alliance with NTT e-Drone, various Japanese companies and regional governments, especially those concerned with national security, can easily access Auterion's ecosystem of the world's most advanced open-source platforms for drones," said Lorenz Meier, Auterion's cofounder and CEO, in a prepared statement. "By combining that ecosystem with the 5G, AI and edge cloud ICT services promoted by the NTT Group, we will be able to provide customers with new value and integrated capabilities never before seen on the market."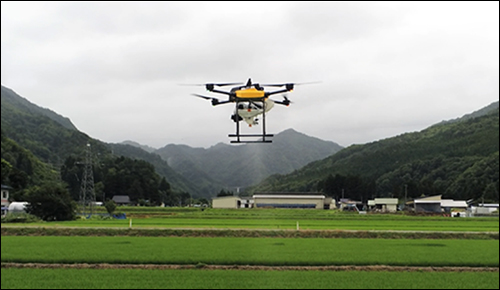 NTT e-Drone will produce the Skynode-based Flight controller and Mission computer, a drone-control device developed and provided by Auterion in Japan. In the future, it will be installed in drones developed by NTT e-Drone that offer functions such as LTE, 5G support, remote control and autonomous navigation, and it will be expanded to drone manufacturers that desire Skynode-based products made in that country. NTT e-Drone operates Suite, a drone operation management system developed and provided by Auterion, on a server in Japan.
NTT e-Drone says it will accelerate the social implementation of drones in agriculture, inspection, surveying and disaster countermeasures by adding functions for the Japanese market. The two companies intend to bring each other's development resources and market needs together, and to promote the development necessary for the social implementation of drones. NTT e-Drone will deploy the Vector (made by  Quantum Systems) and Vesper (from  Vantage Robotics) solutions equipped with Auterion tech.
"The partnership with Auterion is indispensable to our mission of realizing the social implementation of drones that contribute to solving social issues," said Hiroshi Tanabe, NTT e-Drone Technology's president, in a prepared statement. "We also expect to access markets other than Japan's and work with Auterion to realize next-generation drones that place the highest priority on drone safety and reliability."
"We will promote the introduction and implementation of new technologies from NTT laboratories and partner companies," added Atsuko Oka, NTT's senior VP and head of technology planning, in the statement. "Additionally, we will conduct planning and execution of disaster countermeasures, security and efficient procurement of facilities. In these efforts, development and utilization of safe and secure drones is an especially important issue. This strategic alliance between Auterion and NTT e-Drone is expected to accelerate the resolution of these issues, and we would like to support them."
The partnership's software-defined drones, using NTT's network, will enable Japanese agriculture and climate experts to examine data and provide analysis and advice to farmers in real time, even in remote areas. "Experts who can relay best practices and troubleshoot urgent issues for rural farmers, without the need for time-consuming travel over great distances, will help those farmers increase yields," said Lorenz Meier, Auterion's cofounder and CEO, in the prepared statement. "With widespread deployment of smart farming drone fleets, Japan may even surpass its 45 percent food sustainability goal in the next few years."