The solution from Adilam Technologies and HID Global provides members of the Australian Wool Exchange with a view into the processing and transport of wool for traceability and efficiency.
Nov 13, 2023Australian wool bales are now being tracked with RFID technology to ensure traceability, improve efficiency, and provide analytics. The solution, adopted by the Australian Wool Exchange (AWEX) includes HID Global UHF RFID tags and Adilam Technologies' installation and integration.
Australia, which has about 68 million sheep, is the world's largest wool-producing and exporting country. AWEX is a member services organization, launched in 1993 that connects operators with international customers of the nation's wool. Its goal is to provide an internationally competitive system for trading Australian wool and enable self-regulation among market participants. Members include Australian wool brokers, processors, exporters, private treaty merchants, wool growers, and associate members – representing all sectors of the Australian wool industry.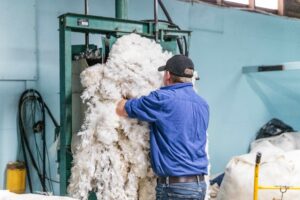 While users were always able to trace wool, it was often a complicated and labor-intensive, manual effort, subject to human error, explains Mark Grave, AWEX's CEO. He says the concept of improving traceability first gathered momentum in the late 1990s as European interests approached Australia to investigate how technology could create efficiencies and improved traceability. "The concept [of digital visibility] holds today, but in the 1990s, it outstripped the available technology of the day," Grave explains.
Instead, beginning in 2001, each Australian wool bale had a label attached to it, on which a wool classer would write the brand (farm identity), wool description, bale number, and wool classer identification.
The information on the bale label was not unique and relied on the correct information written on the label and the classer's specification form. Human error can result in misidentification of bales, resulting in costly traceback to ascertain the correct identity of each wool bale, and having implications from the farm to the warehouse to the processing mill in terms of logistical inefficiencies.
At that time, RFID technology was not well-developed, Grave says, and considered too expensive for the widescale volume of tags needed. Barcodes enabled automatic identification—the barcode was registered with a unique serial number. Ultimately, however, the barcodes printed onto labels often failed because they could be rubbed off and required line of sight for reading.
In 2019, the threat of foot-and-mouth disease underscored the need for better wool traceability with an independent digital system so that participants could access information based on bio-security threats.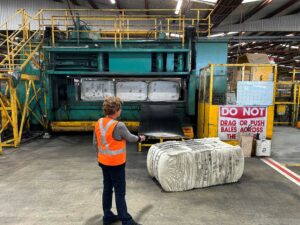 Identifying and locating wool that could be contaminated would be possible. Still, the process would be slow, and if there is an outbreak of a disease, supply chain participants wanted to be able to detect, identify, and quarantine as soon as possible. In addition, traditionally, the Classer's specification information created on-farm stays onsite until the wool arrives at the warehouse, and sometimes the Classer's Specification information does not come until sometime after the bales, creating problems for the warehouse. Often, no one knew whether the wool had been shorn or where it might be located, which made it difficult to contain an exotic animal disease outbreak, says Grave.
AWEX began giving RFID a second look as the organization and its members wanted to use the technology to reduce shipping errors or product loss. "Today's [RFID] technology is superior, and the ability to utilize the technology throughout the supply chain is more viable than ever before," Grave explains.
With HID Global, the group identified a durable and affordable UHF RFID tag that would survive the harsh conditions that their product is exposed to, used in what is known as the eBale label.
In 2021, AWEX gained funding from the Department of Agriculture as part of its traceability grants program. They then deployed the technology, and it went live in July 2023.
Applying Encoded Tags to Bales
Solutions provider Adilam Technologies provided installation and integration of the RFID system. HID's IQ Pro Label RFID tag with a built-in M730 chip is designed to withstand high temperatures, chemicals, pressure, and torsion. Each RFID wool pack label has the same unique number printed as a QR code and a number on the label itself.
AWEX sets the standards for all wool packs (in which the bale is loaded) imported into Australia and, in doing so, registers the manufacturers. Currently, AWEX provides a unique number to each RFID tag, with the tags on the underside of a pack label. The RFID labels are sold to the pack manufacturers, who sew them onto each wool pack.
Details about the product, and when and where it was collected are stored in AWEX's system software called WoolClip and linked to the tag's TID for added security, Grave says. Wool growers use their smartphones to scan the QR code to enter that number into WoolClip, and additional information, such as shearing, can be linked to the tag in the software. The bales are then sent to a third-party warehouse.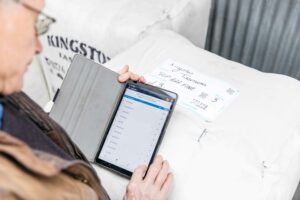 The unique numbers are then used at the warehouse to track the bales as they arrive, move around the wool store, and identify them when they are at the sampling unit stage. The tags are also read or scanned to locate or place them in storage before dumping when the bales are compressed. This involves three bales being crammed into a "tri-pak" and secured using metal straps, then put in a container for shipping.
The reading of tags in a warehouse is done using either hand-held readers or fixed portals, both with built-in Rodinbell modules, depending on the situation, says Mark Anderson, Adilam's Managing Director. Forklift drivers usually use a hand-held reader, while fixed readers are employed at the sampling lines or on entry to the dump.
Each wool processing mill (more than 85 percent are in China) can utilize the same RFID warehouse capability as is used in Australia, and they can leverage the technology for quality control to ensure the correct wool bales go into each processing batch.
As the system was developed, the technology team customized it to ensure the most effective and reliable RFID tag reads. "Due to the different types of wool compositions, some bales are harder to read than others, especially in tri-paks," says Anderson. However, simply turning the power up high can result in stray reads. Therefore, the technology team adjusted the software to ensure readers were sensitive without picking up strays.
Adilam has provided hardware and software to wool brokers integrated into their ERP. The data helps wool brokers detect and stop incorrect bales from being delivered and helps identify specific bales that may be subject to disease.
The WoolClip software manages data about the time and date stamp as well as the status of each bale as it moves through the supply chain, says Grave. These systems would not be possible without RFID, he adds. The implementation of RFID in the wool industry is regarded as one of Australia's leading agricultural industries in adopting RFID technology, says Richard Aufreiter, HID Global's Director of Product Management.
Specialized Labels for Challenging Environment
IQ Pro Label is a family of RAIN RFID labels that outperform standard PET or paper RFID labels (such as those for retail use) or standard on-metal labels in terms of robustness and environmental durability, says Tony Hilder, HID's APAC sales director for identification technologies. IQ Pro labels come in different designs and materials for special applications. They may be chemical, high temperature, flame resistant, or have other unique properties beyond a "standard" label.
Standard RAIN RFID labels would not withstand the harsh handling of the wool bales during their lifecycle. Standard RFID labels failed, Hilder says, as a proportion of the tags were crushed, either in forklift tines or when three bales were compressed into a tri-pak, damaging the antenna or chip.
Additionally, the dimension of the label is customized to match the AWEX needs for a large printing area with strong adhesive. AWEX has committed to providing five million tags over the next two-and-a-half to three years of wool production. AWEX reports that the tags will deliver significant efficiencies and improve the accuracy of the information during movement through the supply chain.
Key Takeaways:
Australian Wool Exchange has adopted an RFID solution from Adilam and HID Global that will track the identity of every wool bale as it is shipped, transported, received, and processed.
The solution ensures that the wrong bale of wool is never shipped or accepted throughout the supply chain while protecting against the transmission of wool that might have been exposed to disease.