Nov 02, 2016Grace Medical Center, a 123-bed hospital that is part of the Grace Health System, reports that two months after installing a real-time location system (RTLS) to monitor the temperatures of its refrigerators and freezers, it has achieved a return on its investment by preventing the spoilage of a cooler filled with $15,000 worth of food. The solution, provided by ZulaFly, consists of the company's own cloud-hosted Fuzion software platform to capture data from CenTrak RFID temperature sensors. Grace Health System can view the collected temperature data in real time, as well as for analytics purposes, according to Stephanie Andersen, a ZulaFly managing partner.
Located in Lubbock Texas, Grace Medical Center receives approximately 11,000 patient visits annually and has a total of 980 admissions. A year ago, the hospital launched an oncology unit that requires its high-value chemotherapy drugs to be stored at specific temperatures. Nearly half a million dollars' worth of those medications are kept cool within two refrigeration units, says Christopher Winn, Grace Health System's director of business development and purchasing.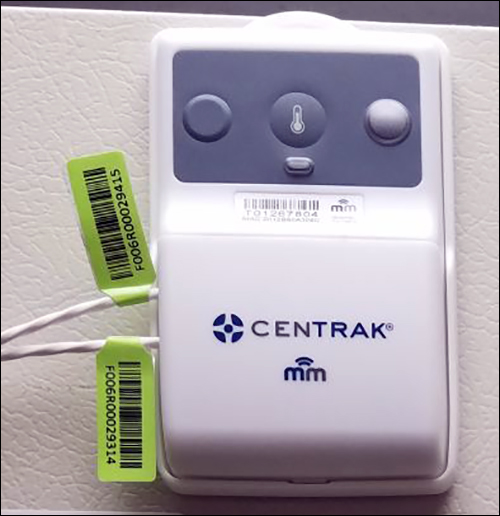 Temperature control has always been a priority for the hospital, Winn says, but until recently, staff members checked those units' temperatures manually, writing down the details and identifying any fluctuations that could damage the contents. The hospital's managers were interested in RTLS technology, he adds, and how it could be used to monitor temperatures, as well as assets and hand hygiene. Given the high value of the facility's oncology drugs, management decided to first try using an RTLS solution to monitor the coolers, and to later consider an installation to track high-value assets. "We thought we would start with the most critical part," Winn states, "which was temperature monitoring."

In late August 2016, ZulaFly installed the solution within a total of 18 individual coolers, located in the medical center's oncology unit, hospital pharmacy, retail pharmacy, laboratory, OR and dietary area. The company mounted a battery-powered CenTrak temperature sensor tag to each cooler's exterior, configured to transmit temperature readings every five minutes. Placed inside each unit is a temperature probe housed in a small bottle filled with propylene glycol and wired to the tag.
In a large walk-in refrigerator located in the dietary area, ZulaFly installed two CenTrak temperature sensors, each with its own probe, in order to monitor fluctuations in the front and back of the unit. It also deployed CenTrak Star network access points, which receive the 900 MHz signals emitted by the sensors and forward that data, via an Ethernet connection, to CenTrak's server, which then interprets the location and temperature data and uploads it to the Fuzion software.
Grace Medical Center uses the cloud-based software to set the temperature thresholds according to the needs of the medications or food items stored within each unit. If the captured temperature reading is found to be above or below the acceptable threshold, the Fuzion software issues an alert to the department manager, either via text message or e-mail. If the cooler has not returned to the acceptable range, or if a remediation has not taken place (such as closing the door) within two hours, the software contacts a medical center manager.
Since installing the technology, Winn reports, the hospital has learned details regarding how its coolers operate, as well as daily activity around the units. For instance, he says, it discovered that one refrigerator was dropping below freezing, and its own temperature sensor had not been detecting that deviation because the hospital didn't expect the refrigerator to get that cold and therefore had not configured its previous sensor system accordingly.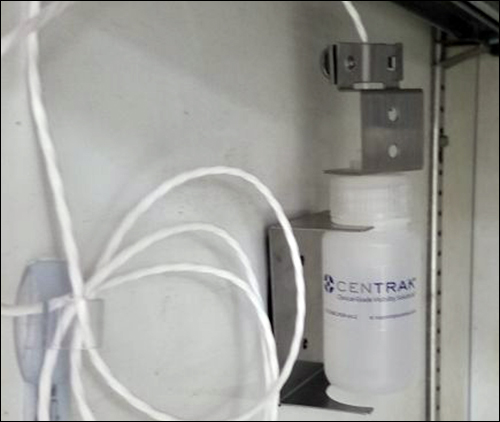 By installing two sensors within the walk-in refrigerator, the hospital learned that the temperature readings had previously been inaccurate, since the blower was pushing cold air toward the thermometer while other parts of the cooler were too warm. It also determined the times of the day during which the refrigerator was warming up, such as at night while it was being restocked.
Based on that information, Grace Medical Center has altered its walk-in cooler restocking process. Now, all temperature-sensitive foods are brought to a staging area near the refrigerator before being loaded into it, so that the door does not remain open for a lengthy period of time.
During one incident when the walk-in refrigerator had become too warm, the system sent an alert to staff members, who were then able to correct the problem before the entire stock of food, worth $15,000, was lost. In that one event, Winn says, the system paid for itself.
While ZulaFly is focused on the health-care sector, Andersen says, it offers an RTLS solution for the general market as well. "We have developed a non-industry-specific product," she states. "It's important to us to provide a software solution that's not confined to one niche." The company offers software and the installation of RTLS technology, either for purchase or for lease, in the form of a software-as-a-service (SaaS) model. According to Andersen, ZulaFly can provide an app for users who would like to access data or receive alerts on their mobile devices.

For Grace Medical Center, the next step is to consider installing the technology within the remainder of its coolers, such as food refrigerators on patient floors. The hospital may opt to deploy tags to monitor assets and hand-hygiene compliance as well, Winn adds. Intravenous (IV) and patient-controlled analgesia (PCA) pumps tend to end up missing, he says—typically because staff members hoard them. In some cases, replacement items need to be rented because they must be on hand when required. With RTLS technology tracking those assets, however, such rentals may become unnecessary. The biomed department, Winn says, would not need to have employees spend as much time walking the hospital's halls searching for equipment to inspect or clean.
For hand-hygiene compliance, Winn notes, the hospital could provide CenTrak badges to personnel, with readers installed above sanitation dispensers to track how often those individuals wash their hands. The readers could also track whether employees use those dispensers at the beginning and end of each patient exam.
Grace Medical Center pays for the system using an SaaS model, which reduces the initial expenditure that would be required if it had purchased the hardware and software outright. This, says Adam Peck, CenTrak's senior director of marketing, "demonstrates a subscription approach to temperature monitoring with a cloud-based UI [user interface] for easy scalability and expansion."