Jan 27, 2023RFID Journal LIVE! 2023 will feature end-user companies discussing a variety of tracking solutions, as well as exhibitors offering UWB technologies. To learn more, visit the event's website.
Sports technology company Catapult sells wireless solutions for tracking players and equipment to professional and university sports teams. The company has released a new tracking device that can be embedded in footballs, enabling teams and fans to monitor practice and game performance based on a ball's speed and velocity, as well as other sensor-based details. The system employs ultra-wideband (UWB) technology to detect the ball's exact location, while also capturing sensor data, via a six-ounce device suspended in the center of the ball.
The company has provided sports-performance analytics since it was launched in 2006 to improve athletes' performance. The new solution has been in development for two years, Catapult reports, and has been tested by several college teams during this football season, including Boston College and the University of Nevada, Las Vegas. It leverages UWB transmissions from devices installed around a stadium or field, and also accomplishes wireless charging via Energous's RF-based system.
Catapult worked with the Australian Sports Commission to supply technology to the Australian Olympic team to assist with maximizing athletes' potential. "What was born out of that was really the discipline of sports science," says Mike Kratochwill, Catapult's product and marketing business manager. The company has since expanded worldwide, and it now provides performance technology to approximately 3,650 teams in 39 sports throughout 137 countries.
More than a Decade of Athlete-Monitoring Solutions
"Our foundational product is our athlete-monitoring technology," Kratochwill says, which is centered around a wearable device, known as the Vector, that is incorporated into a player's vest or shoulder pads. The solution includes a GPS tracker and the company's UWB-based ClearSky local positioning system (LPS) to supplement the GPS system, or to replace it in indoor environments. And it comes with three key sensors—a gyroscope, an accelerometer and a magnetometer—to capture additional data regarding an athlete's health and performance.
A network of UWB receivers, which make up the ClearSky LPS, capture wireless data and pinpoint location information. Typically, 12 to 24 receivers are located around the circumference of the stadium. The wearable device transmits its ID number and picks up a GPS signal outdoors, or the LPS transmission from the receivers. "So that gives you the positional-data locations of the athletes," Kratochwill says.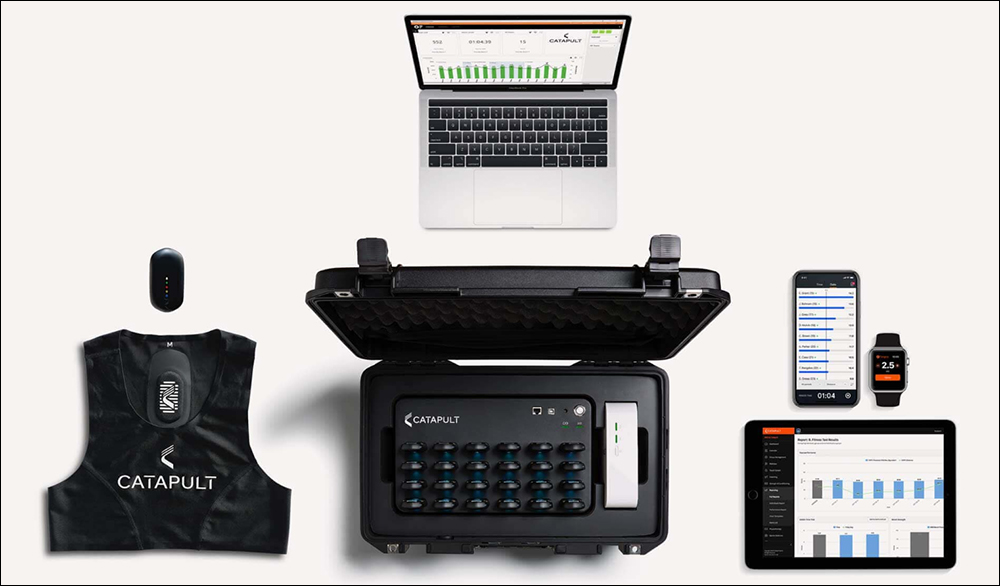 Teams can use the collected data to assess a player's performance and the readiness of that player to perform as needed. For instance, the sensors capture data that Catapult's software filters and manages to monitor such details as when a player may be overworking and is subsequently at risk of an injury. Coaches can use the solution to better plan their daily, weekly or seasonal schedule, in order to be sure athletes will perform on game days at their peak performance.
The system includes more than 1,000 metrics, Kratochwill says, with teams selecting the appropriate metrics based on the sport or a player's position. For instance, a hockey goaltender's movements would follow different metrics than those of an offensive or defensive player. "We can actually look at the movement patterns from those different athletes in a very different way," he explains, "and assess what their overall workload looks like relevant to their sport."
Expanding to Ball-based Sensor Management
At the end of a practice or game, athletes turn in their Vector devices, which are then placed in a docked charging station, not only to charge them but also to download data. Zebra Technologies offers a similar technology to track real-time location via UWB, and the National Football League uses its data during games to provide its Next Gen Stats (see What You Can Learn From the NFL).
However, the Catapult system is designed to provide both sensor and location data, which can include jump height, total load applied to a body when tackled, or how hard a quarterback throws a ball. With the ball-based sensor to be released later this year, the company set out to bring intelligence about game performance beyond each player to the ball. The system offers the same sensor data, but in this case it helps coaches and fans understand details regarding plays, based on the ball.
There were some challenges to the ball-based solution, one being the need for a very small device that would not disrupt the ball's behavior, either due to weight or balancing. To place the lightweight device in the ball, Catapult worked with manufacturers to install the electronics in the ball's center. Because the sensors require power, a charging system was necessary, but a docking station would not have worked since any charging needed to be simple, through the ball and from any orientation, without it being plugged in.
Dropping the Ball in the Charging Dock
If a ball included a port for plugging into a charger, that would introduce an egress for water and dirt, while also disrupting the ball's balance. That's where the Energous system comes in. "We just have a charging dock [from Energous] and you just drop the ball, and any orientation could put it any way you want on the charging dock," Kratochwill states. "You drop it on the night before the game or practice, and it's fully charged in about three hours—and it lasts for 18 hours."
Teams typically use a bank of charging units, each powering one ball at a time. The devices come with a light indicator to let users know when they're fully charged. "Using our technology, combined with their chipset, they've been able to guarantee that the overall weight is within the limits required," says Cesar Johnston, Energous's CEO. Additionally, he notes, the devices needed to be designed and installed so that they could sustain the kind of abuse to which a football is exposed. "They had to develop a pretty advanced mechanical way to protect the circuitry and the small battery that they have internally."
For that reason, Johnston explains, "I would say, from a mechanical point of view, [the application] is very challenging." From an RF standpoint, however, charging posed another challenge, as the device needed to be chargeable directly in the center of the ball, from any orientation. Energous thus provided the technology built into the charger, as well as the ball. The charger transmits RF-based power when it detects the ball is present, Johnston says, and that ball detection can be visualized via Energous's Wattup Bluetooth Low Energy (BLE) application.
Energous provides its EN4100 device and transmitter antenna in combination with its 5-watt power amplifier (EN 39113 and EN3921 devices) to ensure transmission through the ball. The company designed the antenna in such a way that it could create a surrounding RF transmission when the ball is in the charger. The ball comes with an Energous RF radio and an antenna, along with an EN 2223 receiver rectifier to convert the transmission energy to DC power, which feeds the sensors' power-management device.
Understanding Performance on the Field
In the future, Energous could offer a charger that could accommodate multiple balls in a single bin, charging all of them at once. In the meantime, Catapult intends to continue validating the balls by piloting the technology throughout the spring. The data provides coaches and teams with better understanding of performance on the field, Johnston says. For instance, while teams could previously use athlete trackers to measure how hard players were throwing the ball, they can now measure the velocity at which that ball is moving.
"We can measure the spin rate of the ball," Johnston states, "so when coaches say 'Hey, I need you to throw a really tight spiral to cut through a hard wind.'" that action can be tracked. The system can also determine if a quarterback is exerting more force in his throws, while the ball might be slowing down, potentially indicating an injury or that he is getting tired. With regard to receivers, the system can detect how hard they grip the ball during a catch or while running, then connect that information with fumbles.
Catapult has sports scientists on its staff, Kratochwill says, who work with each team to capture data and understand the insights it provides. Going forward, the company could adopt the same kind of technology to power the athlete trackers. "Imagine a world where you could push power to the devices by just coming into the locker room and hanging up the vest," he predicts.
Key Takeaways:
College and NFL football teams will have access to sensor-based balls for key performance tracking during practices and games.
The system employs RF-based wireless charging with Energous's charging devices, as well as RF radios built into the ball by Catapult.