Jun 04, 2015Global retailer Tesco Stores Ltd. is trialing an indoor mapping and analytics robotic system using radio frequency identification at its fashion departments in five U.K. stores, tracking its F&F brand garments to determine whether the technology can improve efficiency and inventory visibility. The deployment involves robotic machines that roam through a store's clothing department, so that onboard RFID readers can perform inventory counts by reading each garment's passive ultrahigh-frequency (UHF) EPC Gen 2 RFID tag. The robotic system and service is being provided by Silicon Valley technology company RFspot, which reports that a half-dozen other retailers, globally, are carrying out similar pilots.
More than a year ago, F&F began looking into ways to identify the locations of goods in stores using an automated system, and came across the technology offered by RFspot, according to Danielle Dawson, F&F's RFID project manager. F&F is already RFID-tagging all of its merchandise sold at Tesco's network of 525 stores throughout the United Kingdom.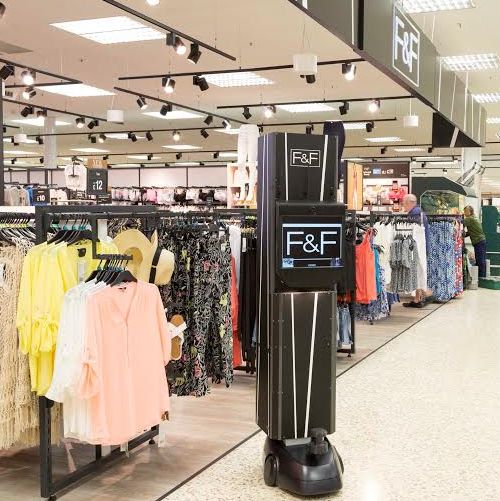 "It's exciting to be pioneering this technology with RFspot," says Richard Collins, the CEO of F&F Tesco, "to see how we can use it within F&F to enhance our customer shopping experience, and also to clearly understand where we can use this within the rest of the store."
Tesco store personnel can read those tags via reader portals or handheld units, but with the RFspot solution, the same data can be collected more efficiently and more often, with little human intervention. The technology is designed to eliminate the mundane task of using a handheld to conduct inventory counts, explains Andrew Gold, RFspot's founder and CEO, and to instead capture reliable inventory data automatically. He says the robot reduces the time required for reading tags for inventory-tracking purposes, from seven hours using a handheld reader down to about one hour with the robot.
Each machine comes with a variety of vision-based sensors that can identify a robot's location within the store. F&F is trialing several versions of the robots, including multiple reader configurations. RFspot employs UHF RFID readers from all major reader providers, Gold says, though he declines to name which models are being used for F&F's robots. RFspot selects the reader best supported by the retailer. Each robot also comes with multiple antenna arrays to enable the interrogation of tags at all angles around the machine, from 6 inches above the floor to 12 feet above the floor.
With the F&F trial, the robot navigates through each of the five stores' back rooms and sales floors multiple times a week, reading tags and collecting location data as it goes. The path it will take is stored on the machine's on-board database. Because that computer stores such data as previous and expected read results at each location, it can be programmed to identify discrepancies and alter its own route to circle through an area a second time, or to approach it from a different angle, in order to ensure that tag reads are not missed. The robots also can be programmed to move through a high-density area twice.
The data can not only be stored on the robot's own computer, but also be sent back to a cloud-based server hosted by RFspot, via the store's Wi-Fi network. F&F can then view that information in real time, or collect analytics such as areas in which tagged items have been misplaced, when shelves require restocking, or which shelf displays are resulting in the highest volume of sales, based on the removal of tagged items from those shelves or hanging rails.
"We have a base platform that fits into any environment," Gold states. "Naturally, every customer wants to engineer the solution for their environment."
Other configurations of RFspot's base platform can detect products on shelves using optics, and can use that data for managing planograms showing what shelf displays look like, in real time. That information can then be compared with sales data. According to Gold, RFspot is also working on automated tools for the robots to open doors and operate elevators in situations in which they must move from one room to another through a door, or to a different floor.
"This trial will give us insight into the technology and how it fits into our operations, how it will form part of our RFID journey," says Katherine Isle, F&F's program manager of operational change. That journey, she adds, will include learning more about how the RFID tags on products can be used to improve efficiency and productivity.
F&F personnel can use the LCD screen on the front of the robot to view the data being captured, or to display the face of someone who is remotely operating the robot when it is in semi-autonomous mode. This mode enables an individual in a remote location to manually control the robot's movements within the store, while viewing where he or she is taking the robot in real time (via cameras installed on the robot). This allows individuals physically around the robot to see the face of that person on the screen, and to speak with him or her via the Wi-Fi network, similar to a Skype conversation. For example, they can ask the robot operator questions about the robot.
The way in which people interact with the robot has been one of the more interesting elements of the technology's deployment, Gold says. RFspot conducted studies to determine how store personnel and customers, including children and the elderly, would respond to a robot traveling through store aisles during business hours. Many of the retailers that are piloting RFspot's technology operate stores that are open 24 hours a day, so robots are sure to come in contact with customers. To date, he reports, interactions have been positive. Children like to play with the robots, and the elderly indicate they'd like such a machine to help them around the house.
If the robot is programmed to capture as many reads as possible within a short span of time, it can move at a speed of about one meter (3.3 feet) per second, with a read range of up to 30 feet. By using the system, Tesco can boost sales by reducing out-of-stocks, ensuring products are displayed in the proper location, and freeing up F&F colleagues to work with customers rather than having to walk through stores searching for products with a handheld reader.
RFspot reports that the reduction in labor costs, as well as the benefits achieved thanks to greater inventory accuracy and the planogram data, would eventually offset a retailer's cost of purchasing the robot and accessing the software. However, to make the deployment less expensive for some retailers, RFspot also offers a smaller version of the robot that has fewer sensors but can still read tags and capture more generalized location data.
Gold recalls that F&F's management brought dedication and commitment to the project. "They had a vision," he says, "They knew exactly what they wanted to do, and what problems they had to solve."
Dawson adds that F&F views the technology trial as a collaborative effort with RFspot. "The opportunities are endless," she states, "and with the RFspot team, we hope to continue to develop solutions that will be helpful across retail."