May 24, 2020The COVID-19 pandemic has caused several companies to increase their production of diagnostic tests and modify existing lines to manufacture medical devices and personal protective equipment (PPE), while others work at high speed to develop and test vaccines, treatments, health kits and antibody tests. Consumers around the world are doing their part, practicing social detachment and isolation to reduce the spread of the virus and minimize the impact on medical facilities. The desire to stay healthy has increased the demand for prevention and immunity-oriented products, including multivitamins.
Smart labels and packaging are helping on both fronts, supporting the need to provide end users with health supplies safely, in order to protect patients and offer healthcare professionals safe access to accurate diagnoses and life-saving treatments. The technology behind these smart labels and packaging—contactless Near Field Communication (NFC)—provides the security required to help fight the spread of COVID-19, while at the same time giving scientists, medical personnel and patients the ability to interact with products to they can verify authenticity, check expiration dates and obtain useful information regarding the coronavirus's nature.

By touching their smartphone to a product's label or packaging, consumers can learn about a drug and how best to use it. Interactive features can be used to order supplies, renew prescriptions and connect patients to online health services.
Educating consumers: During a health crisis, misinformation can spread almost as quickly as the disease itself. Smart packages can link to websites or apps that separate fact from fiction and direct consumers to the relevant health agencies. Updates are easy to manage, so the latest information is always at hand. Packaging with open status detection can also activate personalized content based on the state of the product or the packaging label (sealed or opened at the factory).
Simplifying therapy adherence and self-testing: Digitized step-by-step instructions can guide patients and ensure that therapies are used correctly. Quick access to online guidance—for example, in the form of a video link—can be especially useful as self-test kits and other diagnostic tools designed for consumer use become available.
Delivering products in new ways: Home deliveries of all types of products, including over-the-counter (OTC) and prescription drugs, are expected to increase. NFC tags, combined with a cloud-based data service and an in-app feature, make it easy to send refill reminders to patients, link them directly to doctors' offices to renew a prescription, or link them to authorized e-commerce channels when supplies are almost low.
Intensifying digital engagement: Online sales of OTC drugs and other consumer-health products tend to be purchased in person (Euromonitor says that only 3 percent of global OTC sales happen online), but the rules for staying at home are changing that. According to McKinsey, this could lead to higher levels of online sales for OTC products and other consumer-health goods, potentially north of 15 percent, in markets such as the United States and Europe. The current crisis is also driving more consumers to discover the benefits of telemedicine services, using digital health-related applications and tools. NFC-enabled tags and packages can help drive both trends.
Manufacturers can use NFC-enabled packages and tags to protect the supply chain from a variety of vulnerabilities, including counterfeit products, gray-market diversion and product tampering. Using NFC tags, companies and health officials can detect and analyze problems and take corrective actions more quickly.
Making sure products are authentic: The World Health Organization (WHO) reports that 8 to 15 percent of medicines sold globally are fake or substandard. Unfortunately, the coronavirus outbreak is seeing a new trend in counterfeit medical items, such as counterfeit face masks, poor disinfectants and unauthorized antiviral drugs, as criminals take advantage of increased anxiety during the global crisis. By helping to ensure product authenticity and combating fraud, NFC tags with integrated security features, such as originality signatures or AES encryption with secret keys, can help ensure product authenticity and protect products. Anyone with a smartphone, including inspectors and consumers, can safely verify that a product is genuine and meets regulatory standards. The verification can take place almost in real time, using easy and secure online authentication checks.
Detecting and preventing tampering: NFC tags can be used for electronic evidence of tampering, which indicates whether a product has been opened or tampered with anywhere in the supply chain prior to sale or use. A conductive breach loop on the label of a label on the packaging or inside a closure can irreversibly store an opening detection and report the event to an NFC-enabled smartphone. Tamper-proof features help increase confidence in the product by removing doubts about whether it has been diluted, replenished or replaced from the original.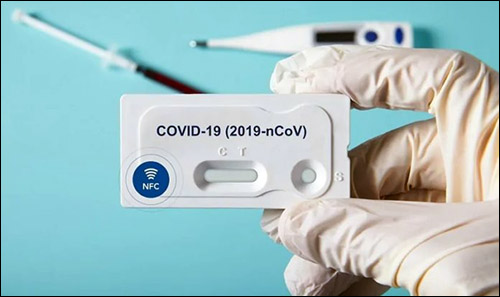 Ensuring safe transport and storage: Special care needs to be taken when storing and transporting laboratory substances, such as patient samples that may be infectious. Safe packaging, with tamper and leak protection, can improve this protection, in addition to being able to store confidential patient data, accessible only by authorized personnel.
Improving visibility and control in the supply chain: For greater traceability and to help identify sales outside authorized markets, NFC tags can be assigned to specific distributors and locations. The ability to authenticate and track products within the supply chain, using geographic location and cloud-based monitoring, also makes it easier for consumer health companies to meet regulatory requirements and protect consumers to the last mile. This helps to address deviations from the gray market, which may involve a product being purchased in a low-priced region and then sold in a high-priced area with a significant margin—or being shipped to a region that prohibits its sale, for use on the black market.
Protecting the cold chain: Many medications, including vaccines, are sensitive to heat and can lose their effectiveness when stored or transported improperly. NFC tags equipped with temperature sensors and data loggers can help monitor ambient temperature changes and report to a cloud service if a product has been handled incorrectly. Manufacturers and suppliers can track when and where problems occur at any point in the supply chain, and consumers can be sure of the quality and effectiveness of a drug.
Healthcare companies can help fight the virus, using NFC's ability to collect data and track analysis, and by providing information to healthcare organizations and life scientists. Real-time intelligence can come from the products themselves, showing where sales and use are taking place, and ensuring a high level of privacy and security for any personal data. To support testing, secure registration links can give patients direct access to test results, reducing the incidence of human error. With opt-in tracking capabilities, life scientists and governments can address the continuing risk of disease spread, allowing for quicker insights and faster corrective measures.
Sylvia Kaiser-Kershaw is a marketing professional with more than 20 years of experience working in the technology and financial services markets. She is an expert in defining and implementing brand strategies and marketing solutions across multiple channels. At NXP Semiconductors, Kaiser-Kershaw runs Internet of Things (IoT) applications that increase engagement between brands and consumers, adding digital connectivity, security and intelligence.